If you want to know what the best luggage brand for women is, you're probably asking for a brand that combines maximum packing space with the lightest weight, stylish good looks with dependable quality and a reasonable price point. Am I right or am I right?!
I know we women don't back down from our needs. Not all of us can lug a huge bag everywhere we go, but most of us need more than just 2 pairs of shoes and 2 neutral outfits, and our beauty regimen can't be downsized too much. While a little black dress is cute, please don't make me buy an all black suitcase! If one of the wheels on my bag comes off, don't expect me to carry it for more than a few feet. Just because many of us like to shop it doesn't mean we'll throw money to the wind!
We like to have a variety of luggage pieces that work various kinds of trips. Some are exclusively for air travel and tend to cost more than the ones we use for car or train trips.
So, keeping in mind these basic points, here are the brands and collections that have impressed in 2020 and that we predict will be popular in 2021.
Carry On Bags
With more and more travelers trying to avoid checking in bags while flying, the growing variety of carry on bags makes for a lot of competition. This is one piece of luggage where I don't worry too much about cost if I travel often with just this one bag. What is most important is whether you can fit everything you need into it for your trip without risking going over the size and weight restrictions.
I tend to lean towards soft sided two wheeled luggage for carry on but will make an exception if it's for a short business trip. Soft sided luggage will usually give you more packing space and the inline skate wheels don't take up inches from your maximum allowed carry on size. Since you're not entrusting it to rough baggage handlers, a good soft sided bag will do.
For the Businesswoman
If you're looking for luggage that will last for years with a limited lifetime warranty and don't mind spending for the quality, Victorinox seems to get it right with dimensions, as they make sure that the height dimension including the wheels always falls within the 22″ limit. They also make very light wheeled uprights for carry on.
If you're keen on a hard sided piece that is versatile enough for business trips and vacations, the Victorinox Luggage Spectra 2.0 Dual-Access Global Carry-On has been getting 5 star ratings for its innovative packing features like a detachable easy access laptop and organizer compartment. However, if you prefer a smaller, soft sided and more affordable option, the Samsonite Hyperspace XLT Spinner Boarding bag has very similar features.
The soft-sided Victorinox Werks Traveler 20″ Dual-Caster Bag has a front pocket for small laptops in their own sleeves and comes in under 7 lbs.
Travelpro consistently scores well for carry on bags because of their smart organizational features and packing space. Their checked bags are good too. They stick to a rather black or navy color palette, but if flight crews like them they must be good.
The Crew 9 Rolling Tote Bag is very impressive as a rolling underseater bag and has a padded laptop compartment.
The award winning Platinum Magna collection includes an expandable spinner suiter carry on and is very easy to maneuver in addition to being spacious.
Briggs & Riley is another high end option that is popular with both men and women. They offer the best warranty of all brands, i.e. an unlimited lifetime one. You may not even need it as all the components that go into each piece are top notch and the brand is known for being long lasting.


For the Vacationer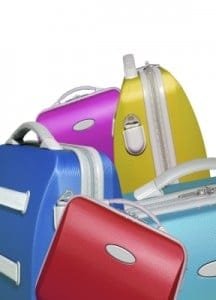 Perhaps the absolute lightest luggage comes from IT Luggage. The frame is fiberglass and the fabric is very light and comes in pleasing colors. While I wouldn't risk this brand for checked luggage, their IT-0-1 Second Generation 22″ Carry-On is highly rated.
A good travel tote is always useful and this is where the choices are even greater! Baggallini remains the most popular brand for women's travel totes and purses. The Everywhere Bag is roomy with plenty of pockets and the Bon Voyage Bagg is a good cross body bag for city sightseeing.
Vera Bradley has loyal fans and the Grand Traveler is one of its most popular pieces as it's perfect as a weekend bag or carry on tote.
Lipault Paris is super chic and light and they have two weekend bag options.
If I'm going to be on my feet all day roaming city streets and attractions, I like a good sling bag and my number one choice is the AmeriBag Healthy Back Bag because this sling is ergonomically designed. They make several varieties and in four sizes, so you're sure to find one that feels comfortable for your height and day trip requirements.
Don't forget about all the fun prints now available! These gorgeous patterned hardside spinners will make your vacation extra special!
For the Adventure Traveler
If you're looking for a travel backpack that needs to hold a lot of stuff but must be lightweight, there are two very popular options from eBags – the eTech Weekender Convertible and the Mother Lode Weekender Convertible.
Osprey is a favorite with its sleek backpacks. A wheeled 60 liter 22″ version with an attached daypack is the Osprey Meridian and the Osprey Porter is a 46 liter duffel style backpack that is very easy to carry on your shoulders.
Checked Luggage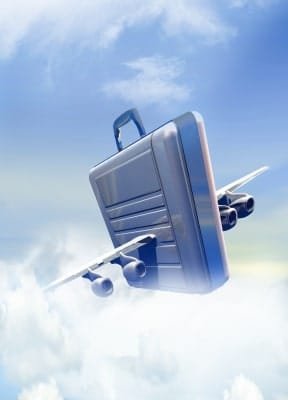 This is where you shouldn't sacrifice quality for anything. Since your checked bag is at the mercy of the airlines, you never know if a cheap one will come back to you in one piece. Hard sided suitcases are a good bet for durability and 4-wheeled spinners make large and heavy bags easy to maneuver. That doesn't mean you shouldn't consider soft sided luggage. Ballistic nylon bags may be heavy but they're virtually indestructible and duffel bags are becoming popular again because they are lightweight.
Duffel Bags
The biggest advantage that duffel bags offer is the amount of packing space you get for a very light weight. High Sierra makes some of the best wheeled duffels. Since it also provides good organizational features, you won't feel like you've arrived with a jumbled mess as with many other duffels.
The Eagle Creek Travel Gear No Matter What Flashpoint Duffels are specifically made for adventure travel where you need luggage that stands up to the elements. They're also extremely light and good if you're flying in small planes or hopping from one place to another. There is one small duffel for carry on, one medium one and two larger ones that are both wheeled.
Hardside Uprights
For the best deals on hardside checked luggage, consider Traveler's Choice. The colors are fun, the quality is decent and because it is a hardside, the pieces are more likely to withstand rough treatment by baggage handlers. The Sedona 29″ spinner is rated 5 stars and is really a steal.
Another good choice for affordable lightweight hardside luggage is Delsey. Their Helium Aero 29 Inch Expandable Spinner Trolley is spacious and comes with lots of organizational features.
If you don't like the 50/50 split clam shell design that most hardsides have, the Briggs and Riley Torq collection makes it 80/20. The Torq medium 26″ spinner is a good size for a 1 week trip and it weighs just 10 lbs.
Softside Uprights
Since check in bags can be a pain to maneuver if they're big, it's always a good idea to get one that makes this easier. The Samsonite Silhouette Sphere Spinners are designed to be ergonomically sound through the spinner wheels and telescopic handle. The collection includes carry ons and various check in sizes in both soft and hard side options. They also include tri-fold garment bags for your suits or other formal wear.
Backpacks for Hiking
If you're looking for a backpack for your next hiking adventure that fits your frame well for maximum comfort, our favorite options are specifically designed for the woman's smaller frame.
So there you have it! These options for the best luggage brand for women for 2020 should be more than enough for you to make a decision on your next luggage purchase. Coming soon… We'll look at some of the latest innovations and technologies used in the making of luggage. If you want to know which brands are known for what features, take a look here.
Image Credits:
"Selection Of Bright Colored Suitcases" Image courtesy of Victor Habbick / FreeDigitalPhotos.net
"Brand Under Magnifying Glass" Image courtesy of David Castillo / FreeDigitalPhotos.net
"Business Case And Cityscape" Image courtesy of Victor Habbick / FreeDigitalPhotos.net
"Breifcase In Flight" Image courtesy of Victor Habbick / FreeDigitalPhotos.net