Whether you're looking for high quality goods or just want to support local businesses as much as possible, buying American made products is a good way to do it. However, certain types of products are rarely made locally unless they're handcrafted. That goes for luggage too. Over the years, American luggage and bag companies have shifted production to cheaper sources like China and either have everything made completely there or have all the components made there and assembled here. You're more likely to find American totes or duffel bags in canvas and leather rather than suitcases and wheeled travel bags. There may now be a slow revival in American-made luggage, however, and we have done our research and found a few of the best made in USA luggage that should satisfy the criteria.
While we've tried to keep to only the choices where the entire piece of luggage is made in the USA, we also have selected a few very good pieces where the majority of it is made and assembled here, with just a few small components sourced from abroad.
Wheeled Luggage Sets Made in USA
Made in the USA wheeled luggage is harder to find than backpacks, duffels and messenger bags. However, here are 3 great options for single travelers as well as families. They are all hardside options, as there don't seem to be any softsided ones. We have reviewed and picked some other top rated hard shelled spinners and softsided 4-wheeled suitcases that are not made in the USA.
inUSA Hardside Spinner Luggage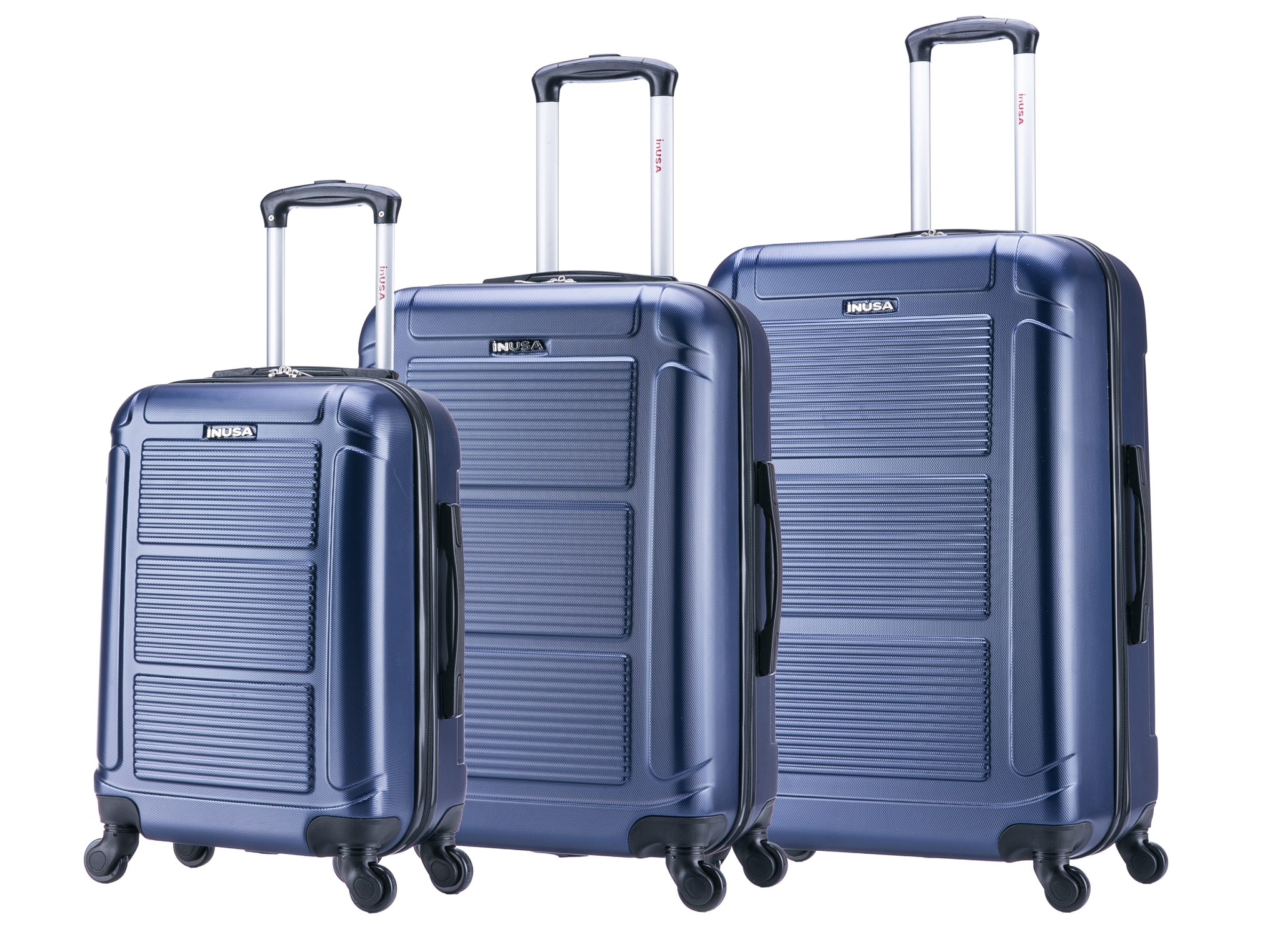 With the purpose of bringing back manufacturing jobs to the US, inUSA imports materials and assembles their hardsided spinner suitcases in the USA. Each collection includes a carry on bag, a medium-sized checked bag and a large checked bag. The dimensions vary slightly between the collections, so you can choose the ones best suited to your travel needs.
Almost all the collections feature dual spinner wheels that move 360 degree, with a few sporting single spinner wheels, push button retractable handles, and top and side carry handles. On the checked size bags, 4 feet on the opposite side to the handles to allow them to be set down sideways anywhere. Most of them can be locked with the inbuilt TSA combination lock for the zippers. The ones that don't feature this can be locked with your own luggage lock.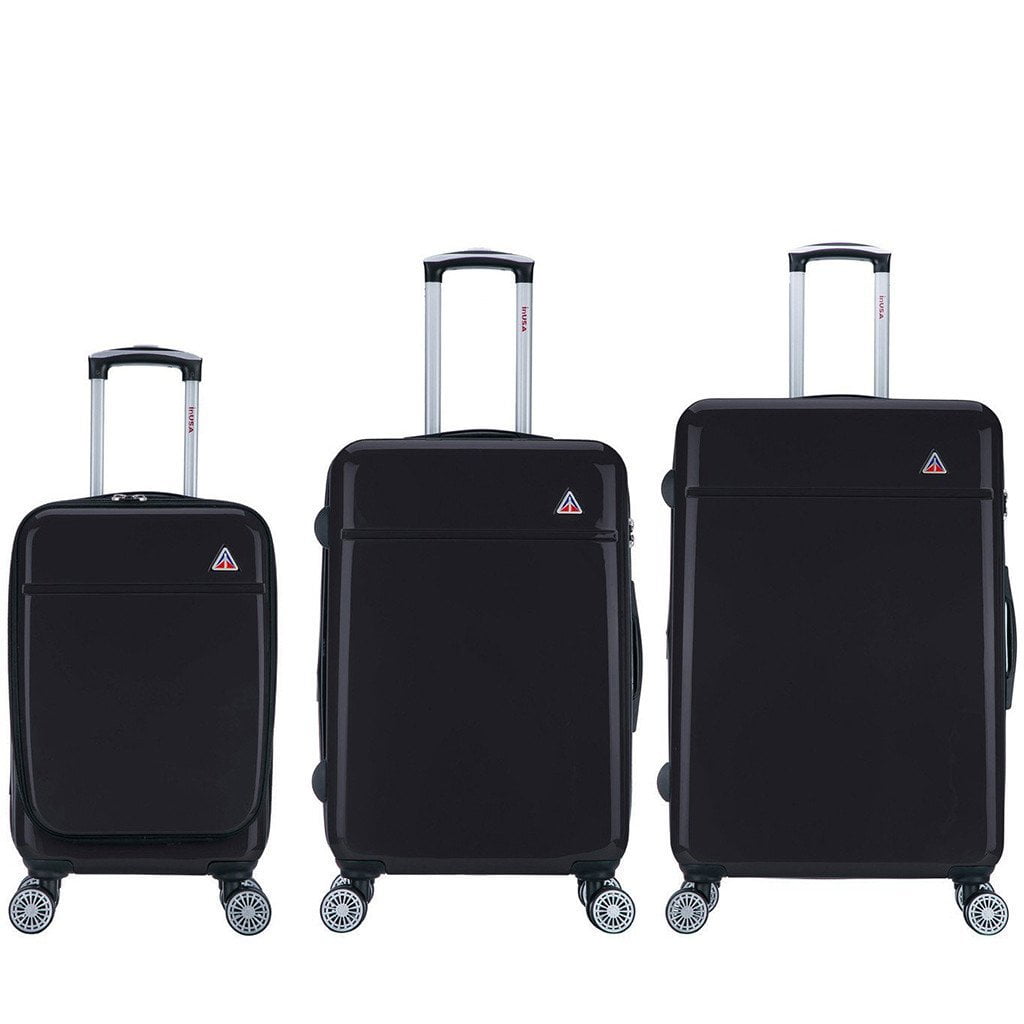 The shells are made of a lightweight ABS and Polycarbonate combination. Some collections comes with a water and scratch resistant brushed metallic finish, while the other collections collections come with a textured Micro Diamond Finish, each in their own distinctive pattern. All the bags feature logo patterned lining inside, a zippered divider panel to separate the two halves, a zippered mesh pocket and restraining straps. The Avila collection showing on the left has a carry on spinner with a front pocket, a rare feature on hardside luggage, which makes it easy to access important belongings in the airport or mid-flight.
What's nice about the inUSA spinners is that they're competitively priced even though they're assembled locally. they're reliably functional and durable.
Browse through all the available inUSA individual spinners and 2 and 3 piece sets at Walmart, or on Amazon.
Revo Luna and Impact Luggage
Revo has been in the luggage business for a while so you may have seem some of their older collections. However, just two of their lines are American made. The Revo Impact line is sourced for a few materials from abroad but is assembled in the USA, while the Revo Luna line is completely American made.
The Revo Impact dual caster spinner suitcases are made of scratch-resistant 100% Bayer Makrolon Virgin Polycarbonate with water-resistance zippers that you can lock with your own luggage lock. There are 3 pieces to choose from or you can buy them as a 3 piece set. The sizes available are 20″, 25″ and 30″. All are expandable by 2 inches, however the carry on won't fit into an overhead bin if you use the expansion zipper. The actual height of the bags increases by 2″ when you take the wheels into account, so the carry on height is actually 22″.
The push button telescopic handle is made of aluminum and there are two grab handles present on the carry on bag – one on the top and one on the side. The larger bags has an extra handle on the bottom as well to make them even easier to haul in and out of car trunks or off luggage carousels. The other long side has 4 feet to let you stand the suitcase horizontally.
The fully lined interior is divided into two compartments by a zipped panel for the lid side, and it features a zipped pocket and an elastic top pocket for extra organization. The main side of the suitcases features a long accessories zipped pocket and cross-wise compression straps.
The Revo Luna dual spinner wheeled line has some similarities to the Impact line but it also has some extra features. This line is completely made and assembled in California. The materials used are the same but all sourced from the USA and the telescopic handle has a black TPR finish. The sizes on offer, including the wheels, are a 16″ business case, a 22″ carry on, a 26″ checked bag and a 32″ checked bag. Here the carry on also includes the bottom handle, unlike in the Impact collection, but the carry on and business case are not expandable. Instead of standard zippers, the Luna line features recessed inbuilt TSA combination locks.
The inside of the carry on and checked bags is divided simply by a zipped mesh panel on each side for completely secure packing to prevent anything from falling out when you open the bags. There are no other pockets or straps. The business spinner case features a fan folder system and a removable laptop sleeve.
The Revo Luna line is great value for money, considering that absolutely every component is made and then assembled in the USA.
If your budget is smaller and you're only looking for a carry on spinner and 1 large checked spinner, then the newer Revo Arro is the model for you. Like the Impact line, some of the materials are imported, but the suitcases are completely assembled in the USA. The 20″ carry on (22″ including the wheels) and the 30″ checked bag (32″ including the wheels) have all the good features of the Luna but with stronger rubberized dual spinner wheels and more organization features in the interior.
One Bag Solution Luggage Made in the USA
Now, you can find quite a few duffle bags made of leather or canvas from independent companies specializing in handcrafted good, but if you're looking for a "one bag fits all" solution from actual luggage manufacturers, then these American made duffel bags/soft-sided suitcases are perfect.
Tough Traveler Luggage
Tough Traveler luggage, bags and accessories run the gamut of wheeled luggage, duffels, totes, briefcases, and more in both carry on sizes as well as larger for every type of traveler. With their headquarters in Schenectady, NY, everything is American made and boasts attention to detail, design and features using high quality materials. If you're looking for convenience, comfort, form and long lasting luggage that's solely made in the United States, then you can't go wrong with this brand.
The products aren't cheap but you're sure to find something in a color that suits you and if you can't they'll even custom make it for you. There are 4 different main materials used depending on the piece of luggage or bag. 1000 denier Cordura nylon that looks a bit like canvas is used for the toughest luggage, a 400 denier Packcloth nylon that's lighter and slicker but a bit less durable, a Saddlecloth nylon that feels like velvet but is resistant to weather and washable, and an attractive and lightweight Diamond Ripstop nylon with a shimmery surface.
An example of their very versatile luggage is the 1000 denier Cordura nylon Tri-Zip Carry-On Suitcase that you see here. At 20″w x 13″h x 9″d it weighs a light 3.5 lbs and it can be carried as a duffel bag or as a backpack. Two duffel straps feature a leather grip. A front pocket can hold your travel documents, while a back pocket reveals the detachable, adjustable and padded shoulder straps for when you want to carry the bag as a backpack.
It features three zippered main compartments with wall padding and dual YKK zippers that you can lock with your own luggage locks. The outer two compartments open clam-style via zippers. The back one is meant for packing clothes and features two restraining straps, while the front one is meant for a laptop and a tablet or documents. These go in the two provided sleeves with a velcro fastener to secure them. The middle compartment opens duffel style from the top.
Tom Bihn Travel Bags
The Tri-Star is made by Tom Bihn, a company that manufactures all kinds of bags for travel, work and daily life in its factory in Seattle. The Tri-Star is for the extremely organized traveler who doesn't overpack but wants to take just one bag for all of his or her 3 to 4 night trips. Not only is it carry on sized, but it will also fit under airline seats as it measures 19″ x 13″ x 8″ with a 33 litre capacity. You have a choice between a lighter 400 denier ripstop nylon fabric bag weighing 2 lb 12 oz and a ballistic nylon 1050 denier bag weighing 3 lb 6 oz.
The bag as is comes with double padded top handles and a side grab handle and two padded backpack straps that can be unclipped at the bottom and hidden away in their own zipped pocket. These are adjustable for length. You can optionally purchase the padded shoulder strap for another transport option or use your own shoulder strap if you have one. The strap clips on to the two D-rings on the corners of the top long side. For extra comfortable backpack use, there is also an optional waist strap and a sternum strap.
There are compartments and pockets galore with customizable add-ons that make this a one bag fits all kinds of trips from work to leisure. Every pocket and compartment also has O-rings for you to attach all kinds of accessories. You can use either your own or Tom Bihn's packing cubes for further organization of your clothes and accessories, and if you intend to also carry a laptop or tablet, there are optional padded caches that you can buy in various sizes so that your gadget has a snug fit for complete protection. The cache can be packed in the double zipped center main compartment along with other items, like an optional Freudian Slip that is a tech gadget organizer. There are two guard rail clips in the center compartment that are meant to attach to the cache. This turns your Tr-Star into a checkpoint-friendly bag at the security screening lanes because you can just pull out the cache holding your gadget while it is still attached to the bag. No need to remove the gadget to place on a tray.
On either side of the center compartment are two double zipped compartments that open fully to lie flat for packing and can also accommodate packing cubes. One compartment also comes with adjustable restraining straps for clothes. You can use the other compartment for a pair of shoes and other accessories like a compact hair dryer, toiletry bag, etc. This compartment features a zip-out divider that divides it into two unequal sections. If you don't zip it up you get one large packing space.
There are three horizontal zippered pockets on the front exterior for various items like a paperback book, your phone, keys, earphones. Their depths range from very deep to shallow. To the right of those is a curved vertical zippered pocket that expands to hold a small water bottle or travel umbrella.
This bag is easy to overpack till it becomes quite heavy. If you're carry a DSLR or laptop along with several days' worth of clothes, it could easily hold around 20-22 lbs. It is smaller than a full-sized carry on though, so you won't find it unwieldy. The Absolute Shoulder Strap is recommended for carry such a heavy load on your shoulder.
Red Oxx Bags
If you're traveling for 3 or more days and want to only take a carry on bag, then consider the Red Oxx Air Boss. It is a full-sized domestic carry on bag measuring 22″L x 8″W x 14″H and weighing 3.9 lbs. Its capacity is 40 liters and is available in several colors. Red Oxx makes some of the best American made luggage for adventure travel and the Air Boss is probably its most popular bag.
Made of water resistant Cordura nylon, closed-cell foam sides, and soft red nylon lining, the seams and stress points are double stitched and bonded for extra toughness in construction. This bag can be carried in two ways – by the detachable claw shoulder strap or by the dual duffel straps. If you pack the bag full and it becomes really heavy, it is recommended that you buy an extra claw shoulder strap so that the two can be used like backpack straps to distribute the weight over two shoulders.
The bag is divided into 3 compartments that open clam-style via large dual corded zippers for lay-flat packing. The two outer compartments feature dual restraining straps to keep your clothes in place wrinkle free. You can also use your own travel packing organizers here if you like more organization. The middle compartment is great for tech accessories, a pair of shoes, and even a laptop, although you have to protect the laptop in its own sleeve.
There are three external pockets. On the back there is one small zippered pocket that can fit your smartphone and one large slip pocket for a magazine or newspaper. On the front is one large zippered pocket for a tablet and toiletries.
This bag can become very heavy when packed full so carrying it over long distances may not be too comfortable. If you're the kind that likes to have lots of pockets, then this bag may not be for you, but if construction quality and lots of room is important, then you can;t go wrong with the Air Boss.