Are you looking for a stylish women's laptop bag but only finding the usual male oriented ones? Or maybe a messenger style but can't find one that protects your laptop well and looks professional enough? Well, some of the best laptop messenger bags for women don't even look much like laptop bags and that's what's so nice about them!
However, when it comes to travel, an everyday laptop messenger bag is usually not good enough. Very often, the padding is thin and if there are enough organizational compartments, they are not secure. Here are some things you need to look out for to see if a messenger bag is good for travel.
The bag should have all the benefits of a proper laptop bag in that –
There should be a dedicated laptop compartment or sleeve that is properly padded.
There should be enough space and compartments to fit all accessories.
The main laptop compartment should be zippered or buckled shut and not just Velcroed shut.
The shoulder strap should be ergonomically designed and well padded.
The bag should be comfortable to carry while walking as opposed to bicycling.
So, let's look at five female-friendly laptop messenger bags that are great for travel. Pair these with a carry on bag to complete your luggage needs.
In addition to the ones we review below, check out the Kensington Contour Balance Notebook Roller Bag in Onyx if you want a feminine looking traditional laptop bag that is designed for the ultimate comfort-carry experience.
We have also reviewed laptop tote bags and laptop backpacks. We think the Victorinox Architecture Urban Voltaire 2-Way Carry Tote/Backpack is a great laptop bag option if you want to convert from tote, to crossbody style to backpack.
A new and improved Timbuk2 Classic Messenger Bag 2014 is already earning rave reviews.
Click here for more women's carry on laptop messenger bags rated four stars or more on Amazon.
Timbuk2 Command Messenger Bag-TSA Friendly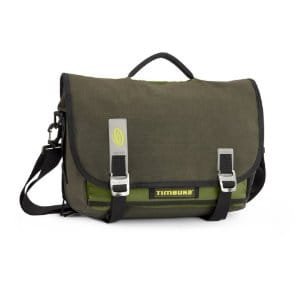 This company is famous for their messenger bags, especially the Classic. The Timbuk2 Command Laptop TSA-Friendly Messenger Bag is their top of the line offering for a TSA-friendly laptop bag and is a good business travel piece. They also have another good travel option – the Commute, which I will review right after this.
The main feature of this bag is that you can quickly unbuckle the snap closures and unzip the reversed zipper to lay the bag flat butterfly style to go through security without taking the laptop out. When it's done, just grab the bag using the grab handle at the top. You don't even have to zip it back up immediately, as the laptop doesn't fall out because it is hinged on the top and the zipper goes around the bottom. The laptop sits in its own ventilated crater padded compartment on the rear of the bag, while there's another one for a tablet.
Three separate pockets on the front, each with a different colored zipper helps you remember where you stored each item. A key fob is also attached here. Behind these is a side access Napolean style pocket to keep last minute things, like your phone, keys and loose change when you're going through security.
There is one mesh pocket on the side to hold a water bottle and a large compartment behind the flap, which can hold a magazine, documents or computer accessories.
A slot in the back lets you slide it down the handle of a rolling bag.
There is a top handle and a padded adjustable and removable shoulder strap for carrying the bag messenger style.
This bag is made of refined weave oxford nylon with waterproof TPU lining and available in four different color combinations. There are three different sizes. The smallest will fit a 13" notebook, the medium will fit a 15" and the largest will fit a 17" laptop.
Timbuk2 Commute Messenger Bag-TSA-Friendly
As with the Timbuk2 Command bag, the Timbuk2 Commute Messenger Bag is also TSA-friendly and you can open up the bag like a book and lay the laptop compartment flat to go through the security screener without taking the laptop out. The laptop and iPad each have their own separate high density foam padded compartments with tricot lining, and a separate pocket will hold your chargers and cords. The laptop compartment is folded back into the bag and zippered shut.
There are two side mesh pockets on the inside of the main compartment to hold small bottles or cans, and more pockets to hold other small items. This main compartment is very roomy, so you can accommodate more than just your techie items. It is secured by a Velcro fastener.
The front of the bag, which is under the flap, has a key fob and two faux fur pockets for small items like a phone, where it will be well protected.
A luggage pass through on the rear lets you slide it over a rolling bag's handle but it can also be used as an outer pocket for a magazine or newspaper, as the bottom can be secured with attached Velcro. A large bottle holder pocket sits on one side of the bag.
Just like the Command bag, there are two handles provided for carrying – a removable adjustable shoulder strap if you want to carry it messenger style or handbag style, and a grab handle for carrying briefcase style. Two buckle straps keep the bag compact and secure. The shoulder strap also comes with a non-slip shoulder pad.
This bag is made of ballistic nylon with a water resistant TPU front flap and is available in four color combinations. There are three different sizes to fit a 13" notebook, a 15" and a 17" laptop.
So what is the difference between the Timbuk2 Command and the Timbuk2 Commute and which is better? While the Command is slightly more expensive than the Commute, they're both good for travel, so the decision comes down to small design details.
The Command features more zippered pockets, including a quick side access Napolean pocket. There's also a power brick pocket on the bottom. Perhaps the biggest advantage that the Command has over the Commute is that the hinge of the Command lies on the top near the grab handle and the opening zipper is reversed, so there's no chance of the laptop falling out if you don't zip it up right away.
MyGifts 17 Laptop Messenger Bag
MyGifts may be a relatively unknown brand, but they specialize in making traditional bags with a feminine touch. They have two options for laptop messenger bags – one is available in black or red with a white floral pattern on the outside, while the other comes in a choice of fresh monochromatic colors. There are other design differences, but they're both excellent choices if you're looking for pretty but functional laptop bags.
The MyGifts floral bag is made of polyester and has a simple design. There is one large zippered pocket on the front where you can store files or your computer accessories, like a power cord and mouse. A rear pocket has a Velcro closure and can be used for a last minute newspaper.
The main compartment is dual-zippered and measures 12.5″ H x 17″ W x 2″ D. There's an elastic padded laptop compartment that will fit almost any widescreen laptop up to 17". The laptop can be secured by a Velcro strap. There's an organizer panel that can hold 4 pens and 1 accessory.
The shoulder strap is adjustable and removable, and there are dual grab handles on the top. There's an add-a-bag strap on the rear for you to slide it onto the telescopic handle of your wheelie.
The MyGifts monochromatic laptop messenger bag has a more structured organization design and is versatile enough to act as a carry bag for a laptop up to 17", or smaller notebooks, or a portable DVD player, etc. There is a lot of extra cushioning to prevent damage to your gadgets, so you can use this bag for transporting almost anything.
The main padded compartment fully opens like a suitcase and has a detachable divider along the width, so you can store two smaller gadgets instead of one large notebook if you want. A Velcro strap secures your gadgets properly.
There's a front zippered pocket with separate compartments for various things, like a cell phone, MP3 player, keys, wallet and pens. An exterior zippered back pocket is also useful for extra accessories. A horizontal strap on the rear lets you piggyback the bag on your rolling luggage.
The colors available are purple, baby blue, neon green, candy pink, navy blue, white, black and dual-toned blue and gray.
Click here for both the floral designs and all the monochromatic colors on the MyGifts laptop bags.
Dakine Laptop Messenger Bag
The Dakine Brooke messenger bag for women is a good option if you want to carry a laptop 15" or smaller.
It is made of polyester and the inside is a coated wipe clean fabric. It features a separate padded and zippered laptop compartment and several organizer pockets. The top of the bag has a zippered closure under the messenger flap, which is fastened with a turn-latch on the front.
The shoulder strap is padded and adjustable to transition from shoulder style to messenger style. There is no top grab handle.
It also has an open back panel for sliding over a rolling bag.
So there you have it – five of the best laptop messenger bags for women who travel. There is really no need to settle for a boring masculine-looking traditional laptop bag when you can have one of these!
Here's a shortcut to the top rated laptop messenger bags on Amazon.