As a family that loves to travel, I cannot tell you how vehemently I disagree with adults who say that travel is wasted on kids. If kids are whining about sightseeing, staying glued to the hotel room TV or insisting on only eating at American fast food chains then it's time to do things a little differently with them.
Then there are the kids that already love to travel! Parents and loved ones should consider gifting both these categories of children things that will get them interested in the world around them and make future trips not only easier but also enjoyable for everyone. Our picks for travel gifts for kids and their parents will do just that, whether it's some cute kiddie gear or fun activity products. And while you're shopping for kids, why not do it for the adults too? Here are Oprah's favorite things for the traveler.


Little Passports Subscription
There's no better way to get kids to appreciate other countries, cultures, foods and languages than to give them a subscription to Little Passports' monthly travel kits. There are a few different kinds – the USA edition teaches your junior globetrotter about two new American states each month, and toddlers will love the Early Explorers subscription that covers music, dinosaurs, oceans and more. Science expedition covers mysteries of the world through fun experiments and activities.
Our favorite bundle is the World Edition that covers a new country every month. Here, the two protagonists are Sam and Sofia who will send a letter each month telling kids about that country, a famous citizen from there, famous food and stories about a few regions or places in the country. The little suitcase comes with a map, a passport, picture postcard, photos, stickers, a souvenir, several activities, access to online games, and a recipe to make an easy dish or treat that originates in that country.
If a subscription service is beyond your budget, you can order single product gifts too. There are enough choices that span different age ranges.
The Original KidKit
Those long road trips and flights half way round the world can be tiring for everyone but if the kids have fun things to do it becomes a lot easier. But carrying large packs of color pencils, several sheets of blank paper, a separate gadget for each kid and playing "I Spy" for the 100th time is not the best way to provide entertainment. Instead, get each kid the light and compact KidKit, one of the best road trip gifts for kids.
This kids travel kit is a bag filled with 6 different activities and a dry-erase SMART SLEEVE for drawing and scribbling again and again. The whole kit is reusable and the activities are refillable so the kids can have some new mind-broadening activity to tackle on each trip. You can get new insert booklets to fit the SMART SLEEVE. Each insert includes 22-26 pages of fun, like drawing fun, puzzles and trivia.
The activities are designed to get kids interested in places, people and cultures and you can choose the appropriate kit from two age ranges. You can also get other gifts from the Original KidKit, like the different Make-a-Scene Sticker Scenes Sets of various themes or an Adventure Log.
The Lonely Planet Kids Travel Book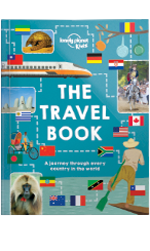 A great way to encourage a love for geography is to give a child an atlas or, better still, a travel book like the one from Lonely Planet. Kids will love to pour over the beautifully illustrated and photo pages that cover amazing facts and quirky insights on 200 countries. Each country gets at least one page of its own, with several getting more.
They'll read about wildlife, forests, beaches, mountains, deserts, learn about how people live, sports and pastimes, amazing architecture and natural wonders, dress, food, festivals and a lot more.
The Kids Travel Book is suitable for those 8 years and up. For younger children, get the Adventures Around the Globe, which includes stickers, maps, puzzles and fun facts about famous locations around the world.
Kids and Families Tours and Activities
Gifting an experience instead of a thing is a good idea for families with children too. Parents don't have to drag their kids around a place if they can involve them in their activities too.
A great gift would be to book a sightseeing tour that's specifically tailored for families, with a guide that tells fun stories or where the group gets to engage in a reenactment of a historical event. A family activity like a cooking or baking class that's age appropriate is great too. Maybe swimming with dolphins or feeding animals at the zoo. You can book a tour or experience through Viator, which has a vast collection of different types to suit people of all ages and abilities and for various interests. Many are suited for kids and families and you can filter by country/city to narrow the options down further.
Trunki – The Original Ride On Suitcase
Kids can really get excited for an upcoming trip if they have their own pre-travel tasks to take care of, like packing their own bag. But not just any old bag. A Trunki would be more their speed!
This light but durable plastic suitcase moves along on 4 straight rolling wheels and a child can sit and ride along on it either by pushing herself along or by being towed along by an adult using the detachable tug strap. It can also be picked up off the ground by the dual top carry handles.
The inside of the suitcase is a lot like adult suitcases, with restraining straps and an elastic top slip pocket. You can choose from several colors and designs ranging from a black and white zebra print to a pink Hello Kitty. The suitcase can hold a sit on weight of up to 75 lbs and is perfect for road trips, weekends away and as the child's carry on bag on flights.
Kids Travel Backpack
While the Trunki above is a good choice for young kids who want to pack some clothes and toys, some might prefer just a small backpack filled with little goodies to take care of.
This Olive Kids Pack 'n Snack is also good as a school bag and the front pocket is insulated for a lunch box or a snack to take on a road trip or plane ride. The main compartment can hold a few books and toys to keep the tyke busy. There's a mesh elastic top pocket on one side for a water bottle too.
Travel Card Games
Games that come in mini sizes and packed in a small case for travel are great but tiny parts can be fiddly to use, expecially in a moving car and if you drop your tiny board game die under an airline seat, that's probably where it'll stay. That's why travel card games are really a better choice. They're easier to manage and quickly tidy up and can provide hours of fun for kids and adults.
You can choose from card versions of popular board games like the Struggle for Catan shown here, or you can choose from lots and lots of others, like the classic card game, Uno, or the loud and fun Family Feud. They are all light and compact and you can find something that's just right for the kid's age, whether a toddler or a teenager.
Stamp Collection
It's always good for kids to have a hobby. It keeps them away from gadgets for a while and encourages them to be creative, disciplined, responsible, enterprising and methodical. So one of the most unique travel gift ideas for kids is stamp collecting. Although you can get stamps of many different themes, like flowers or birds of the USA, you could start off with stamps from the different states of America or even from around the world. As kids get older, their collections will grow and they'll soon see the value in them too.
This 100 Mint U.S. Stamp Collection features stamps that are all unused but most over 50 years old. This collection of 500 stamps from around the world are used stamps that are in very good condition and will keep a kid engrossed while he sorts through them.
Kids Travel Scrapbook
Kids can get into scrapbooking at an early age and a travel scrapbook is a great one to start and end a vacation with.
My Travel Journal by Lonely Planet starts with planning pages for packing, and itineraries that parents can help them with. It goes on to pages for drawing and jotting down things they observe and do during the trip and ends with pages for stick on souvenirs, like cut outs from leaflets and tourist map trails.
The journal encourages writing and drawing and is well made with 72 pages to fill. It is a wonderful way to keep memories alive for the budding travelers.
Personalized Passport Holder
Your kid will feel important if she has her own personalized passport holder! Even if you're not traveling internationally, she can always pretend she is by tucking in a pretend passport into the Wanderlust Collection Personalized Passport Holder.
There are several colors and themes to choose from for the outside cover and you can enter a name or initials to make it special for the mini traveler. It is made of durable scratch resistant faux leather and even has slot for credits cards – also pretend ones for kids of course!
Baby Carrier for Travel
For families with young children, getting their family to and around a destination in the most comfortable and safe way possible helps keep both child and parents happy and relaxed. Gifting them with a baby or toddler carrier is a thoughtful way to show them your love.
There are several types of carriers to choose from, depending on the age of the baby, type of travel destination, etc., so we help you choose the right one.