Have you had that awful feeling when you've reached your travel destination and started to unpack, only to realize that you forgot to pack an important item? You'll soon realize that if you plan better, this will rarely happen and for that you should choose the best packing list app for your needs.
Being in a hurry while packing or doing it at the last minute without thinking carefully about what you'll need is a sure way to leave out a necessity. Even though travelers have been using pen and paper for years to make checklists, frequent travelers may find that creating new lists from scratch for every trip or losing that piece of paper is not the best way to deal with packing. Creating lists for every member of the family isn't ideal either.
That is where an app that you can customize, share and always have with you on your mobile device would help. When looking for the best travel packing list app, keep in mind that some of the best features are only available in paid versions, but you will get the most important functionalities for free in many. You'll also find that there is a wealth of choices for iOS device users and hardly any for relatively new Windows phone users.`
So, let's take a look at which apps for the iPhone, iPad, Android and Windows Phone are the best.
Travel Packing List App for iPhone and iPad
There are plenty of free and paid options available to you if you have an iOS mobile device, but the following are the most feature-filled and useful.
Packing Pro
If you're a relatively inexperienced traveler or just a really bad planner, this iOS app is for you. It will do everything for you, like create packing lists for you based on who and how many are traveling and for how long, the temperature at the destination and the type of trip. It even takes into account your preferences or access to laundry facilities. Yes, if you haven't thought of all these things while deciding what to take, Packing Pro will force you to!
Of course, if you prefer to do your own bit of customization, you can edit the lists and then check off things as you pack. If you want to share your lists with others in the family or just save it for your next trip, you can just sync it to iCloud or share via email.
This app is compatible with iOS 5.1 or later and works on an iPhone, iPad and iPod Touch.
Sample lists and a large catalog of items (currently 800).
Inbuilt expert packing assistance based on your trip inputs.
Easy syncing and sharing using iCloud and email.
Ability to transfer lists to a PC to edit the CSV file using GoogleDocs, Excel or Numbers.
Customizable UI, including theme, fonts, colors, etc.
Search, sort, filter and categorize items.
Edit and total items based on number and weight of bags for each person.
Help guide available.
Costs $2.99
TripList Pro
Very similar to Packing Pro, TripList Pro differs in the size of its catalog and integration with the TripIt app.
If you've used the trip-management app, TripIt, you'll know how useful it is in keeping track of your flights, hotel bookings and more. TripList very helpfully integrates with TripIt to make creating your packing lists easier. In addition to this, you can share lists via email and iCloud.
This app requires iOS 7 or higher and works on an iPhone, iPad and iPod Touch.
Start creating packing lists from a catalog of 250 items and create completely customizable categories.

Create lists for any kind of trip.
A Smart Suggest feature lets you easily complete tasks like book a hotel or find information related to items that you add on your packing list.
Easy syncing and sharing via iCloud and email. Direct printing from the device is easy.
Set packing reminders and notifications like the date by which you need to book a flight.
Easy to use user interface.
Export or import your lists at anytime using the CSV format.
Support for multiple users as you can switch between profiles for any list.
Costs $1.99
Pack the Bag
Pack the Bag is probably the best free packing list app for the iPhone, iPod Touch and iPad and is compatible with iOS 5 or higher. While not as advanced in features as the premium iOS apps, there's a good amount of functionality and flexibility, with all the important features there, like template lists with categories for any type of trip and items that can be added or removed. You can also choose tasks that need to be performed for each trip, like getting directions to a hotel, printing tickets, etc.
Of course, if you prefer to do your own bit of customization, you can edit the lists and then check off things as you pack. If you want to share your lists with others in the family or just save it for your next trip, you can just share via email or Dropbox.
A premium version is also available if you want more features.
This app is compatible with iOS 5 or later and works with a iPhone, iPad and iPod Touch.
Choose from 650 items to pack within 26 categories and edit or create new ones.
Create new lists using existing lists.
Duplicate categories for more than one person, sort by name and date.
Highlights items not packed yet and sends notifications to remind you to start packing or complete tasks.
Easy sharing via email and exporting and importing from Dropbox.
Customizable color scheme.
Free
Travel Packing List App for Android Phones
Although not as vast as the full-featured travel packing list library of iOS apps, the Android choices on Google Play are slowly growing. Here are the best free and premium ones.
Packing List
Packing List is the most popular trip packing list app for Android at the moment. You can get the free version or a premium one that costs $1.50 and they are compatible with Android 2.1 and up. This is probably as close to the monster iOS packing list apps as you can get and except for the ability to sync your lists with other devices and users, which you have to pay for, the free version is pretty good too.
Create and maintain packing lists from a master list or previous lists, add and edit items and group them based on category, luggage and location, and tag each item with a weight, quantity or any other note. You can also email and share your lists with other people or print them out. If you buy the full version, you can also sync your lists with other devices using a packing list cloud connector that you have to purchase separately.

LuggageChecklist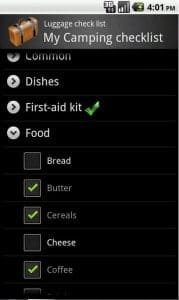 The free LuggageChecklist app for Android 1.6 and up is a single user luggage checklist manager that offers you templates and categories that you can add to, change or extend. Each template is based on the kind of trip you're taking and contains categories like food, first aid kit, clothes, etc. Each category can be populated from a list of items related to it. The user interface is intuitive so it's easy to use right from the start.

Pack the suitcase
Pack the suitcase not only helps you with packing but also with all those little tasks that you have to do before you travel or even during your trip. Based on your inputs, it will suggest from its catalogs what items you should pack. You can also set reminders to be checked off as you complete them, like turning on or off roaming, charging all device batteries, etc.
It is compatible with Android 2.1 and up. There is also paid version of this app for iOS that has more capabilities, but this app does work well for Android phones too if you prefer to have just basic functionality.
Travel Packing List App for Windows Phones
PackingList
If you want to be able to create multiple packing lists that you can share with other users, the PackingList app for Windows Phones comes from the makers of the similar "Packing List" app for Android. There is no free version but you can try the app before you buy it for $0.99. Create multiple lists by adding, editing and deleting items from several categories for different types of trips, and then sync them to the Cloud for other users to access and collaborate on. It is compatible with Windows Phone 7 and above.
So there you have it – Our choices for the best packing list app for travel for any mobile device. Of course, this doesn't mean you can pack everything under the sun! If you find yourself struggling with the packing process frequently, learn some useful packing tips, like how to pack a suitcase efficiently, what NOT to pack and common packing mistakes to avoid. Bon Voyage!

"Packing List For Vacation" Image courtesy of Stuart Miles / FreeDigitalPhotos.net