While packing lots of suitcases for your trip might seem like a good idea, managing them together can be quite a task. If you're a family traveling with young kids, then you have to manage multiple suitcases too.
There have been instances where people find their luggage open at the baggage carousel of airports because the zippers or locks break. If you've overstuffed your suitcase and the zippers can't handle the extra strain or the baggage handlers were not careful while loading/unloading the bags, this is a problem. It could even be because someone rifled through the suitcase.
When it comes to the theft reason, you could add an extra level of security by getting a suitcase with locking clasps instead of zippers. For the other situations or even more security, luggage straps can come to the rescue.
Are Luggage Straps Necessary?
You know what they say – prevention is better than cure. You never know what could go wrong with your suitcase. It could experience a busted zipper or a thief might tamper with your luggage to steal valuable belongings. Therefore, I recommend using a luggage belt strap even though it's not absolutely necessary. It keeps the belongings in your luggage safe if the bag accidentally opens, it helps you spot your luggage, and helps you manage multiple bags together by yourself. Lockable luggage straps make it more difficult for thieves to open your luggage. For all these reasons, it is a good idea to invest in this additional luggage accessory for extra security.
You can also use a bungee cord strap to place another bag on top of a wheeled suitcase or even a rolling travel tool bag and secure the bag to the pull handle or to a luggage cart. This can keep one hand free even when traveling with two pieces of luggage. The latter is called an add-a-bag or piggyback luggage strap. Some non-wheeled carry on bags already come with a built-in strap at the back to allow you to slide it over the telescopic handle of a wheeled suitcase. But if the bag doesn't have one, it's well worth buying an add-a-bag strap.
When to Use a Luggage Strap?
When zippers and hardside luggage locks are weak, when your luggage looks the same as others, when managing multiple pieces of luggage. When carrying something valuable.
It is best to use a luggage strap when zippers and hard side luggage locks are weak from overstuffed luggage and when you have to manage multiple bags together by yourself. If your suitcase's design is quite common, there can be instances when you can confuse someone else's bag for yours, like at a baggage carousel. In such cases, luggage straps are helpful. It can also be used to deter thieves when carrying something valuable inside your luggage, as it gives the bag an additional layer of protection.
If you need a luggage strap for security as well as an Add-a-bag strap, here is a great 2-in-1 travel luggage option that you can choose in your favorite print.
Are Luggage Straps Allowed for Air Travel?
Confused as to whether all airlines allow luggage straps? Although it is rare, airline personnel can ask you to remove a luggage strap if it looks like a type that can't be easily removed by TSA agents during inspection. In such instances, just remove the strap at check-in and hand in your suitcase.
There are no TSA (Transportation Security Administration) policies that restrict the usage of luggage straps. All TSA approved luggage straps can be used for both checked and hand luggage. Some straps have a combination lock attached to them, just like a combination luggage lock, so you need to make sure that in the case of check-in luggage, the lock is TSA approved. TSA agents can open such straps with a master key if they want to go through your luggage for security, but they can reattach the strap once they're done with the inspection.
There are times when people leave some part of the strap hanging. In such cases, the baggage handlers cut the strap off so that the bag doesn't get caught up in the conveyor belts. Therefore, always ensure that the luggage strap is tight and no part is left dangling.
Types of Luggage Straps
There are different kinds of luggage straps that you can consider buying depending on your needs. So, let's take a look at them one by one.
Single Belt Strap
As the name suggests, these luggage straps have a single thick strap of varying material with generally a plastic click buckle to lock the strap around your suitcase. It goes around vertically or horizontally and doesn't have a key or combination lock. These can be used differently based on the type of bag you are using and how safely you want to bind your luggage. It is simple to use if all you want to do is lessen the strain on zippers. If you want to deter thieves, then pick one of the next two types.
Luggage Strap with Lock
These are TSA-approved luggage straps similar to single belt straps with the addition of a combination lock. These use a 3 digit password-coded secure lock, which is very easy to set up. Since these are TSA approved, airport security agents can open your luggage using the master key and then lock it back up once done with their security inspection.
Cross Luggage Strap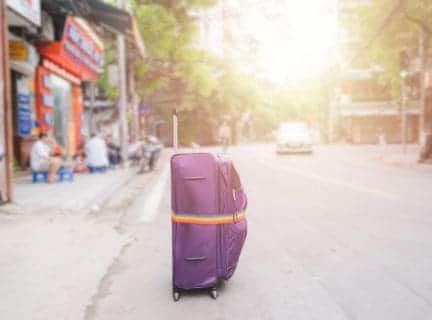 These luggage straps come either as a double belt strap with a single securing point in the form of a snap buckle lock or a velcro fastener, or you can use a long single luggage strap to wrap both vertically and horizontally across the suitcase. They are made up of highly friction-resistant material, and the buckle is usually made of super-durable poly & plastic material. If you're traveling with 2 suitcases, then both of them can be strapped together with these straps while you pull both using just the bigger suitcase's extension handle, providing for a hassle-free traveling experience. This is especially useful if one of your suitcase's handle has broken.
How to Use a Cross Luggage Strap
Piggyback Luggage Strap
This is also called a bungee strap or Add-a-bag strap. It's used to secure a smaller bag without wheels to the top of a larger wheeled bag or suitcase. This can be a backpack, duffel bag, briefcase, or tote bag.
These luggage straps are also called bungee straps or add-a-bag straps. They are used to secure smaller bags without wheels, such as backpacks, duffel bags, briefcases, or tote bags to the top of a larger wheeled bag or suitcase. By allowing you to connect multiple bags to the main bag, you can easily maneuver them as one.
How to Use a Luggage Strap?
Assuming the luggage strap comes with a TSA combination lock, then the steps to be followed are:
Start by unlocking the combination lock on the strap and set up a new passcode.
Place your bag vertically on its wheels.
Wrap the strap around the width of your bag, and make sure you pass the strap under the side handle. If your bag does not have a side handle then wrap it around the suitcase's height and under the top handle.
Tighten the strap and ensure that the strap is looped through at least one handle.
Just shuffle the passcode set up on the combination lock, and you are done. Make sure you've saved the passcode somewhere before you do this step or you won't be able to unlock the strap!
A few points to consider while using a luggage strap:
Ensure that the strap is inserted under the handle. This will keep the strap safe from slipping and falling off the suitcase.
Tighten the strap as hard as possible to avoid the strap from slipping from suitcases with slippery surfaces.
How to Hook Luggage Together?
There are two ways to use a luggage attachment strap with your wheeled suitcase and non-wheeled carry on bag or personal item.
The first way is to set the smaller bag on top of the wheeled suitcase with the extension handle of the suitcase open. Use the Add-a-bag strap to horizontally tie the bag to the trolley handle and tighten the strap after buckling it so that the bag stays securely on top of the suitcase as you wheel it around. This is a good method if the smaller bag is a rigid bag like a carry on suitcase or briefcase.
For this method, there is another type of piggyback strap available. It's design is a bit different and is elasticated, so instead of tightening the strap, you stretch it to go vertically around the bag and above the trolley handle.
A third type of bungee strap is like a regular bungee cord with a hook on each end. One end hook around a suitcase top handle while the other end hooks around the smaller bag as it hangs down behind the suitcase.
The second way is to hook the strap around the top handle of the wheeled suitcase and around the smaller bag's handles while the latter hangs down alongside. You shorten the strap after buckling it so that the smaller bag doesn't touch the ground. This method is best for a duffel bag or tote with soft walls.
You can use a pair of piggyback straps to transport two smaller bags along with your larger wheeled suitcase in both these ways.
Add-a-bag straps are also great at strapping multiple suitcases together. In fact, there are a few rare connectable luggage sets that come with a built-in ability to transport all the pieces as one. However, if you already have a set of suitcases that you need to maneuver together, you can get Add-a-bag straps. To do so, you first set the straps to the minimum length and then strap the suitcases together by their top handles. This way, you will be able to hook up to as many as three bags together.
The suitcases you are attaching together don't need to have spinner wheels on them. Even though it would be easier to move around spinner suitcases when hooked together, regular suitcases with two rolling wheels would work as well as long as you only stick to only strapping two suitcases together. It would be more difficult to move forward and turn around than spinner bags, but both types can move efficiently when pulling the bags behind you.
Some suitcases come with Add-a-bag straps. If it is not already provided, it is readily available, and you can easily buy one.
FAQs
Do checked-in bags get searched?
The majority of checked baggage is only screened without any physical luggage search, but TSA may inspect any of your checked luggage during the screening process if they have any reason to suspect that something that's not allowed has been packed. In case your luggage is physically inspected, TSA will place a notice of baggage inspection inside your luggage. If your luggage has been locked by a TSA-approved combination lock or padlock, the agent will use a master key to unlock it. If it's not a TSA-approved lock, he or she is allowed to break the lock.
Can I use zip ties on my luggage?
Yes, as per TSA policies, you can zip-tie your luggage to deter casual theft of your belongings, but TSA authorities have the right to snip it open if they want to check inside for some reason.
What is the strap on top of luggage for?
If your suitcase comes with a strap on top, that's an add-a-bag strap to make it easy for you to attach a smaller bag to the suitcase for easy transport. If a carry on bag has a sleeve or strap on the back, you can slide it over the telescopic handle of a wheeled suitcase.