And Some Fun Travel Facts on Women and Their Luggage!
Travel can be stressful enough sometimes without having to worry about whether your travel bags will be safe with you throughout the trip. However, once you know how to keep your luggage safe while traveling, that will give you some peace of mind, so you can enjoy your vacation or have a satisfying business trip.
There are a number of ways to lose your luggage. Airlines can misplace your bags or a thief may try his luck with them. Whether you're flying, driving, cruising or taking a train ride, the following 12 tips and precautions will show you how to prevent lost luggage on any kind of trip.

But before that, want to learn some fun travel facts on women and their luggage? Click the travel infographic below to enlarge. If you liked it, please share it with your friends or use the embedded code below to link to it from your website.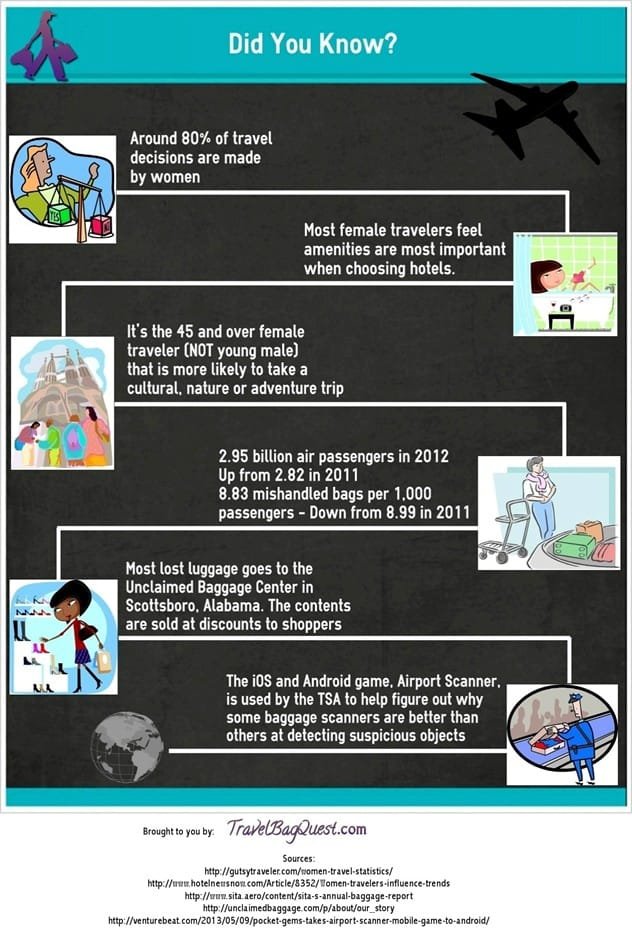 Share this Image On Your Site
Please include attribution to TravelBagQuest.com/ with this graphic.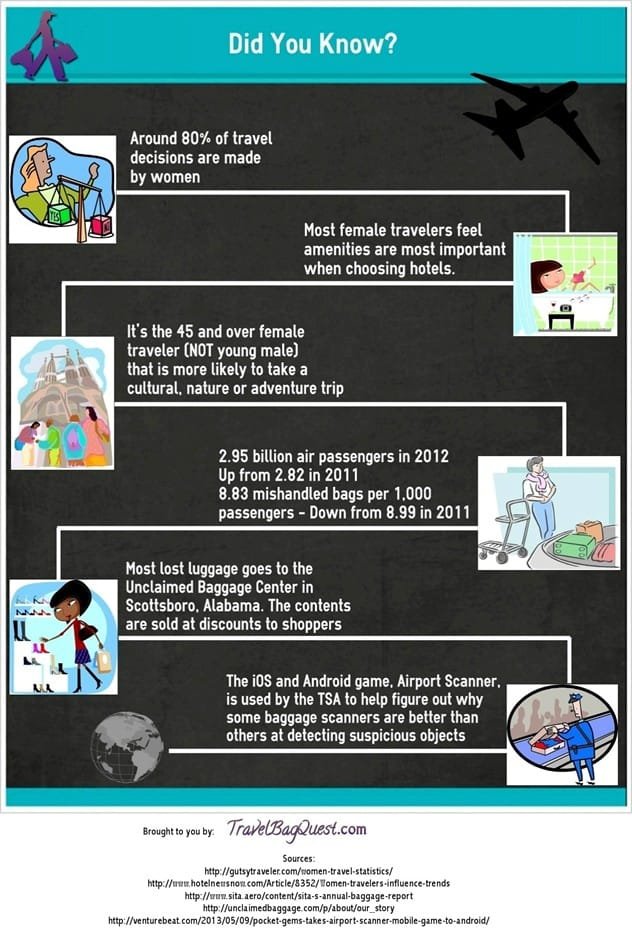 Now let's get going with our tips on how to prevent lost luggage.
1. Get the right bags and locks
Far too many travelers ignore the security features when
shopping for luggage
. If you're checking in luggage, using any old lock on it is useless, as security officials will cut it in order to inspect the contents if the scanning machine shows them something suspicious.
Instead, use a TSA-approved lock that TSA agents have the "master" key for. After completing the inspection it will be locked again. You could also buy luggage that has an inbuilt TSA combination lock that works the same way.
Consider buying luggage that isn't plain black. Not only is it easier to spot a colorful bag on a luggage carousel, but an airline attendant will also find it more easily if you do lose it. If you already have plain bags that you don't want to get rid of, use these tips for personalizing them.
For your carry on handbag, try an anti-theft cross body bag. The anti-theft features like locking zippers and slash proof body and strap will deter thieves and pickpockets.
Lastly, consider adding an extra layer of protection by using a luggage strap. Not only will it deter thieves, but it will reduce the strain on your suitcase zippers and prevent it from popping open if it's overstuffed.
2. Consider luggage forwarding
If you're flying and you need to pack a lot of stuff, you could kill two birds with one stone. Avoid excess baggage fees AND lost luggage by using a luggage forwarding service. They pick up your bags beforehand from your home and deliver them straight to your hotel, so you don't spend any time waiting for your bags to show up on the luggage carousel.
If you like to buy lots of wine at a great wine destination, a specialist wine shipping service can send it to your home instead of you carrying the bottles in your checked luggage.
Since you'll only have your carry on bag with you, you'll also save on cab fare by being able to take public transport instead. If you think there's a chance that your luggage may incur excess fees, then shipping them forward can be less expensive.
3. Pack your travel itinerary in every bag and use smart tags
Before any trip, print out or take multiple copies of all your travel documents and place a copy in a prominent place in every bag. These should include your itinerary and contact information. Airline attendants usually look for this information in lost or delayed bags and can forward them to you if they know who the owner is and where you're supposed to be.
Want to know how to find lost baggage more easily? Consider using a luggage smart tag that can be tracked via the web and can be read with a smart phone or tracking device. The Dynotag you see here helps you track your luggage when you add any important contact information, medical information and up to date forwarding addresses to the tags via their secure website, so the company will contact you when your lost bag is found.
4. Minimize the number of valuables, keep receipts of purchases and get travel insurance
Think twice before packing expensive items like jewelry,
high end hair tools
, or multiple gadgets. Not only will it hurt less if your bag does get lost, but it will also be less of a magnet to thieves keeping an eye out for those valuable bags.
If you're a frequent air traveler, get into the habit of keeping all your receipts from purchases that you may pack for travel. If an airline can't find your lost baggage, they may compensate you up to a certain amount. Also keep a packing list to help you when filing a lost baggage claim.
Don't skip the travel insurance. Not only is it important in case of a medical emergency, but the right type of policy will be vital if you lose your luggage. Get one that covers all your valuables like expensive gadgets, cameras and jewelry.
5. Take a picture of every bag
Take a quick picture of each of your bags and keep them with you. If you lose any, you can show it to an airline agent to help them identify faster.
6. Get a tracking device for each checked bag
In addition to a smart tag, a luggage tracker that you can slip into your bag each time you travel will keep you updated of its location at all times.
Trakdot has just come out with a nifty tracker that costs $70 including a year's subscription. It works anywhere in the world and sends you a text message or email when you land to tell you if your bag has landed with you or has been routed to the wrong airport. If it gets stolen, it will tell you where it is. A phone app lets you know when you get within 30 feet from your bag. Now this is a very effective lost baggage finder!
7. Follow the packing rules for carry on and checked baggage
Make sure you don't pack anything that isn't allowed in your carry on or checked luggage. If anything looks suspicious in your checked bag, it may be opened and inspected, and then may never get on to your plane in time. Same can happen with your carry on. If you get delayed at the security check, your checked luggage may get onto the plane even if you don't
If you're carrying gifts don't wrap them before travel. TSA agents will unwrap them anyway. Stick to the 3-1-1 rule for carrying liquids in your carry on. There's no guess work with this Humangear GoToob 3 ounce/3 pack travel bottle set.
For the full list of approved and banned carry on and checked baggage items, check out the TSA'a prohibited items checklist.
8. Don't entrust your bags to anyone else or leave them unattended
This applies not just to the journey but also at the destination. Always carry your own luggage and keep an eye on it at all times. Certain countries are notorious for luggage thieves and you also run the risk of having unsavory characters slipping prohibited items into your bag. If you need to use a restroom, either lock your bag in a secure locker or take it with you. Never ask a stranger to keep an eye on it for you.
9. Don't be tardy but don't be the early bird
So how do airlines lose luggage? Studies have shown that delayed or lost luggage often occurs when the passenger checks in his or her bag too early or too late. If you check in too late you run the risk of your bag not having enough time to get on the aircraft before takeoff. Too early, and your bag may be placed aside and forgotten when it comes time to gather and load luggage on to the plane.
Try to check in somewhere between an hour to 90 minutes before take off.
10. Double check your baggage routing tags
One of the most common reasons airlines lose luggage is because your bag is sent to the wrong location, especially on connecting flights. When the airline attendant sticks the airline's baggage tag on your bag at check in, double check the routing information on the tag. Make sure all the connecting flights are correct.
11. Wear a travel vest with lots of pockets
A
multi-pocket travel vest
is designed for security, comfort and style and its numerous pockets of various sizes are for keeping your most valuable belongings on your person. These vests usually come with at least 7 or 8 interior and exterior pockets for your phone, passport, cards, and even tablet. There will be more pockets for things like pens, battery charger, etc. Some pockets will be zipped, while one or two may be RFID-blocking.
This type of vest can just be removed at TSA screening and placed in a bin without removing anything from the pockets.


12. Waterproof Your Suitcase
If your suitcase isn't already waterproof
or at least water resistant, then you should take some steps to remedy that so that water doesn't seep into your belongings. This is especially important for checked luggage when you're flying because baggage handlers can leave luggage lying around exposed on the tarmac while during the loading and unloading process.

Now that you know how to keep your luggage safe while traveling, just pack your bags and go!