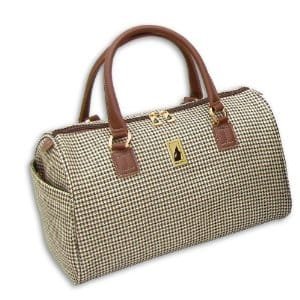 With soaring airline baggage fees, lots of instances of lost checked-in luggage, and short but more frequent business trips, finding the best carry on luggage for business travel has become more important than ever.

If you learn to travel light, your frequent trips will be less stressful. However, that doesn't mean you should travel with nothing! Investing in a great carry-on bag will save you tons of money on check-in fees and lost baggage.

Before we get into what makes the best carry on luggage for women, here are the current best selling ones that are especially made for frequent business trips. These are the top selling in each category of bags that qualify as carry ons.
Travelpro Luggage Maxlite 3 22 Inch Expandable Rollaboard– Wheeled Upright
Baggallini Rolling Tote Bag– Wheeled Tote Bag
Kensington K62533US Contour Balance Notebook Roller Bag in Onyx, Fits Most 15-Inch Notebooks– Rolling Laptop Bag
Samsonite Luggage L.i.f.t. Carry-On Wheeled Garment Bag– Wheeled Garment bag
London Fog Luggage Chelsea 16 Inch Satchel Tote– Travel Shoulder Tote
McKleinUSA LA GRANGE Leather Vertical Detachable-Wheeled Ladies' Briefcase– Rolling Briefcase
We have also done business travel luggage reviews of the above products and the other top 3 to 4 bestselling carry-ons in each category. Read them at:
So what does all top rated carry on luggage have in common?
The best needs to be high-performance, in that…
Its carrying capacity should be high so as to avoid having to check bags in as much as possible.
They should be light, so that you can carry more of your things and you can lift the luggage into the overhead bin.
If you prefer packing your laptop in your upright instead of a laptop bag, backpack or tote bag, then make sure it has a separate padded compartment for it. Other pockets and compartments are a must for carry ons simply because you'll carry lots more smaller and varied items than just clothes and shoes.
A TSA checkpoint-friendly piece will give you an added advantage when trying to get through security fast. If you're taking your laptop in your upright, you should be able to remove it easily at baggage screening. Many bags come with a separate laptop sleeve that you can remove and screen without having to place the laptop in a tray.
If the airline allows enough of a weight allowance, having carry on luggage with wheels is so important when you go on frequent trips because the combined weight of your laptop, papers, other gadgets, clothes and travel essentials will be impossible to lug on your shoulders in the long term. The best carry on roller bag should have a wheeling system that is smooth and durable for you to manoeuvre it easily through airplane aisles and across the tarmac. If the mounting hardware of the wheels is made of plastic, it needs to be of high quality.
For those airlines and flights that have very strict weight limits, take a bag without wheels.
Perhaps most important, is that top rated business travel luggage needs to be extremely durable because they will be used many times in a year. If you want to avoid buying luggage after just a few trips, then invest in a brand that's known for durable luggage.
With these criteria in mind, the research shows that the best luggage for frequent travelers is unlikely to be priced at under $100. By investing a little more on a good product at the beginning, you'll save more in the long term because you won't have to buy another piece for the next few years.
If you're looking for inexpensive bags that you'll use just a few times a year for vacations, take a look at these great budget carry-on suitcases.
Dimensions for Carry On Luggage
Before you buy, check the baggage policy of a few airlines. Most airlines limit you to one carry on and one personal item, like a laptop bag, diaper bag, purse, garment bag, etc.
The luggage normally has to fit an overall dimension, which for most airlines is 45 inches when you add up the length, width and depth. The most popular upper limit carry on suitcase dimensions are 22″x14″x9″.
A few airlines also have a weight limit for a bag, normally 40 lbs for American domestic flights, but many European and other international destinations give you much less, like 20 lbs or 10 kgs. So, the lighter your carry-on, the better for you.
For exact luggage allowances on various airlines, visit One Travel's Baggage Policy page.
For allowances and fees for carry on and checked bags on domestic and international airlines, visit Expedia's Airline Fees page.
There are also restrictions on what items you can take with you on board. For U.S. international and domestic flights, find out more on current regulations at the Transportation Security Administration website.
When thinking business travel bags, most people think staid and boring. Until recently, business women didn't have any feminine options that also looked professional enough that they could go straight from the airport to the office.  Happily, however, many luggage brands have embraced the female traveler and are making some cool carry on luggage for women.
Types of Carry on Bags
Now that we know how to select good carry-on luggage for business trips, let's take a look at the various types of bags that you can take on board with you.
A rolling suitcase on inline wheels or spinners will give you maximum carrying capacity and will give you the best opportunity to not have to check in luggage for short trips. Watch out if you have a tendency to over pack soft sided suitcases because then you may go over the maximum allowable rollaboard dimensions.
A wheeled tote bag is great for women who struggle to manage a full sized rollaboard. Many rolling totes these are deceptively small but can carry an enormous amount, sometimes even leaving space for a laptop.
A garment bag can be quite big, and finding a good one that is within allowable dimensions is a challenge. However, they're great for the convenience of carrying almost wrinkle-free clothes for business or formal trips and can be easily hung in a wardrobe without unpacking till needed.
A rolling laptop bag is ideal if you want one to use for both everyday work and travel without lugging it around on your shoulders. If you don't need to pack other bulky things in it, you can take a personal item like a tote along with it.
A tote handbag is a versatile personal item that most airlines let you take along with a carry-on. You can use this as work bag or a carryall when you get to your destination.
A travel backpack is different from those that students use. Keeping everything, including gadgets, organized and secure is a priority. If you're flying, a TSA-friendly laptop backpack becomes very handy.
Now that you know what to look for in a business travel carry on bag, go to Amazon to see the best carry ons rated 4 stars or more.