What is the Best Carry on Backpack for Women?
When deciding on the best travel backpack carry on for your next holiday, be aware that many of them are very different from backpacking backpacks and packable daypacks. While the former may be too large or heavy to pass for carry on luggage, the latter won't be strong enough or have enough features to be suitable for travel. Of course, there are a few options that are versatile enough to work for air travel as well as casual backpacking or city sightseeing. In fact, many travel backpacks also come with detachable daypacks.
If you're looking for a backpack mainly for short business trips, there are options that have laptop compartments built in with space for a few other essentials. If you can't handle much of a weight on your back, then choose a rolling backpack.
Generally when considering top rated carry on backpacks for travel, framed backpacks up to 45 liters and frameless up to 60 liters will fit as carry on luggage, but it is also advisable to pay attention to the specified dimensions, i.e. 45 linear inches all around. If you're flying within Europe, the limit is even less, so we have different recommendations for travel backpacks for Europe. There are two important aspects of a travel carry on backpack to consider before buying – comfort and functionality.
If you want your backpack to double up for long outdoor activities or you plan on carrying heavy items in it, then the best travel backpack carry on should be comfortable enough to carry for extended periods of time, so make sure that it has a frame and hip belt. Ideally, you should be using a hiking backpack in this case and there are a few that will pass as carry on. However, a framed pack should fit your torso correctly. The best brands make special framed travel backpacks for women just for this reason. It should ideally have breathable shoulder straps and provide for good air circulation at the back.
Also look at how strong the zippers are and whether they're lockable or not. This feature is useful in deterring pickpockets. These anti-theft backpacks double down on security and so does the new Eagle Creek Deviate Travel Pack. Regular top opening packs that are deep can be a pain to dig through when you're searching for something. A front opening is more convenient, especially at security checkpoints. Backpack straps and buckles are prone to getting torn off during transit, so a good pack should give you the ability to tuck them in when not in use.
A convertible backpack suitcase usually packs more than a regular one and can withstand rough treatment better, not to mention being great for a laptop AND clothes. While some are made of the stronger nylon material, polyester can be just as good but lighter.
Keeping in mind all of the above, here are our top 5 best carry on backpacks for women sorted by price range.


Backpacks under $150
Best Backpack for Laptop and Clothes – eBags Mother Lode TLS Weekender Convertible

This convertible backpack suitcase from eBags is rated the most popular and best carry on backpack for travelling on Amazon. It is made of durable polyester and has many innovative design features.
There's a laptop sling that is discretely placed on the top and back of the bag, which is padded with thick foam on the outside and cushioned on the inside by your clothes. The height of the cradle can be adjusted according to your laptop's length (between 10" and 19"), the way you pack your clothes and the height at which the laptop is most comfortable for you to carry. Once the sling is adjusted, your laptop is easily inserted and removed while going through airport security.
The main compartment is expandable to add up to 10% more packing capacity and features a fold down fabric shelf that splits the compartment in half. The tie-down straps can be adjusted for cinching to also help minimize the shifting of your things.
The inside of the main compartment's lid contains a mesh zippered panel for added organization, while the front compartment features an outer travel organizer zippered panel. Both compartments taper slightly towards the top for a less bulky look.
If you want to separate small things, the front compartment has a zippered pocket with a floating lining attached. You also have a water bottle pocket that is zippered and hidden in that is an ID pocket for your luggage tag.
There are contoured hideaway air mesh padded shoulder straps with adjustable webbing, and a sternum strap system, both of which are adjustable and removable. Four external compression straps reduce the strain on the YKK self-repairing zippers when fully loaded, but help keep your things secure if not.
All the main zippers have lockable D rings to keep your belongings safe. Three grab handles on the top, bottom and side make lifting the bag easy.
This carry on travel backpack measures 9 x 22 x 14 inches and weighs just under 4 pounds. The interior nylon lining is orange, while you can choose from 7 different colors for the exterior.
There's another option from eBags that's very similar – the eTech 2.0 Weekender Convertible. It is slightly lighter but with fewer organizational pockets. It is an updated model of the original. It may actually be a better option for petite women.
Osprey Porter 46 Gear Hauler Duffel

If you're looking for a simple backpack that's specifically meant for travel and casual city exploring, you can't go wrong with this popular Osprey Porter 46 Gear Hauler Duffel, which is an updated version. It's great looking in that it does not look like a normal adventure traveler's pack. The design is sleek, light and compact, and very suited to a woman's body. It measures 13 x 15 x 23 inches and weighs just 3.4 lbs, making it possibly the best backpack for airline travel carry on. While this is a 46L pack, the same is also available in 30L and 65L. You can also attach an Osprey Daylite Pack using the reinforced cord loops. The durable nylon hex rip construction makes it long lasting as well.
This carry on travel bag with backpack straps has structured padded side walls and a front opening panel, so it's very easy to pack. There's also a front zippered pocket for you to quickly remove things like liquids and toiletries at security checkpoints.
The main panel's zippers are lockable, while the internal zippered pocket on the front panel provides storage for small items. A top loading lockable zipped compartment behind the main compartment is where the padded laptop and tablet sleeve is. There is also a zippered mesh pocket in here which is a secure place to keep cash and credit cards.
This new model has been upgraded to include a zip-away shoulder harness with a sternum strap, whistle, a minimalist fabric tuck away waist belt, and a patented StraightJacket compression strap system to keep everything inside secure. These features make carrying the bag very comfortable, and in addition to the padded top and side grab handles, they make it able to withstand rough baggage handling.
If you want to take this with you as a daypack, it can fold down into a compact bundle using the straps, so you can pack it into another carry on if you wish. It also comes with D-ring addons if you want to purchase the Osprey shoulder strap for toting the bag over your shoulder.
There is no water bottle pocket on this pack but if you have a bottle that can clip on with a carabiner, you can use the d-rings.
Choose from black, grey, teal and red.
Pros: Very good laptop storage and protection.
Good organizational pockets.
All zippers can be locked.
Cons: Just a bit longer than legal carry on size but most customers say that it fits easily into overhead bins.
Not good for traditional backpacking as there is no dedicated bottle holder.
Kelty Redwing 40 Internal Frame Pack for Women

This Kelty Redwing 40 is the women's version of the popular Kelty Redwig 44 (the old Kelty Redwing 40 model is still available) is value for money if you want a travel backpack that has a light frame. The suspension is ideal for women traveling between destinations or going on a day hike.
This backpack for carry on is proven to be a rugged choice that is comfortable to carry, as its shape, padded shoulder, sternum and hip straps and load lifter straps are specially designed to fit the female body and evenly distribute weight. The material is ripstop polyester and oxford polyester.
The hip belt is also adjustable and removable and all the straps with the back panel are fitted with a moisture-removing mesh to enable you to stay comfortable and dry while on the move.
The internal Stiff LightBeam suspension stay and framesheet that distributes the weight to the hip belt is lighter than most other stays. Four side compression belts keep your belongings secure and there's a convenient carry handle right above the backpack straps.
The roomy main compartment is top loading as well as side loading for convenient access to all your gear and it has a hydration reservoir sleeve that doubles as a laptop sleeve. You can keep small items in the top zippered pocket, while the front stash pocket that secures with a hook is perfect for a jacket. In front of that is a zippered organizer panel for electronic gadgets and travel documents. There are also two vertical zippered pockets and two mesh elastic pockets on the sides. Hiking gear can be attached with the help of the daisy chain hidden on the front, which also doubles as a haul handle. If you're going hiking, there are loops on either side for your trekking poles. Or use one for a camera tripod.
Made to fit a 14.5" to 18.5" torso, this 40L pack measures 23 x 14 x 12 inches, weighs 2 lbs 10 oz, and is available in two colors – black and light blue. Even though the measurements indicate that it is larger than carry on size, no one has been stopped from taking it on board with them and stowing it in an overhead bin.
Pros: Roomy and rugged.
Good organizational features.
Comfortable for travel and hiking for women.
Affordable.
Very lightweight.
Cons:
The holes on the zipper pulls are too small to pass a luggage lock through but you can fix your own metal wire loops to them so that those can be locked.
While the hip belt can be removed, the backpack and sternum straps cannot and there's no place for them to be tucked away either.
Hynes Eagle 28L Aurora Convertible Flight Approved Carry On Travel Backpack

The least expensive backpack on this list is the Hynes Eagle 28L Aurora Convertible. It's design is more small soft case luggage than true backpack, but if you need to carry it for non-adventure travel, this 2.39 lb, 18.9 x 11.8 x 7.5 inch, 28L pack will work just fine. It is IATA approved for carry on and will work for airlines that have very strict restrictions on what qualifies. It will even fit under the seat.
You have three ways of carrying it, as it has a side and top grab handle, a detachable shoulder/cross body strap and adjustable backpack straps with sternum strap that can be tucked away into the back panel for transit after unclipping the bottom of the straps. A replacement pair of hooks are provided in case any of the ones used to attach the straps break. That way you can quickly replace it yourself instead of sending it for repairs.
This polyester backpack carry on luggage features storage for clothes as well as a 15.6″ laptop. Depending on how and what you pack, you can travel with this bag for up to 5 days. The laptop goes into a side loading padded zippered compartment right at the back. The main compartment features dual zippers with metal pulls that can be locked with your own luggage lock. It opens book style but lengthwise like with most backpacks instead of the way that suitcases open. Both the lid side and main side feature zippered divider panels to separate the storage spaces and keep everything in place. The lid side panel is opaque while the main side is mesh. There is a large u-shaped zipped organizer pocket in the front and another surface vertical zippered pocket for travel documents or a paperback on top of that.
Pros: Roomy and functional.
Versatility for carrying it.
Easy to pack.
Cons:
No water bottle holder.
The North Face Women's Surge Laptop Backpack

The The North Face Women's Surge Laptop Backpack is a checkpoint-friendly laptop backpack that also has lots of room for clothes for two nights. Weighing 3.4 lbs and measuring 8.5 x 19 x 13 inches, this nylon backpack is well made and functional.
This pack is designed specifically for women, with the FlexVent suspension system that features shoulder straps molded to contour a woman's shoulders and torso with flexible attachment points, a spine channel in the padded mesh back panel that fits a woman's curve, and a moisture-wicking lumbar panel for proper support and ventilation. A sternum strap and waist belt provide stability and load balancing. A top grab handle and a front duffel style grab handle make it easy to just grab the pack and go.
When it comes to organization, there's a full dual zippered compartment that features a padded fleece-lined laptop sleeve for 15.6″ laptops, although you can fit a 17″ laptop in this compartment but outside the sleeve. This compartment opens fully to lie flat on the x-ray belt at the airport, so you don't have to remove the laptop from the pack at all. If you're also carrying a tablet, there's a padded fleece-lined sleeve for that in the front single zippered compartment that also features slip and zippered pockets and holders for a phone, pens, cards, electronics and their cords. In between these two compartments is the dual zippered main compartment that can hold all your clothes. Right in front is a horizontal padded pocket for your shades or small snacks, and two vertical pockets for travel documents. Two elastic mesh pockets on the sides are big enough to hold a 1 litre water bottle.
Pros: Lots of pockets and compartments.
Comfortable fit for women.
Cons:
Can get quite heavy when packed with laptop and lots of other items.
Backpack under $200
Osprey Farpoint 55 Travel Pack

While the Osprey Porter 46 is ideal mainly for packing clothes and accessories travel, the Osprey Farpoint 55 can easily do double duty for travel and light backpacking. The main backpack comes with a detachable daypack that can be taken out for city exploring or hiking.
Available in 5 colors, this nylon backpack comes in two sizes – S/M and M/L. The small one is of a 52 liter capacity, weighs 3 lbs 12 oz, and measures 24 x 13 x 13 inches. The larger one holds 55 liters, weighs 3 lbs 15 oz, and measures 26 x 13 x 13 inches. As you can see, neither one falls under the legal carry on size, but many customers have said that if you detach the daypack, the smaller one is usually allowed as carry on luggage. The S/M size is a better fit for petite women. This size fits a torso of 15-19 inches while the larger one's fit is 18-22 inches. These ranges are enough to classify both as unisex, but many women of average height say that the larger one is not comfortable to carry, while most men like it.
The dimensions of the removable daypack are 19 x 11.5 x 7 inches – a good size if you want to leave the backpack at the hotel and explore a city with just the daypack. It zips and clips into place on the back but can also be carried at the front by attaching it to the front straps.
This pack has an adjustable unisex harness system, including a light alloy peripheral frame that transfers a good deal of the weight to the padded hip belt, so it's comfortable to carry even when heavy.
The back panel features spacer mesh to promote air flow, and a light wire suspension system that can be tucked into its own panel slot if you want to check this bag or carry it like a suitcase using the side or top carry handles. The tall and slim design also makes this bag easy to carry.
There are also multiple slots and loops for backpacking gear to be attached, a StraightJacket compression system to keep your things from being jostled around, a lockable zippered panel for the main compartment, a zippered mesh pocket on the interior of the front panel, removable sleeping pad straps, and a rescue whistle attached to the adjustable sternum strap. All the straps are well padded.
Pros: Increased comfort while carrying because of the frame and suspension system and the tall and slim design.
Very light.
Versatile daypack attached.
Cons: May not fit into overhead bins on small commuter planes if it is fully stuffed and has the daypack attached. If you need this to be a carry on backpack, then choose the Farpoint 40 instead. That one does not come with the daypack or the sleeping pad straps.
Patagonia Black Hole MLC Bag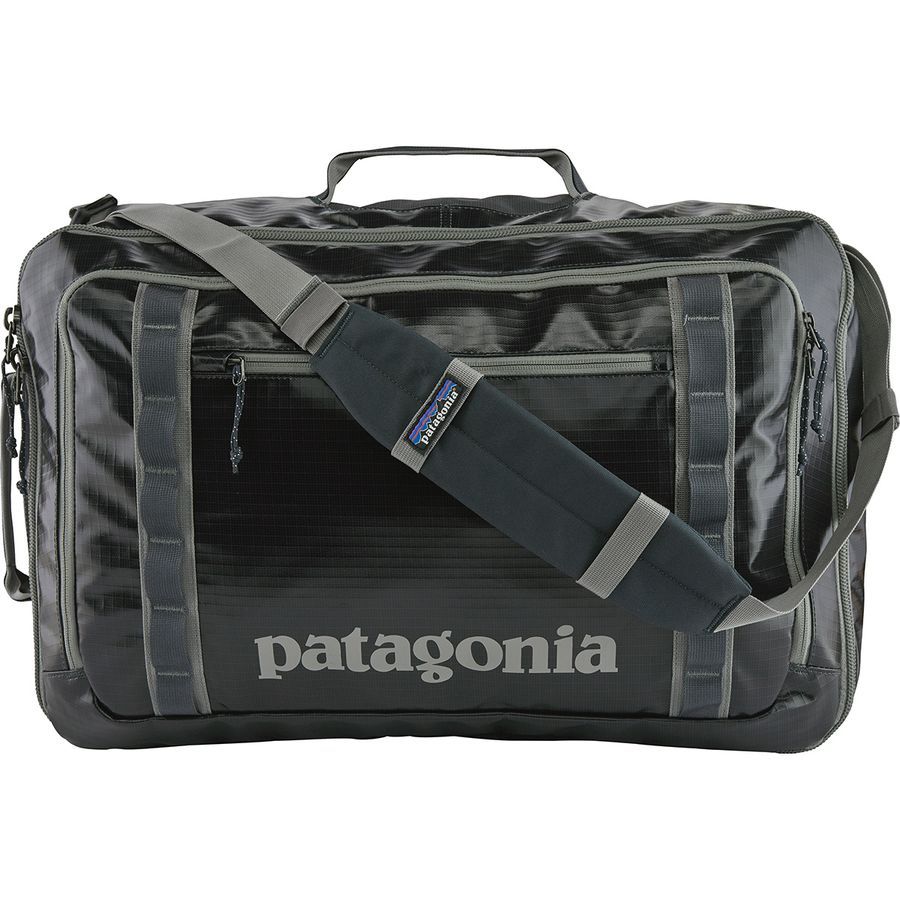 If you're looking for maximum packing capacity for airline travel and want a duffel that has a laptop compartment along with other organizational features, then the Patagonia Black Hole MLC (Maximum Legal Carry on) 45L bag is the one for you.
This is the bag for chronic over packers and is not as light as most duffle bags because of all the extra features. You can fit a lot into it but it can easily go from carry on to you being forced to check it in. If you do have to check it in, it is sturdy enough to withstand rough treatment and there's a hidden luggage tag sleeve along the bottom. All the double zippers are YKK, however, they don't have padlock loops for a luggage lock, so if you want to lock any compartment, you'd have to use the zipper pull tabs.
For carrying options, you have grab handles along one long side and on the top, a shoulder strap with adjustable pad, and padded adjustable backpack straps with a sternum strap that can be stowed away if you check the bag. The most convenient way to transport it is by the luggage sleeve at the back that you unzip the bottom of to slide it over your suitcase's trolley handle. You can keep it zipped up to use as an extra pocket at other times.
With the backpack straps and shoulder strap, it's easy to carry when you're transitioning between cabs, plains, trains, etc. However, don't count on being able to carry it like that for a long time, as the shoulder strap is basic and the bag doesn't have an internal frame or waist strap to make it comfortable to carry as a backpack for long periods.
This bag has several compartments and opens split style, with the inside sporting mesh dividers and pockets to keep all your gear separate. There's a quick-access padded zippered laptop pocket at the back of the bag that's big enough for a 15″ laptop. The front of the bag has a zippered pocket for quick access to travel documents, and a larger u-shaped zippered organizer pocket that holds a fleece-lined velcro fastened tablet pocket along with several pockets for cables, chargers. etc. There are two rows of daisy chains on the front if you want to hitch it to anything.
This bag is made of ripstop polyester with TPU coating for weatherproofing. The inside is lined with recycled polyester with DWR coating.
It weighs 3.10 lb and measures 22.8 x 8.6 x 14.5in.
Pros:Lots of organization.
Versatile enough for airport travel to digital nomad lifestyle to car camping trips.
Spacious but compact.
Cons: Not comfortable to carry for long periods.
A bit expensive.
We hope you have found the best travel backpack carry on for your needs. If not, tell us why in the comments below.