Do you find yourself always cold when traveling and by air or even in a train or car? Even if your jacket or sweater were comfortable enough to wear for long periods of time, it won't cover your legs. If you want to get some decent shuteye before you get to your destination, feeling nice and cozy can make a big difference to your journey. That's why getting yourself the best travel blanket for your next trip should be one of those important things to check off your list.
Of course, some long distance flights will have blankets for passengers but they're often too few so don't bet on being able to score one for yourself. They are also quite thin and small. You should also know that those airplane blankets are rarely laundered and probably quite germy.
If you think that taking your own blanket is just an additional thing that will take up precious space in your luggage, there are travel blankets that come with either their own carrying case that you can clip on or hang from your carry on luggage, or they can fold down into such a light and small package that you can just slip it into a small pocket somewhere in your bag and it won't make a difference at all. Before we get to our travel blanket reviews to help you choose one that's best for you, let's first look at the different types more closely.
Travel Blankets for Airplanes
Travelrest 4-in-1 Premier Class Travel Blanket with Pocket
Sleeping or relaxing while sitting up poses certain problems and one is not being able to keep your blanket up and covering you fully for very long unless you wrap yourself up in it like a mummy. That's where the Travelrest 4-in-1 Premier Class Travel Blanket has an advantage over normal blankets. Its poncho style ensures you always remain covered yet feel free to sleep in any seated or reclining position. Toss and turn if you want and it will still be on you. Your arms will also be toasty yet free to hold a book or tablet to read.
This very soft travel blanket will keep you really cozy in the cold plane cabin. It has its own in-built zippered pocket that you fold the blanket into at the end of your journey. When fully opened this is a poncho blanket with pockets, as the zippered pouch becomes a storage pocket for a wallet, phone or music player. The pouch with the blanket inside can also be used as a pillow for your head and neck or as lumbar support for your lower back if you don't need to use it as a blanket.
There is a snap button loop to tether it to your luggage so that it doesn't take up any packing space. Once the trip is over, it can be washed and dried in the machine. You also get a drawstring stuff sack for when your trip is over and you have to store it away until the next one.
There are two sizes available – the small measures 38″ X 60″ open and weighs 13 ounces. The larger one measures 40″ X 72″ open and weighs 20 ounces. Both fold to 10″ X 13″ in the pouch. The neck hole is cut closer to one short end so the longer portion has to go in front to cover more of you.
Pros
Ultra plush and soft.
Lots of freedom to move.
Doubles as lumbar or neck support.
Has its own storage pocket.
It is machine washable and dryer safe.

Cons
Very tall people won't be able to cover their feet.
Not convenient to remove everytime you want to walk the aisles or go to the restroom.
Cabeau Fold 'n Go Travel Blanket & Case
If you don't like the idea of a poncho-style blanket but still want a plush one that doubles as a pillow, then we rate the Cabeau Fold 'n Go Travel Blanket & Case as the best travel blanket for airplane use. It is a rectangular blanket measuring 60″ x 36″, quite lightweight, and made of soft machine washable french microfiber. It folds up into the included travel case that measures 12″ x 7″ x 4″ and it has a handle with a Velcro secured end so that you can wrap the handle around your luggage handle for easy transportation.
You can toss both the blanket and its case into the machine to wash it. The blanket in the bag can act as a travel pillow too.
Pros
Keeps you warm with a luxurious feel.
Easy to fold it and pack it back into the travel case.

Cons
The Velcro used for the handle is not very strong and may open without you knowing. As a precaution, you could sew the handle permanently closed around a carabiner clip that will securely attach to your luggage instead.
Doesn't cover very tall people enough.
Sheds a bit of fluff when new so it needs to be washed a couple times before first use.
Forestfish Fleece Throw Blanket
Another cozy and soft travel blanket is the Forestfish Fleece Throw Blanket. It measures 60″ x 40″ and is made of 100% polyester fleece that is machine washable and pill resistant.
The blanket comes in a choice of two patterns – flower and plaid, and you also get a drawstring bag that is water resistant and dust proof. This helps keep it clean in storage and it won't get wet if you're standing on the tarmac in wet weather. When you roll the blanket up to store in the bag, it will be about 3″ x 16″ in size.
While not as thick as the ones above, this blanket is more compact and a bit lighter, so it is very convenient to take in your carry on bag. It is large enough to cover most of you, but it's ideal as a lap blanket doubled over.
Pros
Quite soft and cozy.
Does not pill.
Nice enough design to use at home as a throw.

Cons
Not very thick.
Makes a nice gift, as the drawstring bag looks nice too.
Lewis N Clark Microplush Blanket
If you're looking for a very inexpensive travel blanket then the Lewis N Clark Microplush Blanket would qualify. This is also a polyester fleece blanket and it measures a very generous 37 x 62 inches. It is plush and keeps you quite warm as it is not too thin nor too thick.
It does not come with a travel case. It instead comes with a velcro compression carry strap that wraps around the rolled up blanket and has a handle that's big enough to act as a piggyback strap to go over the telescopic handle of your rolling luggage.
This blanket comes in navy or dark red and you can get it as a single blanket or as a two-pack.
Pros
Nice length to cover you almost completely even if you're tall.
Inexpensive.

Cons
A bit too narrow in width for some.
The velcro on the strap is a bit weak so you have to roll the blanket up properly before strapping it up.
Best Lightweight and Compact Travel Blanket
Cocoon CoolMax Blanket
If you don't usually need a thick blanket to feel warm and are more concerned about saving luggage space when traveling, then the Cocoon CoolMax Blanket is one of the most popular lightweight travel blankets out there.
The CoolMax packable travel blanket is made of a thick T-shirt-like knit that is warm, breathable and wicks away moisture. This attribute is great on a turbulent flight that may make you spill water over it. It is nice and large at 55″ x 70″ but weighs just 11.2 ounces. When rolled up into a cylinder, it packs nicely into its own drawstring stuff sack, about 7″ long and 4″ across – a little larger than a soda can. The bag will even hold the blanket stuffed in if you don't have time to roll it up. It will easily fit in the corner of your carry on bag. It is machine washable and can be dried in a dryer.
This blanket is available in 10 colors.
Pros
Provides good coverage even for tall people.
Easy to pack back in its bag.
Soft and comfortable on the skin.

Cons
A bit pricey.
A little thin even though it does a good enough job for most plane trips.
Matador Pocket Blanket 2.0
We're now getting to blankets that are good for picnics and camping rather than keeping you warm in the plane, and the Matador Pocket Blanket 2.0 is a great example of that. It measures 63″x 44″ when fully open but packs into an ultra compact package in its own built-in storage pouch that's about the size of a deck of cards.
This down travel blanket is big enough for 4 people to sit on it or two people to lie on it, and when it's a bit chilly, you can wrap yourself in it to keep you a bit warm. Once side of it boasts a satin finish so that it doesn't stick to your skin, while the other side is water resistant and repellent, so you can lay it down on damp grass or sand. It is also puncture resistant in case you snag it on a tree branch or set it down on a shard of glass.
The four corners feature little integrated pockets that you can fill with sand to weigh the blanket down on the beach, or you can use the 4 small attached metal stakes to secure the blanket even in windy conditions.
It features easy to pack patterns to guide you when packing it back into its storage pocket.
Pros
Very easy to fold and pack into its pouch and very compact.
The stakes work well in grass.

Cons:
Not really meant to keep you warm if it's too cold.
It is not waterproof, only water resistant, so you can't use it on damp ground for too long.
Pocket Blanket by Treadway
The Pocket Blanket by Treadway is even more compact than the Matador when folded into the separate little pouch that it comes with. You can throw it in your backpack or beach bag or clip it to a strap using the attached carabiner clip. This picnic blanket is 6'2″ x 4'1″ when open and 4.25" x 3" when packed into the pouch and weighs just 4 ounces totally.
There are 6 integrated pockets – 4 in the corners and one on each long side that you can fill with sand or rocks to weight the blanket down. If you have your own tent pegs you can secure it down using the 4 corner stake loops. The light and durable fabric is water repellent and puncture resistant, and while it's not meant for use on a plane, it can keep a breeze off. Two adults can comfortable lay on it and not get wet from the damp grass below, so it is probably the best outdoor waterproof blanket that's also very light.
Pros
Ultra compact and lightweight.
You can fold it in any way and it will fit inside the separate pouch.
Moisture from a damp ground will not penetrate through.

Cons:
Not meant for warmth on a plane.
Warm Camping Blanket
Eddie Bauer Packable Down Throw Blanket
Now coming to a camping blanket that will actually keep you warm outdoors. The
Eddie Bauer Packable Down Throw Blanket is made of 7 ounces of 700-fill premium white down fill packed in a soft polyester and nylon fabric shell to keep you warm. The sewn through box construction keeps the down in place so there's even fill everywhere.
It works well in medium cold temperatures and it planes, and as an additional layer in very cold weather. You can also use it as a throw at home.
When you're done with it, it is easy to roll up and pack it back into its drawstring carrying case. In its carry bag it measures about 9" x 5", when open it's 60″ x 50″ and is about 1″ thick. It weighs an unbelievable 12.8 ounces only!
Pros
Soft and warm without being too heavy and making you hot.
Machine washable and dryable.

Cons:
Won't cover you fully when lying down.
Slightly pricey.
Travel Pillow and Blanket Set
Lug Nap Sac Blanket and Pillow
While some of the above items can be used as either a travel blanket or a travel pillow, the Lug Nap Sac Blanket and Pillow is a nice set of both.
Both the pillow and the blanket are made of the coziest machine washable fleece. The pillow is an inflatable liner which comes in the fleece travel case along with the blanket. When you're ready to use both, just remove the blanket and liner from the case, blow up the pillow liner, insert it into the case, which doubles up as a pillowcase, and zip it up. You can blow up the liner as much as you want according to your preferred firmness. There's a handy pocket for anything you need to reach easily. When you're ready to pack up, remove and deflate the liner, fold the blanket and pack both back in the case.
This Lug Nap Sac blanket measures 35″ x 46″ and the pillow case is 10-3/4″ x 7-3/4″ x 3″. The blanket covers a short person on a plane from neck to ankles.
Pros
One compact and light package for travel.
Pillow is easy to inflate if done correctly.

Cons:
Impossible to inflate if you don't pinch the air valve.
Will shed a bit when new, so it needs a wash first.
A bit on the short side.
Pillow is small and not contoured for complete comfort.
Best Heated Travel Blanket
Trillium Worldwide Heated Fleece Travel Electric Blanket
Taking a long road trip in really cold climes and want to be warm when the car heating isn't enough? The super soft polyester fleece Trillium Worldwide Heated Fleece Travel Electric Blanket can do the job quite nicely. It doesn't get hot but just warm and toasty. It measures comes in navy and red plaid and measures 58″ x 42″.
This electric blanket only needs a 12V DC power outlet, which is what your car's outlet will be. You plug in its 7 feet long power cord that is fused, has a reset button, automatic temperature control, and a safety timer (30 minutes or 45 minutes) with auto shut-off. The wattage is 48W and the amp draw is 4 amps. It is not recommended to use it when the car engine is off or for short trips like making a run to the supermarket. if you want to bring it to a hotel, you can use it with an AC to DC adaptor
Pros
Safe to use.
Keeps you warm without overheating.

Cons:
Cannot be used when the engine is off without draining the car battery.
Cashmere Travel Blanket
White + Warren Cashmere Travel Wrap
If you want to travel in style while being cozy throughout a cashmere option like the White + Warren Cashmere Travel Wrap is a good one. This blanket is so luxurious and chic that you can also use it as a shawl or even as a chunky neck scarf for an evening event. This wrap is made of 2-ply 100% Cashmere in 7 gauge knit and is available in several colors. It measures 36″ x 81″ so even tall people will be covered from head to toe.
It is recommended that you dry clean it but it can also be hand washed in cold water. It won't pill and will look as good as new for years. A little bit of shedding on your clothes is to be expected but nothing that a lint roller won't take care of.
Pros
Very versatile for use when traveling on a plane, train or car as well as when out and about on vacation or even when out to dinner.
Available in several chic colors.
Feels luxurious.

Cons:
Expensive.
Types of Travel Blankets
Travel blankets are usually made of 4 types of material and each have their advantages and disadvantages.
Plush or Fleece: If you want a blanket that's easy to take with you but will also keep you warm in a chilly plane or train, then you probably want a plush or fleece travel blanket. Both these are quite cozy materials and soft on the skin but a plush one is more so and can feel quite luxurious to the touch.

The base fabric of plush and fleece is polyester but plush features longer fibres, a bit like stuffed toys, while fleece or microfiber features shorter fibres and dries faster if washed. A plush fabric will also shed more so you might want to wash it a few times before first use to prevent the fibers from getting all over your things.
If you want your blanket to fold down into as compact of a package as possible then a fleece one is better, but if you're looking for the warmest type that is still travel friendly then choose a plush blanket.
Down: Down feathers aren't only found in jackets, bed quilts, pillows and sleeping bags. A few travel sized blankets might have them too for extra warmth and coziness. Fill power is a universal rating system for anything filled with duck or goose down and the number is usually stitched to a corner to help you decide on the quality of the product. Fill power can range from 550 to 900, a higher number being better. A high number means that 1 gram of down fills that much volume in cubic centimeters and it is highly fluffed up. This is because there are more air pockets trapped inside that insulate you from the cold.
If less fluffed up down is used to fill the same size travel blanket, it would need more down in weight, which in turn would make the blanket heavier and less ideal for travel. That is why a high power fill blanket of at least 650 is what you should look for even though it may cost more.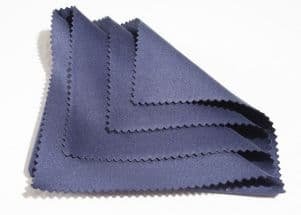 Water resistant Polyester: If you need a blanket more for keeping you dry while sitting on damp ground at an outdoor event, on the beach or when camping, then you'd get a water resistant travel blanket. This is usually made of polyester or a blend of polyester with nylon and it would be thin and really meant for keeping you warm but good enough to keep a breeze off you if needed. This is the lightest type of blanket that you can find and can be folded into quite a small and compact package, which makes it ideal for just slipping into your beach tote or backpack.
Cashmere: Cashmere wool is a fine luxurious fiber that comes from the undercoat of a cashmere goat and is very expensive. Real cashmere is produced in very small quantities globally and that's why it's so expensive. It feels much softer and looks more luxurious than anything man-made so if you're looking to treat yourself or gift something of value to a female traveler, then a cashmere travel blanket is a great choice.
You have to watch out for cashmere products that are inexpensive because there are fakes out there. A true cashmere travel blanket of a decent size should cost at least $250 and some high quality ones can cost double that. You will only be able to dry clean it or at the very least only gently hand wash with a gentle detergent.
Other Features to Consider
Other than providing you with warmth and comfort and being as light and compact as possible, there are a few other considerations to buying a travel blanket.
Ease of use: Most travel blankets come with its own carry bag, inbuilt storage pouch or at least a cinching strap for packing and carrying it. At the end of your journey you don't want to struggle with folding the blanket back up to stuff into its bag when you have other things to do to get ready too. The carrying case should be nice and compact but not too small that it's impossible to fold the blanket down small enough to fit back into it. Yet this design with the case separate from the blanket is actually easier for packing than if the storage pouch is built into the blanket. Only problem is you have to ensure you don't lose the case when it's empty. The inbuilt design requires you to fold the blanket in a certain way to ensure it gets in completely. Unless there's a printed pattern to guide you, it can be time consuming. The advantage of this is that there's nothing that you can lose when using the blanket.
The blanket should also be big enough to cover as much of you as possible but not so large that it will drag on the floor or be too big to fold into a compact enough package. If it's just large enough that you can tuck the sides down under you while you recline or sit so that it doesn't slowly slide down and fall, that's ideal. Of course, the size you need depends a lot on your height and build, so check the dimensions first.
Durability: You should be able to wash the blanket in the machine if it gets dirty after a trip without worrying that it will become threadbare or that the color will run. It should retain its thickness for many years. A quick drying blanket is good but one that can be dried in a dryer is even better.
Extra features: Some blankets come with a handy pocket to keep your music player or glasses while you sleep. This pocket is often the pouch that you stuff the blanket back into for packing up, so while the pocket might be useful, it's more important that the storage pouch is easy to use.
If you're getting a travel blanket for you to lie or sit down on when camping or picnicking it should have loops on the corners to secure with tent pegs or stakes or have corner pockets that you can fill with sand or small items to weigh it down and prevent it from flying away.

Images:
"Cashmere" By Adrianrowe [CC BY-SA 4.0 (https://creativecommons.org/licenses/by-sa/4.0)], via Wikimedia Commons
"Fleece" By iPowahFX Studio (Own work) [Public domain], via Wikimedia Commons