Whether you're taking a day hike or exploring a city from morning to night, you always need to carry a few essentials with you. Things like a water bottle, guidebook, camera, tablet, wallet, snacks, rain jacket and phone can add up and make it difficult to carry in a tote or cross-body bag for long periods of time. That's where a daypack is useful. The best daypack for travel is versatile enough for many kinds of day trips. You can use it for camping or at home too when running a few errands. If you're traveling with your tot, then it's a lot better than a diaper bag! Visiting a theme park with your family? Everyone's stuff can go in! Our travel daypack reviews cover options in various sizes and for various uses so you're bound to find the right one for you.
How to Choose the Best Day Backpack for Travel
Size and Weight
Depending on how much stuff you expect to cram into your daypack, the size will first determine the one you buy. You want to make sure that everything you need will fit into it but you don't want to get such a large pack that you carry too many unnecessary things with you. Depending on where you go, a daypack that is too large can be hindrance. Public buses and trains in many parts of the world are crowded and you will annoy the locals if your pack takes up too much space or hits someone in the face! Many museums will ask you to check it before entering if it looks too big. You yourself should not find that it gets too heavy after walking all day with it.
A 20 litre daypack is a good size for most travelers, as you can usually fit a guidebook, light jacket or raincoat, snacks, water bottle, sunscreen and a regular camera in it. If you're a minimalist go for a smaller one and if you're hiking and need to take extra water, snacks and some rain gear then go larger. If you go around with a big camera setup and extra lenses then you'll need a pack designed for that. Try not to go beyond 30 litres unless you also want this pack to double as your carry on travel backpack. A larger daypack needs to be properly reinforced and with some padding to be able to carry that much stuff.
Since a daypack is not meant for heavy things like school books and laptops, and it's not a travel backpack that takes you from point A to point B, you can choose one that's made of a lighter material than those kinds of backpacks. The pack by itself shouldn't weigh too much so that even if you do stuff it with lots of things, it won't be too heavy to carry about. This is especially important if you're going to be using it for hiking. Some daypacks are designed to be foldable into a small package that can be packed into your other luggage and used only when you're at your destination. These are very lightweight because they lack structure.

Comfort
Besides the weight and size of the pack, it should also be designed to be comfortable enough to wear. Nicely padded and adjustable backpack straps are a preferable and if for warmer days, an air mesh back panel that allows for air flow will keep your back from getting sweaty. Although a daypack is lighter than a regular backpack, a padded hip belt is still a nice feature to have for long days on your feet so that the load is distributed properly and your shoulders won't feel the strain.

Security
Some parts of the world are known for having pickpockets and bag snatchers and a backpack is a magnet for these people. If you carry anything of value on your daypack then you might want to get one with hidden or lockable zippers and slash-proof construction. Other security features may include a backpack strap than can be tethered to a fixed object and an RFID pocket.
For nighttime walking reflective accents on the pack are good and if you're hiking, an attached whistle is nice to have.

Material
The material used for a daypack does not have to be ballistic nylon, which is one of the most durable luggage fabrics there is. In order to keep the weigh down, a lightweight nylon or polyester is best, although for urban travel you could choose a leather or canvas daypack instead. However, it is a good idea to pick at least a water resistant material if not completely waterproof and with the zippers covered by a protective flap because you never know if you'll be caught in a drizzle or a downpour. A quick drying material ensures no musty smell afterwards.
Some travel daypacks are made of very thin fabric but that doesn't mean that they tear easily. If they have strong seams and you don't push your luck with the items you pack in it, it should serve you well for years. That means no sharp objects or school textbooks! Also, unless you buy a structured backpack with a compartment for your tablet, you should not pack one in without its own protective case.

Organizational Features
It's good to have enough pockets and compartments to keep everything organized because you don't want to have to dig around the bottom of the pack to find your wallet or chapstick. An exterior pocket for anything that you want quick access to and an exterior water bottle pocket are nice to have, while a zippered pocket inside for small items or a wallet is essential. You don't want to have too many pockets, though, as that can cause you to forget where everything is!
If the lack of interior compartments is a problem, use a Gobi Gear stuff sack that you insert into your day trip backpack. The stuff sacks have internal dividers to keep your things organized.
You might want to consider getting a pack with a hydration compartment and port if you plan to use it for hiking. If you want to take your tablet or small laptop around with you, then a laptop sleeve is what you want instead.

Looks and Style
A daypack for city walking will look out of place when hiking in the woods and vice versa. If you do both equally, you could find a happy medium. Since it's not meant to be a professional-looking bag, many daypacks come in a variety of colors to suit your style.
Another style that is good to use for day trips is a one strap backpack or sling bag. If you're carrying your camera gear about, consider a camera backpack instead. For a more casual and simple style, you could even consider a good drawstring bag.

Now let's look at our top picks for best daypacks for travel.

Best Small Daypack
A pack that is around 15L in capacity is comfortable for anyone to carry but we choose two that are designed really well and hold a surprising amount of stuff.
Osprey Daylite Backpack
Just because a daypack is small doesn't mean you shouldn't be able to carry an iPad about in it. If you're concerned about long term durability of your bag and having adequate protection for your belongings, get a structured daypack like this Osprey Daylite Backpack. This pack can be attached to any other Osprey pack that has the trademarked AddOn capability, so you can carry two Osprey backpacks together when you need one large unit for maximum capacity while getting to your destination, and then unbuckle this daypack from the other one to use on your day trip.
This is a small daypack with a 750 cubic inch or 13L capacity so it's not meant to replace your carry on but rather your regular sized shoulder tote. The advantages you get with this, however, is a pack that is made for carrying comfort with a padded back panel, adjustable sternum and waist straps and spacer mesh shoulder straps that can be tucked away when not in use. An integrated top handle allows for another method of carrying.
Another advantage is having a dedicated padded tablet pocket inside the main compartment which can also be used for a hydration pack if you're using this for hiking. There is a zippered front pocket with a mesh pocket and a key fob for additional organization.
If you had to, you can fit a 15″ Macbook Pro in the main compartment along with a couple of letter size books but that's about it. If you overload it, the zippers won't be able to handle the weight.
The pack itself weighs 1 pound and you can get it in one of 5 cool colors. It's the best looking of the bunch!
Deuter Speed Lite 15 Hiking Backpack
This Deuter Speed Lite 15daypack has a 15 litre capacity and weighs just 13 ounces. Its versatile and comfort fit design includes a height-adjustable chest strap, a removable hip belt and wide air mesh shoulder straps. For added stability, there's a light and flexible tensioned U-shaped frame and the unique V-cut of the daypack keeps it very compact with the load properly balanced even during long hikes.
The bag is made of ripstop nylon with a water resistant coating and the reinforced base means that it can handle a few heavy things.
There's a special compartment for everything you may need for a day hike – a 2L water hydration compartment with a drinking tube port, a compartment for your valuables like a camera, a mesh compartment for wet clothes, and external side mesh pockets for snacks and a water bottle. The zippers feature extra large pulls. You'll also find pole attachment points and gear loops on the outside.
While this probably is the best daypack for hiking, if you want to also use this for work, a 13″ Macbook Air would fit into it if it has its own sleeve for added protection.
Best Packable Daypack
If you're flying to your destination, then weight is a concern and you may want a backpack that you can roll or fold up to stuff in your luggage for use later on during your holiday. It could also be your additional bag for those souvenirs you bought.
These packables cost hardly anything and make great gifts for frequent travelers. The following ones that we've reviewed are well below carry on size, but if you're looking for something larger, then take a look at the Zomake 40 Litre foldable pack.
Depending on the kind of travel you'll do, you might otherwise find a foldable duffel bag more suitable.
Outlander Packable Handy Lightweight Travel Backpack Daypack
This is the long standing choice as best daypack for women or men. The Outlander Packable Travel Daypack is so popular that its design has seen a few copycats around. The pack folds into its own inner zippered pocket to become a handy pouch with a carrying handle. You can slip it into any other bag to pull out only when needed.
When unzipped and opened out, there are adjustable shoulder straps to let you carry it as a backpack and a top grab handle as well. The front has two zippered pockets, one large and one small for all your odds and ends. The large main compartment unzips to reveal an inner zipped pocket for more valuable things or loose change. You can store your water bottle and umbrella in the two outer mesh side pockets.
This pack comes in 6 colors and 2 sizes – 20L and 33L, with the smaller size weighing just under 0.5 lbs. The material used is a durable nylon that is water and tear resistant and the stress points are reinforced. The metal two-way dual zippers are strong. You get a lifetime warranty with this pack.


L.L. Bean Stowaway Day Pack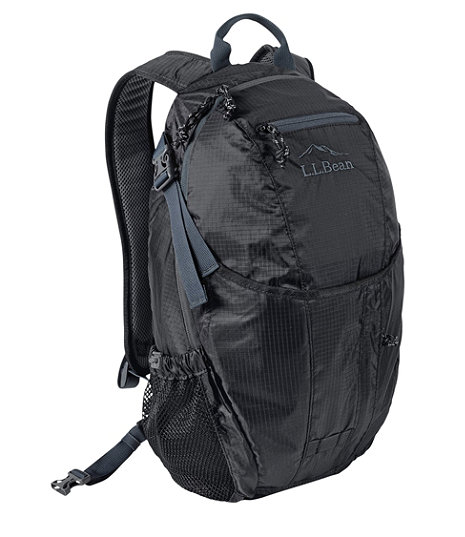 Usually you wouldn't expect any type of packable bag to have a lot of features, but the LL Bean Stowaway Day Pack proves that it is absolutely possible and may just be the best foldable daypack on the market, as it has plenty of organizational and ergonomic features that you'd expect to find only in regular backpacks.
For carrying comfort, this daypack features a padded and ventilated back panel and shoulder straps, and comes with adjustable waist and sternum straps so that the load you carry won't feel like it's weighing you down. It is a 22L capacity pack that weighs 14 ounces and folds into its own interior zippered pocket located in the main compartment to transform into a 7″ x 8″ pouch. It is made of water and abrasion resistance ripstop nylon.
The main compartment is panel loading and roomy enough for a sweater or light jacket, camera, book, etc., with a zippered pocket inside for small accessories. This pocket turns inside out so that you can stuff the pack in when it's time to pack it up for putting away in your luggage or a drawer. The front exterior features an adjustable kangaroo pouch that you can stuff a rain jacket or a pair of shoes in. A small zippered pocket above that can be used for a phone. Two side mesh pockets with tightening loops can be used for a water bottle, compact umbrella or snacks and they won't fall out. You can attach your own light or whistle to the Blinky loop on the side for safety in the dark or while hiking.
This pack is available in a variety of colors.
Best Lightweight Daypack for Travel
Sea to Summit Ultra-Sil Day Pack
At an unbelievable 2.4 ounces in weight, this daypack from Sea to Summit is the best ultralight daypack you can buy. It is great for biking or motorcycle travel because of its negligible weight. This 20 liter Siliconized Cordura nylon pack is super streamlined with no outer pockets and comes with adjustable length shoulder straps although they are a bit thin so can dig into your shoulders if you pack very heavy items. All stress points feature bar tack reinforcements. It is water resistant so you're safe even in a sudden storm.
Its dimensions are 19 in by 8 in by 11 in and folds up very small to fit into the attached storage stuff sack that you can then slip into your handbag. It holds a lot when unfolded. You can get this ultralight packable daypack in any of 5 colors.
Best Urban Daypack
If you're not going on day hikes and mostly sticking to city walking, then a day pack that's styled for urban touring is more appropriate. They're more stylish, with clean lines and sophisticated colors and don't scream tourist wherever you go. They can also be a little smaller than a day pack that you might use for hiking because you don't want one that can get in the way of others in a crowded place, like a museum or the subway.
Lily & Drew Nylon Casual Travel Daypack Backpack Purse
The Lily & Drew Nylon Casual Travel Daypack Backpack Purse is a simple daypack and comes in one of two sizes – a 10″ tall, 8″ wide and 7″ deep pack that's 0.83 lb in weight, and a 15.5″ tall, 10.5″ wide and 7″ deep pack that's 1.1 lb in weight. Both have a padded internal sleeve for an iPad Mini in the first or an iPad Air or Pro in the second. We would say that the smaller day pack is more like a backpack purse for those who won't be carrying any large items with them.
This day pack has a secure zipped pocket inside the main compartment and a tethered lanyard for your keys. The medium bag has two small additional pockets and the laptop sleeve is secured by a Velcro fastener.
On the exterior, the small bag has a single zippered front pocket, a single zippered back pocket, and two side slip pockets. The medium sized bag has 4 external zippered pockets, one large and one small on the front, 1 on the back, and 2 slip side pockets.
The shoulder straps are padded and adjustable and the medium pack has a trolley sleeve at the back to slide it over a telescopic handle on your wheeled suitcase.
These day packs are made of a nylon shell with soft lining but they are only slightly water resistant, so if it starts raining you'll have to take cover.
Pacsafe Metrosafe LS350 Anti-Theft 15L Backpack
Pacsafe is well known for making the best anti theft travel bags on the market so we pick this 15L capacity Pacsafe Metrosafe LS350 Anti-Theft 15L Backpack from the brand as the best daypack for travel in Europe. The reason is because going about with a regular backpack in countries known for having pickpockets is like inviting them to steal from you.
At 1.58 lbs, it is not the lightest of daypacks, but that is because it has exomesh running throughout the inside of the lining to prevent anyone with a knife from slashing through the shell. There is a main compartment and front compartment and both are zipped closed with zippers that can be locked to their respective security clips. The adjustable padded shoulder straps are also slashproof and can be unhooked at the bottom from their security hooks and tethered to an immovable object by hooking them back on. Inside the main compartment is an RFID-blocking pocket for your credit cards and passport.
Other organizational features include organizer pockets and a key ring in the front compartment and a padded sleeve for a 13 inch laptop and several other pockets in the main compartment. Two side stretch pockets on the outside are there for your water bottle and small travel umbrella.
If there's one negative that we can think of is that if you pack too many heavy items in it, it will feel too heavy on your shoulders after walking for a long time, especially because there is no hip belt to distribute the load.
Travelon Anti-Theft Active Daypack Multipurpose Backpack
The other well known maker of anti-theft bags is Travelon, so we pick the Anti-Theft Active Daypack Multipurpose Backpack as one of the best backpacks for city walking. At 16L capacity and a padded and felt-lined sleeve in the main compartment for a 15.6″ laptop, this day pack is very versatile for use while day tripping, as a carry on bag or even for daily commutes.
Not only do you have slash-proof adjustable and padded shoulder straps, you also have a sternum strap to keep the shoulder straps comfortably in place to suit your build and keep the pack stable. In addition to the straps, you have a top grip handle and an add-a-bag strap at the back, so you can use this pack as your carry on bag sitting on top of your wheeled luggage when getting to your destination. The back panel is padded and with air mesh for good airflow even in hot summer months. Slash-proof mesh runs through the entire lower half of the pack.
The front organizer compartment features an RFID-blocking pocket, card slots and a tethered key clip and led light. A small zippered pocket right on the front can fit a smart phone. Both these compartments as well as the main compartment feature security zipper pulls that hook and lock onto fixed loops on the bag to prevent anyone from easily unzipping them if you're not looking. A zippered vertical side pocket can hold a water bottle.
Kipling Ravier Medium Solid Backpack Backpack
Kipling bags are easily recognizable by the monkey keychain that always comes attached to it. The Kipling Ravier Medium Solid Backpack Backpack is a perfect day pack for the discerning traveler walking city streets. It doesn't have any anti-theft features but the placement design of its compartments makes it difficult for sneaky thieves to lift anything out of them.
This pack has a flap with magnetic closure that goes over the top and front to hide the two inner compartments. The one at the back is zippered and large and can hold a 13″ laptop along with various items in one zippered pocket and 3 slip pockets. The compartment in front is smaller and is secured by a cinch cord. You can store your smartphone in here. Both compartments openings are hidden by the flap. The front of the pack has a u-shaped zippered pocket for snacks. The back of the pack has a large zippered pocket, which is also a good place to keep something important because no one can get into it while you're wearing the pack. Two flap covered side pockets are good for a pair of sunglasses, water bottle or compact umbrella.
The shoulder straps are adjustable but not padded, so it's advisable to keep the pack light if you take it out for a long day of walking. If you need padded straps, Kipling does have larger backpacks with them.
Best Waterproof Daypack
Earth Pak Waterproof Dry Bag
While most of the above daypacks are water resistant, your things will only be protected during short rain showers in them. If you think you'll need one that keeps your belongings dry even if submerged or for long periods in torrential rain, then choose this Earth Pak Waterproof Dry Bag. While it is not designed like a typical backpack, it is designed for water sport adventures. It comes in several sizes, ranging from 10L to 55L, but the 10L and 20L bags come with a single adjustable shoulder strap to wear over one shoulder or across the chest sling-style. The 30L and up packs come with two padded backpack-style shoulder straps with sternum strap for added stability.
Because this is a waterproof bag, made with 500D PVC material, it cannot have external pockets that water can get into. Everything you carry will be packed into its roomy main compartment with the top opening pulled together, rolled down, and the ends secured together by a snap buckle. This design prevents any water from getting in even if the pack becomes submerged. You can safely carry even a camera in this pack. If the pack falls out of a boat, it will float in the water and not sink.
You can even take your phone with you, as it comes with a snap and lock waterproof phone case that fits a phone up to 6.5 inches of diagonal screen size. The front and back feature clear windows so you never have to take the phone out of the case to use it.
You can get this bag in one of 7 fun colors.