If you haven't already had the misfortune of having your luggage rifled through in an airport, it could very well happen sooner rather than later. Definitely sooner if you travel with zippered luggage rather than hardcase non-zippered bags. This is because zippers on anything are rather easy to tamper with even if you lock the heads together. We'll tell you what the better luggage alternative is and if you can't switch to that, we'll show you how to tamper proof zipper luggage to either prevent theft completely or to at least deter thieves from trying.
Why Zipper Luggage is Not Very Safe
When you check suitcases for a flight or leave them on luggage racks on a train, anyone can get into them if the main compartments close by zippers. Yes, even if you lock the zippers with a TSA luggage lock. A ball point pen or any small pointy object is enough to tamper with the zip by making a puncture anywhere between the teeth and pulling them open. When the thief has finished lifting anything of value from inside, all he has to do to cover his tracks is to pull the locked zipper heads back over the opening and it will look like nothing happened. That's why the most secure luggage doesn't use zippers at all and instead use latch locks with a combination lock and/or key lock. Here are some recommendations for suitcases without zipper locking. Check out the following video to see how easy it is to tamper with zippered luggage.


Wear your Valuables
If you travel with anything valuable the best place to keep them is on your person. If you wear a travel vest with lots of pockets in various sizes, you can use them to carry your tablet, jewelry, camera, and lots more instead of packing them in your luggage.
Doing this isn't just a good security solution, but you also reduce the risk of taking oversized carry on bags that may need to be gate checked if they're too big or the risk of extra baggage fees.
Anti-Theft Zipper Luggage
While luggage manufacturers are slowly starting to introduce latch lock hardside luggage, the options are still much fewer than for zippered luggage. If you're looking to buy new luggage or travel bags and you're not a fan of hardsided suitcases, just looking for smaller bags, or prefer to stick to regular zippered bags, then the next best option is luggage with some anti-theft security features, like lockable zippers. Anti-theft bags are completely worth it in tourist hot zones.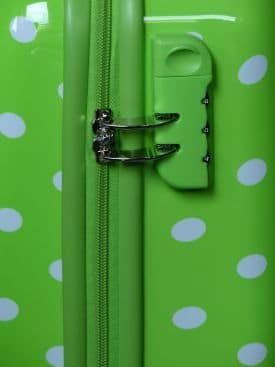 The first alternative for suitcases might be zippered ones where the heads lock into a fixed TSA-approved combination dial lock. That way, the heads can't move back over a tampered zipper opening.
If you're not looking specifically for checked sized suitcases but mostly backpacks, sling bags and shoulder bags, look into getting theft-proof travel bags. The idea here is that single or double zippers can be locked to a fixed loop on one side either via their own locking mechanism that's difficult to open without someone noticing, or by using your own luggage lock. While a thief can still puncture the zipper, he can't slide the heads back over the open teeth to close them again, so you will know if someone has been rifling through your bag. This anti-theft luggage with zippers that are locked down can serve as a deterrent at times, although it's no guarantee.


How to Protect your Luggage from Tampering
If you already have good checked or carry on bags and suitcases that you don't want to get rid of then you have the following options:
Fixed Point Luggage Lock
A similar deterrent to having lockable zippers is to use a luggage lock that not only locks zipper heads together but also locks them to a fixed point on the luggage, like a carry handle. Here too the zippers can't be closed in this case after being tampered with.
Lewis N. Clark makes the popular Travel Accessories Lockdown Triple Security Lock for just this purpose. It is a TSA-approved 3-dial combination and key lock that consists of two sturdy cast zinc alloy construction cable loops instead of just one. The shorter one goes through the two zipper heads as normal, while the longer cable is secured to the nearest handle. TSA agents can open the lock without damaging it or the luggage if they want to do a security check. If you need to store your bags on a luggage rack in a train while you take a seat out of sight of the rack, you can use the longer cable to secure the suitcase or bag to the rack's pole to prevent anyone from making away with it. Use it in your hotel room in the same way too.

Plastic Wrap the Bag
Quite a few airports will wrap your checked luggage completely in plastic wrap so that nothing is exposed for tampering without needing to cut through the plastic. It's highly unlikely anyone would bother with your bag when they see those layers tightly bound around it nor would they risk the noise of ripping through. Be extra certain that you haven't packed anything that wouldn't pass inspection by TSA because a security agent will think nothing of cutting through to inspect the bag.
There're some drawbacks to this though. Airport plastic wrap cannot be reused and the service is not free so if you're a frequent traveler that's a lot of excess fees. It's also not environmentally friendly. An alternative could be a reusable luggage protector, like the HoJax Spandex Travel Luggage Cover. You can get them in several sizes for suitcase from 18″ to 32″ and they slip over the suitcase but leave the top and side grab handles, wheels and telescopic handle exposed. The opening seals by strong Velcro and an elastic buckle strap, so it's an extra layer of security that a thief has to get through. Not only does this cover protect against theft but it also protects against scratches and dirt.

Lockable Luggage Strap

Another extra level of protection that you can provide is via one or more lockable luggage straps like the ELASTRAAP by Proud Guy. These are more secure than regular luggage straps that just wrap around the suitcase and snap close with a buckle. These particular ones can also be locked with an inbuilt TSA key and 3-dial combination lock for extra security. They are tough, hug the suitcase tight, and won't slip off. They are also adjustable in length to fit any size of suitcase. The only way to get past these is to cut the nylon straps or to have a TSA key.
These straps are bright and easily recognizable on a luggage carousel so you can get your checked bag quickly and be on your way.

Featured image by Jack Kennard, TSA 3-1-1 rule [Under license (CC by 2.0)]