In this article we'll help you find the best TSA approved toiletry bag and containers that will hold all the toiletries you need to take with you in your carry on luggage while still fulfilling the rules set by TSA and other airport global airport security on the liquids rule.
Flying these days can be pretty stressful and the TSA security line at the airport is arguably the most stressful. Whether you're hoping to not accidentally setting off the alarm when stepping through the body scanner, or trying to move through the process swiftly so as to not hold up people behind you, or ensuring that you haven't packed anything in your carry on bag that will make TSA pull you aside, it all makes for an uncomfortable experience.
One of the most common hold ups in security lines is caused by travelers not following the rules on how much liquids you can take with you on the plane and how you should pack them. Every single toiletry bag and liquid container is almost guaranteed to be closely inspected at airport security. Even if you suffer from excessive chronic thirst, you can't take a sealed bottle of water with you through security.
So packing toiletries is something you need to pay close attention to if you don't want to be held up. You have to follow the
TSA 3-1-1 rule
everytime you fly.
So what is the 3-1-1 rule? It is just an easy way to remember how to pack your toiletries. although it should really be called the 3.4-1-1 rule. Each bottle or container can hold no more than 3.4 ounces or 100 ml of liquid, cream, gel or paste. You can fit as many of these 3.4 oz or less containers in a single 1 quart bag, and each passenger can carry just one of these bags through. If you don't follow this rule and any of your things is found to be in a larger container, it will be confiscated. If you travel with expensive perfume in a 10 oz bottle, say bye to it!
Keep in mind that this goes for any liquid or gel that you need to travel with. For example, if you pack a hair clippers kit in your carry on, don't forget to remove the container carrying the clipper maintenance oil and pack that in the 3-1-1 toiletries bag too.

The TSA Explains the 3-1-1 Rule!
Why You Need a TSA Approved Cosmetic Bag and How to Choose the Right One
Now you'll probably see most travelers using quart size ZipLoc storage bags and even you may be using them so far, but do you feel like you can never get enough containers into a single bag without tearing it or being unable to lock it? That's because these bags are a terrible choice for this task. The flat design doesn't let you actually use the entire 1 quart of space. If you invest just a bit more in a proper TSA compliant toiletry bag, you can reuse it for years and get more in there than you would a ZipLoc storage bag. I like the cuboid design with a flat bottom because this allows you to use as much of the interior space as possible and you'll find that you can fit much more in there.
A TSA approved liquids bag is 1 quart in capacity, is completely see through and can be sealed so that nothing falls out. As long as you can fit all your non-solid toiletries held in containers with 3.4 ounces or less in capacity into this bag there should be no trouble getting through the security check anywhere in the world quickly and without a fuss.
Now some of these toiletry bags in the market are not completely see though and come in various colors. We advise you not to buy those, as pretty as they may be, as they are not guaranteed to be allowed through at every airport. European airports in particular require the bag to be clear and not just partially transparent and the agent may ask you to remove all your toiletries and transfer them into 1 quart plastic bags like ZipLocs before letting you through. Since these are not designed for stuffing in lots of bottles you may have to leave behind one or two of your items to successfully seal the bag.
The toiletry bag you choose should be durable and not made of cheap plastic that will tear easily if you try to pack the bag full. The zipper needs to be strong to handle the stress of sipping close when the bag is stuffed and ensure that if anything leaks nothing will get out of the pouch and onto the rest of your stuff.
As you can see, a TSA quart bag is quite different from a normal travel toiletry bag. You can get the latter in all kinds of colors, designs and sizes and those are great for carrying solid cosmetics in your carry on or carrying any size liquid toiletries in your checked luggage. If you're not flying, then your toiletry bag can even be the size of an overnight bag if you want!
EZPacking Clear TSA Approved 3-1-1 Travel Toiletry Bag
We rate the Cableinthebay TSA Approved Clear Travel Toiletry Bag as the best clear toiletry bag for air travel because it has the cuboid design with flat bottom that we love, the material is a clear transparent but durable plastic on top and around the sides, while the bottom surface is made of durable and water resistant Cordura fabric. You can choose from several fun colors.
The zippers are strong with reinforced stitching, and the bag is leakproof and reusable. The large u-shaped zipper opening makes it easy for you to insert and arrange all your bottles and jars for maximum space utilization and for wiping clean in case anything leaks inside. It has a nylon webbing handle on the opposite side of the zipper opening so you can pull it out from your luggage or carry it in your hand.
This bag measures 6.25 x 6.25 x 2.5 inches. It also works well as a cord organizer bag, first aid kit bag, building bricks organizer, etc.
Globegear TSA Carry-on Clear Quart Size Travel Toiletry Kit Bottles and Jars
This Globegear TSA Approved Clear Quart Size Bag with Leak-Proof Containers kit comes filled with several useful reusable containers so you don't have to buy them separately.
The kit includes two 1.7 oz. bottles, one 1 oz squeeze tube, two 10 g cream jars, two 1.7 oz spray bottles, a funnel, pipette, a spatula, pre-printed and empty labels, all in a durable zippered quart size bag with large O-ring zipper pulls set in a strong frame.
Ziploc Quart Slider Freezer Bags
If you find that the above reusable toiletry bags are too expensive and you'd prefer to throw out a bag that has suffered a leak inside rather than try to clean it, then the best disposable alternatives are these Ziploc Quart Slider Freezer Bags. They are better than Ziploc storage bags because the plastic used is tougher and less likely to tear when you're stuffing your toiletries in them. The slider zip lock is easier to seal than the pinch type lock, and the bottom of the bags open wide and flat to allow you to stand the bags upright on the bathroom counter. This flat bottom design also allows for TSA bottles to fit better in the bag with less space wastage.
This pack of 102 freezer bags works out to just 12 cents per bag.
Why You Should Also Get Reusable TSA Approved Bottles and Containers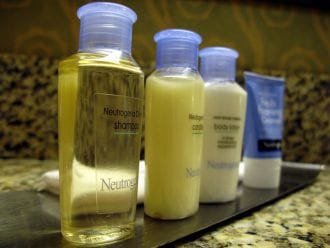 Now that you know you can't travel with regular size bottles in your carry on case, you have to get yourself travel size toiletries and cosmetics that will fit into a quart size toiletry bag. While you can look for these size bottles in the drugstore, there's a better alternative for several reasons.
Unless you don't care too much about the health and beauty products you use on vacation, there's a good chance that at least some of your favorite products are not sold in travel sizes, i.e. in 3.4 ounce bottles. If you like to maintain your daily regimen at your destination it's best that you stick to the products that work best for you and the best way to do this is to fill your own travel size reusable bottles and containers with the shampoo, conditioner, moisturizer, shower gel, etc. from the regular size bottles that you use at home.
By not buying travel sized products everytime you travel, you'll save money overall and you won't be contributing more plastic to the environment. Just fill your TSA approved containers with the products you already have at home, close and pack them all into your 1 quart TSA approved travel toiletry bag. You can just refill each the next time you travel.
Another advantage you have with these refillable containers is that you are not restricted to just 3.4 oz sizes. You can get smaller ones too if you don't need the full quantity, thereby making space for more containers. If you're the kind that uses a lot of different liquids and creams then this is necessary.
How to Pack More Into Your Checkpoint Friendly Toiletry Bag
Just because the maximum allowable size container that you can carry in your toiletry bag is 3.4 oz doesn't mean that's the only size you have to buy. If there's any product that you can manage with less of, eg. a hand sanitizer, then you should have a smaller bottle for that. That's why I recommend that you buy a set of assorted sizes of TSA approved containers. This set of 8 containers consists of two bottles of 3 fl.oz, 2 bottles of 2 fl.oz, 2 small cream boxes and 2 toothbrush covers. The containers are made of food grade silicone and the bottles are squeezable with a wide mouth for refilling and a flow control valve opening to prevent excess flow out when squeezed. The caps feature 3 layers of leakproof design. All these are reusable for many trips.
If you want to buy some more silicone cream jars for travel, this 4-pack of 20 ml containers is great.
To transfer creams from your home cream jar to these small TSA cream boxes without contamination, you may want to get a pack of these disposable mini cosmetic spatulas.
If you want to carry your favorite liquid foundation, this pack of three refillable airless pump bottles is the perfect solution. Each is just 0.5 ozs because that's all you need for most trips. If you'd like larger pump bottles, get the 1 oz bottles. These bottles are made of clear acrylic plastic and are shatterproof and leakproof and are perfect for makeup foundations.
This refillable fine mist spray atomizer is 0.27 oz or 8 ml in capacity and is what you need for your perfume or essential oils. The glass atomizer is protected in a lightweight aluminum shell, so the perfume won't accidentally get into anything else. It comes with a handy mini funnel so you can fill the atomizer without spilling any perfume.
Even if you can't do without some of your favorite liquid cosmetics, there are times when you absolutely can substitute some of them for more practical items. Replacing a liquid with a solid is one of them. Sure, body wash seems to be the only soap women now use but that's mostly because of good marketing. If you give a good bar of soap a try you'll probably find that it works just as well, if not better. Then you can pack the bar of soap separately in a standard toiletry bag instead of it taking up valuable space in your TSA toiletry bag.
Another item you can replace is your liquid hand sanitizer. Instead get a pack of individually wrapped sanitizing hand wipes to have at home and just take as many as you need with you for each trip. These can go anywhere in a pocket in your carry on bag.
Finally, if you're not too fussy about every single product, you can just leave a few toiletries behind and use the free ones you get at most hotels. Things like shampoo, conditioner and body wash are the most common complimentary things you get in hotels. If you're staying in a guesthouse or vacation rental, you may not have these, so check with the host first. If you arrive without an important cosmetic you can always just go to the nearest drugstore and just buy a local brand.

Featured image: "TSA Approved Toiletries" by "jill, jellidonut… whatever" is licensed under CC BY 2.0