One packing tip I always give to leisure travelers is to pack a small foldable bag into their lu-ggage for use at their destination. It's very useful as a daypack to carry essentials while you're city sightseeing or going on day hikes. If you like to shop, it serves nicely as an extra bag for all those souvenirs. If you're bringing back laundry, use it to keep those clothes separate from clean clothes. Even better is if you can separate all your things into different compartments so you can find them easily. One kind of bag that I think would check all those boxes is a stuff sack. I recently received two Gobi Gear segmented stuff sacks – a large one called the Hoboroll or SegSac Traveler and a smaller one called the SegSac Original. I also received a shoulder strap to give me an easy way to carry the Hoboroll.
I've put these Gobi Gear stuff sacks to good use for both travel as a daypack and personal item bag, and for daily use to the gym. The smaller sack is ideal for using inside a backpack that doesn't have pockets and compartments inside. The additional shoulder strap was useful for carrying the Hoboroll easily even when I packed it completely full.
The SegSac Traveler has 5 vertical compartments inside, while the the Original has 4. The former opens from both ends via drawstring closures, while the latter opens from just the top end. What they both have in common is that they're both really spacious, strong and durable, yet incredibly lightweight, being made of Cordura ripstop nylon. The material is also water resistant to keep your things from getting wet in light rain. If you're traveling with them as extra bags, they fold down into hardly anything so that you can throw them into a corner of your suitcase without worrying about them being space hogs.
Let's take a closer look at all the features of both the SegSacs and the shoulder strap and how they can be packed. You can buy these Gobi Gear products as well as their other products from Amazon. Both of them are available in a few different colors.
The SegSac Original
The SegSac Original comes in 3 different sizes. The smallest has a 15L capacity, measures 15″ x 9″ and weighs 1.5oz. The medium one is 20L, measures 16.5″ x 10″ and weighs 2oz, while the largest is a 30L, measuring 17.5″ x 12″ and weighing 3.5oz.
The interior is divided into 4 equal sized vertical compartments also made of nylon. They run right from the bottom of the sack to the top opening.
The top opening has a drawstring closure that can be cinched with the attached cord lock to ensure nothing falls out.
This bag can be used like a gym bag, where you just throw it into your car and then separate your sweaty clothes from the other items.
An even better use is as an organizer for a backpack or duffel. You can separate and pack all your stuff into the 4 different compartments of the SegSac and then insert it into your favorite travel bag that doesn't have much of its own organizational compartments. This way you never have to rummage about for things that may otherwise fall to the bottom of the backpack or duffel.

My daughter recently used the 15L sack as an organizer for her backpack that she takes as her carry on bag on plane journeys. All her drawing supplies, small blanket, a change of clothes and a few snacks were neatly packed and she didn't need help accessing anything during the trip. Because the sack is so light, it didn't make any difference to the weight she carried on her shoulders.

These SegSacs work really well to organize a daypack as well. You can pack a rain jacket, water bottle, snacks and other odds and ends in the various segments.
The SegSac Traveler or Hoboroll
The 18.5 Liter Hoboroll measures 10″ x 15″ and weighs 3.5 ozs. It comes packed in its own zippered pouch that's no bigger than a woman's wallet. To open it up just unzip and turn it inside out to release the shell of the bag.
Both the top and bottom of the sack are open and can be cinched closed by the sliding cord lock on the drawstring. This design allows you to access your belongings from both ends. It's very useful in keeping the contents of the bag tidy until you unpack.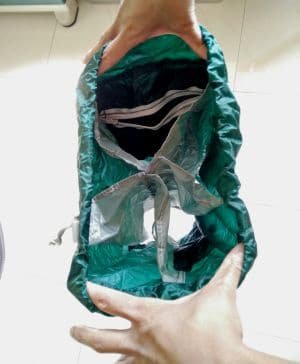 The inside of the SegSac Traveler is vertically divided into 5 compartments and though it may not seem like it, I was able to get a ton of stuff in there. Before you start packing you secure the bottom end by drawing it closed with the cord lock.
Not only could I use the Hoboroll as a daypack at the destination, it could also be used as an overnight bag. In this instance, I used the compartments to organize my toiletries, various chargers and cables, clothes that I rolled up to reduce wrinkles, and a pair of shoes. The zippered pouch cover ended up being really useful as a zippered pocket inside for small items like keys, a USB stick and loose change.
Once fully packed, you secure the top shut. Then to make the sack as compact as possible, there are two compression straps around the circumference that you tighten and secure by the strong buckles.
You can carry the bag by its carry handle or you can get the optional shoulder strap that attaches via grommets on the Hoboroll. This strap is completely adjustable in length up to 57″ so you can wear the sack like a cross shoulder bag too. A padded comfort pad on the strap is also adjustable so you can position it for maximum comfort. There are two lash points as well if you want to secure the bag to a bike to ride to the gym or for a day out in the country.
All in all, both the Gobi Gear Stuff Sacks are very useful for staying organized while traveling. To get maximum use out of them, they work well for regular use as gym bags too.
We also have our top picks for foldable daypacks, drawstring backpacks or foldable duffels if the SegSacs are not for you.