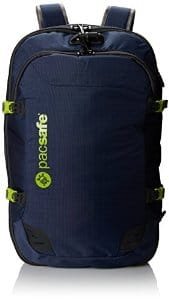 Pacsafe is well known for its various anti-theft bags and luggage pieces so it's probably the first brand you think of for the security factor when traveling. The Pacsafe Venturesafe 45L GII Travel Pack is one of the brand's most useful pieces to travel with.
One of the most useful travel bags to have anti-theft features built in is a carry on backpack. If you're traveling between locations in Europe or South East Asia, carrying a backpack on the local trains and buses and while making your way to your hotel is a bit risky. You may not even notice if someone slips his hand into a pocket and lifts something expensive. However, a backpack is the most comfortable and practical to carry for these types of locations. If you're looking for something a little smaller, like a day pack with security features, take a look at these.
If your backpack has built in security features, you can rest easy in knowing that thieves will be deterred. From slash proof mesh lining to lockable zippers to an anchor strap, this 45 liter Pacsafe backpack is ideal for use as your carry on bag. Even if you want to check this pack in, it is completely safe to do so. The only safety feature missing in this is an RFID pocket to hold data sensitive credit cards or a passport. Frankly, it is better that you have a separate wallet with RFID blocking to use for them.
Amazon has the best prices for most items so check out what the Venturesafe 45 GII currently costs.
But before that, let's go into detail on the features of this pack.
Pacsafe Venturesafe 45L GII Travel Pack Features
This pack is available in two smart colors – navy blue and storm grey.

Its capacity is 45 liters, it measures 22 x 14 x 9.1 inches and weighs 2 lbs and 15 ozs. This means it will fit most airline carry on restrictions.

The outer fabric of the pack is a ripstop nylon with a PU coating, while the inner lining is in polyester with a map print.

Between the two layers there's an eXomesh panel that runs the full length of the bag. This protects your belongings if someone tries to slash through the fabric.

A stainless steel wire reinforced slashguard anchor strap lets you attach the bag to a permanent fixture when you're stopping for a rest or a bite to eat. It's stored in its own pocket when you're ready to move.




The puncture resistant ToughZip prevents thieves from being able to gain access to a compartment by using a sharp object or pen to pierce the zipper.

Interlocking zip pullers slide over each other and interconnect for easy locking. A Roobar anti-theft anchor lock lets you engage all compartment zippers into it to be locked with a single padlock. It can also engage the anchor strap, making it impossible for the bag to be unlocked or stolen.

The back of this pack features a molded EVA foam panel with air flow channels to make carrying comfortable even on hot days.




The padded shoulder straps, sternum straps and waist belt are all adjustable and makes carry in this pack comfortable even when heavy. These straps stow away behind the molded panel so they are protected during transit even if it has to be checked in.

There are low profile padded top and side haul handles for another way to carry this pack.

There are two zippered compartments in this bag. Each have double interlocking zipper pulls that can together be locked by the single Roobar anti-theft lock.

The front compartment acts like an organizational panel. It contains a large mesh pocket that can hold a tablet or even a laptop of up to 15 inches. Two smaller mesh pockets can hold accessories. There is also a key or wallet clip and a pen holder inside.

The main compartment opens like a book-style upright with two packing spaces. The front lid features a large zippered pocket while the bottom section features compression straps to keep your clothes in place.

There are two sets of compression straps on the exterior too to keep the bag compact when not full and secure when fully packed.
Pros
This is a good lightweight option as a carry on for strict airline restrictions.
Versatile look and packing style that's something between a backpack and an upright suitcase.
Compact design and easy to carry.
Cons
No RFID blocking pocket.
No padded compartment for your laptop or tablet. It will need to have its own case.
No water bottle pocket.
The sternum strap may sit a bit too low for petite women since this is a full carry on size. For a better fit, consider the 25 litre version.
Convinced that this is the travel backpack for you? Then go to Amazon now to get it for the best possible price!.