Regardless of the occasion, one may not want to compromise looking good, even while traveling. You may want to carry your hair styling tools with you on the flight. The only problem is heeding the strict TSA rules. From flat irons to curling irons to tail combs, there are rules in place to protect you and the other passengers on the flight in the interest of a safe traveling experience. Can you bring a hair straightener on a plane? Yes, you can. However, the rules are not always straightforward, which is why this article answers common questions regarding what hair styling tools can be brought in your bags while traveling and what restrictions they face overall so that you may prevent your goods from getting confiscated at the airport.


Can you Bring a Flat Iron on a Plane?
If your flat iron is corded, then you are free to carry it in both your checked and carry-on luggage without any particular restriction. On the other hand, battery or gas-powered straighteners have a few conditions that you need to keep in mind. Gas hair straighteners are allowed only in your carry-on and not in your checked luggage. Even when carrying it in your hand luggage, you must ensure that one, the flat iron is secured in a safety cover, and two, the only gas cartridge you are allowed to carry is the one that must be placed in your straightener. Spare cartridges are strictly not permitted in either hand or checked luggage, so if you may need one, you would have no option but to buy it at your destination.
Coming to battery-powered flat irons, you may strictly only carry it in your carry-on. If your tool uses dry batteries (like AA and AAA) you may pack spares in your hand or checked baggage. If it uses lithium batteries, i.e., rechargeable batteries, you must ensure that the battery in the tool is 100-watt hours or less. Spare lithium batteries are prohibited in checked baggage but may be carried in the cabin, and even then, they are subject to prescribed limits. Like gas-powered flat irons, it is essential to pack your flat iron with a proper cover that would prevent accidentally turning on for the duration of your travel.
Can you Bring a Curling Iron on a Plane?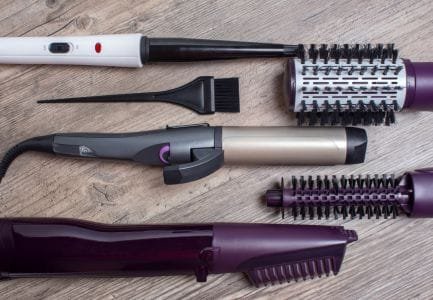 The rules for curling irons are identical to those for hair straighteners. Electric curling irons have no restrictions and can be brought in your handbags or checked luggage. Battery-powered curling irons can only be packed in your hand luggage and needs to be covered appropriately. Dry batteries can be carried in either luggage, however, lithium battery spares can only be brought in the bags you have in the cabin. Usually, while packing your bags, space can be quite the issue. Most travelers opt for compact tools that may serve as both a straightener and a curling iron to prevent this problem from arising.
Can you Bring a Butane Curling Iron on a Plane?
You can bring your butane curling iron only in your carry-on bag. You must ensure that the tool, especially the heating element, is covered properly with a safety cover and packed with care to prevent accidental activation. Once again, no spare gas cartridges are allowed. It is important to note that you are only allowed to carry one gas-powered tool per passenger. If you are already taking a gas-powered hair straightener, you may no longer take your butane curling iron.
TSA is strict with butane and battery-powered tools since they are flammable and pose a huge threat if damaged or start leaking. This is why there are special restrictions on carrying them on board while traveling, such as limiting them to be brought only in the bags you bring in the cabin where any danger that arises can be dealt with quicker.
Can You Bring a Blow Dryer on a Plane?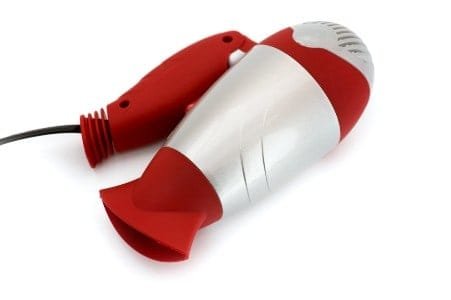 Bringing a blow dryer on a plane is quite simple. You can carry it in your cabin or checked bags without restriction. There is no limit as to the number of hairdryers you may bring as well. Corded hairdryers are not a threat until they are plugged in, hence the lax TSA restrictions for this particular hair styling tool. If you travel often, a compact hairdryer can be pretty helpful for hairstyling on the go. However, most hotels already provide one in each room, so check before you leave so that you can pack one less thing.
Can you Take Butane Cartridges on a Plane?
Butane is a highly flammable gas and can be extremely dangerous if leaked. Due to the danger it poses, butane-powered tools are prohibited from being carried in checked bags and can only be brought in cabin baggage, and even then, there are special restrictions. Butane cartridges, apart from the one already secured in your tool, are not allowed to be carried at all. They come under the list of dangerous goods, so if you take them along, they can and will be confiscated by the TSA agent. So your best bet is to buy the cartridges you need once you land.
Can You Bring Hair Clippers on a Plane?

Yes, hair clippers are allowed on planes. TSA officers may inspect them, but the blades on most regular clippers are too small to pose a danger. So, it's fine to bring hair clippers in your carry-on luggage. Just make sure that the included scissors are not too long if you are packing a full hair clipper kit. The blades should not be longer than four inches. Additionally, the container you use for lubricating the hair clipper blades should also be packed in your clear quart-sized toiletries bag since it is a liquid.
Hair clippers can be packed in your checked luggage as well. You can check your hair clippers even if they have a lithium-ion battery and are cordless.


Can you Take Heated Rollers on a Plane?
The only type of heat rollers permitted to be carried on a plane is the electric type, i.e., ones that come with a cord. There are no special restrictions, and they can be brought in carry-on and checked luggage in any quantity. If your hair roller is powered by butane or lithium batteries, it will not be allowed on the flight and will be confiscated. If you want to carry heated hair rollers on your trip, your only option would be to buy electric rollers.
Can I Take a Tail Comb in my Hand Luggage?

Anything that has a sharp end and is made out of metal is not permitted in hand luggage, and the same rule applies to tail combs. Combs are generally allowed without much restriction in your bags. However, one such exception is a metal tail comb since it would have a dangerous pointy handle. Tail combs that check these boxes will be confiscated, and so to avoid this from happening, your safest option is to bring a tail comb made of plastic.
Can I Carry a Hair Straightener in an International Flight?
Hair straighteners are generally allowed in flights, however, while traveling internationally, it is best to check with the rules of the country you are traveling to. Additionally, there are two things you must keep in mind – outputs and voltage.
There is no universal power outlet around the globe. Sockets may differ from country to country so if you want your corded tools to work, make sure you carry travel adapters that work for that outlet. A better option could also be buying a universal travel adapter that works for most outlets. This adapter can prove to be especially handy if you travel frequently.
When it comes to voltage, the power grid in the U.S. is 110 volts, but that's not the case everywhere. Europe's grid, for example, is 220 volts, which is definitely not compatible with U.S. tools. To avoid damaging your tools, you should buy devices that work universally. These tools are dual-voltage, which allows them to work with both 110-120V and 220-240V. Keeping this in mind and making the necessary changes, ensure that your devices are compatible in countries with different sockets of different voltages.
Should you Bring Hair Styling Tools with you?
Bringing your hairstyling tools on board can prove to be a tricky decision. If your devices are expensive, packing them in your checked luggage would be risky, since there's a chance of them getting lost or damaged in transit. This risk would make you want to pack them in the bags you bring on board with you, except then you may face the issue of lack of sufficient space. If you only carry a few tools, this won't be a huge issue, but space can be quite the problem if you want to take your whole kit. If you're traveling internationally, you would also need to research whether you would need travel adapters.
One solution would be to call your hotel and check if it has the tools you need, such as a hairdryer. If you are a frequent traveler, this option may not be feasible every time, so buying travel-size hairdryers and flat irons may prove to be a better option. This option could also work if you travel for work and rely on your preferred tools. The bottom line is that you need to weigh the pros and cons of bringing your hair styling tools on board.
Conclusion
The TSA is quite strict with what can and cannot be brought on the flight. If you are still unsure, you can always visit the TS website or even ask on the @AskTSA Twitter account so you can get your answer directly. Do remember that despite the rules, the final discretion lies with the TSA agent. The situation is not always predictable, so be prepared for your tools to be inspected or, in the worst case, confiscated. Similarly, there are rules for carrying other tools in your luggage.
Related: Can You Pack Wine in Checked Luggage?
Best Tool Bag for Air Travel
With all this in mind, this guide should have ideally given you more clarity regarding the TSA's rules for your hair styling tools. Happy Traveling!