Whether you arrive at your destination and discover you forgot to pack something important, or end up paying extra baggage fees at the airport, learning your packing lesson the hard way is something many travelers go through.
With the pace of travel getting faster, it's very easy to neglect packing your travel bags till the last minute. But watch out because that's a sure recipe for making mistakes! Don't spoil your trip for this reason and be smart about packing.
So here is my list of 10 common travel packing mistakes to avoid:
1.  Not planning ahead
Most problems come from leaving everything till the last minute. You rush around grabbing clothes even if they're not coordinated, or you forget something, or you pack too much just because you now don't have enough time to think about whether you really need an item or not, so it's better to pack it "just in case". Get into the habit of making packing checklists and finish packing at least a whole day before. Not planning ahead leads to a whole lot of other mistakes…
2.  Packing too much, or not enough
Do you really need an extra set of clothes "just in case"? Or do you really need to pack that full-sized bottle of shampoo? This is a very common problem that women have – thinking they need everything. Instead of packing an entire set of clothes for each outing, take lots of versatile pieces that can be mixed and matched to create completely different looks. Plus, there are a lot of things you'll end up not needing on your trip. I'll explain what those are a little later.
Of course, pack light but make sure you've go the essentials covered! Don't assume that all hotels will offer every amenity that you're used to.
3.  Not preparing for international trips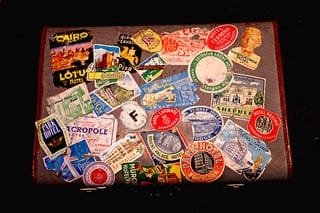 While it's obvious that you'll need beachwear for beach vacations and smart clothes for business trips, it's not so straight forward when you travel internationally. Some countries frown upon women wearing shorts or a tank top, so even if it is accepted of foreigners, it's better to err on the side of caution and pack appropriate clothing. Don't assume that you can always find someone to help you in English. Be prepared with a phrase book or digital translator and it won't seem quite so frustrating when you lose your way in a foreign country.


4.  Forgetting at least one charger
Gadgets are often the last things to be packed these days. Because most of us are so dependent on them, we use them until the last moment, then pack them and forget about the chargers! These are not the kind of things you can easily get at your destination, so add every charger to your packing list! If you're really prone to forgetting things, consider getting a universal travel adapter and charger that will work with almost any electronic gadget, like your hair straightener.
5.  Packing standard sized toiletries or other prohibited items in your carry on
Even though this has been a rule for quite a few years, many flight passengers still make this mistake. Your toiletry bottles or tubes must be 3.4 ounces or less in size, and they should all fit into one 1 quart clear plastic zip top bag. The only exceptions are prescription medications and milk or baby formula, which should be declared at the security checkpoint.
Be very careful about this rule because you don't want to see your expensive designer perfume being confiscated by the TSA, right? You also wouldn't want to rush all the way back to the check in counter to see if you can put it into your checked luggage. In order to do that, you'll have to wait in line at check in and the security line again and risk missing your flight or your checked bag getting lost.
Make sure you're not inadvertently carrying any other prohibited items either. Not only will they be confiscated, but if the TSA agent thinks it's a security threat, you could be detained.
6.  Forgetting about the extra packing space needed for souvenirs
It's easy to get carried away while shopping on holiday, but unless you're expecting to have your shopping shipped or mailed home, you'll need to either leave space for those souvenirs in your suitcase or pack an extra foldable bag so that your regular carry on bag can be checked. The former means having an even tougher job packing for your trip, while the latter means probably having to pay excess baggage fees. It's just easier to be more disciplined while shopping! For souvenirs that are not too large, traveling with an expandable softsided suitcase is better than a hardsided one because soft shells are more forgiving and provide you with at least an extra 2 inches of space.
7.  Overpacking your suitcase
It's so easy to overpack, especially if your suitcase is softsided, but don't do it! Firstly, you may unknowingly go over the allowed weight limit if you're flying, and secondly, you run the risk of your luggage zippers breaking or damaging your bag in some other way. Even if your luggage is under international warranty, you'll lose valuable time getting it fixed or replaced. If the damage is not covered, you'll have to buy a new piece of luggage. If you do need to buy a new bag, first find out what kind of all the different luggage types would best cater to your travels.
8.  Packing liquids unprotected with the rest of your things
Always pack your liquid containers in a plastic bag or secure toiletry bag unless you're OK with having your clothes smeared with lotion or shampoo. Exploding bottles can do a lot of damage! By the same token, be careful about flying with a fountain pen too.
9.  Packing wrinkle-prone clothes
Your cottons and linens might look great on you most of the time, but they're prone to creasing and therefore not suitable for travel. Unless you want to spend a lot of time at your destination steam ironing your clothes, choose other materials that will only take on minor wrinkles, which are easy to smooth out. Also be careful while packing. The rolling method is often better than folding each garment individually. If you have to take formal wear or a business suit, consider buying a garment bag to minimize creases. There are carry on garment bags that will do a decent job but also large wheeled garment bags if you need to pack more than just 2-3 suits or dresses.
10.  Not protecting fragile items
Don't just dump a breakable souvenir into your suitcase along with your other things. That's a recipe for disaster! Wrap each item carefully in your bulkiest clothing and pack it tightly into the most protected part of your bag. Try to take it with you in your carry on luggage unless it is too big.
So now that you know what the common travel packing mistakes are, you should feel confident that you've got everything covered for your next trip. Bon voyage!