These days, airlines are a lot stricter, and carry on garment bags have to fall within the same size restrictions that all other bags do, i.e. 45 linear inches all around. The normal dimensions for most carry ons allowed on U.S. domestic airlines are 22" by 14" by 9". This rules out traditional travel garment bags in favour of newer designs that are especially meant for carry on.
There are three styles that you can choose from but we'll include only two of those styles here – a carry on wheeled garment bag or a tri-fold garment bag that you carry over your shoulder. These two types are best if you're looking for professional looking luggage. There's another style that's even better at avoiding creases but it looks like a duffel, so we've reviewed those duffel garment bags separately.
There are upright suiters and hybrids available that take the middle ground between upright carry on bags and garment bags, but except for one or two, they're designed more for those who just need to pack one formal garment along with their other clothes and travel essentials. We'll review one of those upright garment bags, but the rest of the best are horizontal styles that are actually designed for suits but still come under the carry on dimensions. If you intend to check your garment bag everytime or only travel by car or train, then invest in a bigger wheeled garment bag that can be checked.
Most garment bags are styled conservatively as luggage for suits is meant to be unisex and able to pack suits for both men and women. However, the following options do come in black and at least one other stylish color. Here are two options for a horizontal wheeled garment bag carry on, one option for a vertical bag, three options for a tri-fold garment bag without wheels, and one for a carry on garment bag for wedding dresses or gowns.
If you're looking for the bundle wrapping style of garment bag where you roll up your clothes, take a look at two options here where we also give you tips on how to keep your clothes as crease-free as possible.
Carry On Rolling Garment Bag
Samsonite Lift2 Carry-On Wheeled Garment Bag
The Samsonite Lift2 garment bag for carry on is the most popular of its kind right now and is probably the best option if you need to pack more than just 1 or 2 formal outfits. Because the company's known for its durable and long lasting bags, this one makes a good option for both men and women's suits.
Available in black, this 100% polyester bag will fit just right in overhead bins on most domestic flights. Its measurements are 21″ x 17″ x 9″ and weighs 8.5 lbs. The space inside is well designed and is able to accommodate enough clothes, including a suit, for at least 3 days. Some Samsonite Lift reviews mention that you can pack up to 5 different formal outfits in this bag!
When you open up the bag, a full zippered panel reveals the main inner compartment. At the top is a hanger hook bracket with zippered mesh corner pockets on either side for small clothing items. Cross compression straps serves to keeps your clothes in place. At the bottom are two zippered pockets on a snap panel side by side. One is a wet/dry pocket and the other is a mesh one. This panel can be unsnapped and unfolded downwards to become an extender panel for longer clothing items and the inside has another pair of compression straps.
A full length zippered outer front pocket is great for storing a rain jacket or other last minute items.
There are two grab handles – a top integrated one for easy lifting and a bottom one to haul the bag up. A light extendable handle allows for easy rolling. The bag moves on two smooth-rolling rear wheels and is supported by two front feet when standing up.
Pros: Women's suits will fit nicely in the compartment without having to fold them over.
Every nook and cranny of the space is utilized for organizational storage.
Cons: Because of the width of the bag, it can sometimes be cumbersome to roll it through narrow aisles and passageways.
Suits for tall men will have to be folded over using the extender panel.
Briggs & Riley Baseline Carry-On Wheeled Garment Bag
If you're looking for a garment bag that is easy to pack while almost completely keeping your clothes wrinkle-free, then this Briggs and Riley carry on wheeled garment bag is the best available today. Its structured and durable ballistic nylon case protects your clothes while being tossed around.
The bag is 14" by 21" by 8.5" and weighs 9.9 lbs. It is ideal for a 2-3 night trip and will hold most women's jackets without having to fold the bottom. It will fit into most overhead bins but not in those of small commuter aircrafts. Its frame is lightweight honeycomb structured to maintain flexibility and retain its shape after impact.
The aluminium telescopic Outsider handle bars are fixed on the outside so as to maximize packing space on the inside and eliminate creases that are caused by bars fixed on the inside. If you want to use this handle to support another bag on top, the Smartlink strap system facilitates this.
The main section features a Wally clamp from which you can hang 2-3 suits or dresses. There are foam centered garment panels that keep your garments smoothed out and crease free. Two corners house Velcro mesh pockets that will hold belts or under garments. The door panel features two zippered mesh pockets, a tie or scarf pocket, and a zippered shoes pocket. For longer garments like dresses, there is a removal extender panel that folds inwards.
The front of the bag has two pockets – a large U-zip pocket and a smaller zippered pocket over that to keep last minute things while moving through security. All zippers are top of the line YKK.
Pros: Includes complete lifetime warranty even on airline damage.
High quality and durability.
Clothes remain wrinkle-free.
There is space for a pair of shoes.
Cons: Cumbersome to roll down narrow aisles.
A bit expensive.
Travelpro Crew 11 Carry-On Rolling Garment Bag
A very new entry in this category comes from the luggage powerhouse Travelpro and its latest Crew 11 line carry on garment bag. This ballistic nylon bag with DuraGuard coating resists stains and abrasion and there are extra features to protect the bag from damage, like sealed ball bearings for the inline skate wheels and the patented PowerScope extension handle that is strong enough to support another bag that piggybacks over it.
The inside of the bag is well organized with two large zippered mesh compartments on the inside of the cover panel, zippered corner pouches for accessories, and a wally clamp that can hold 4 hangers for your suits and dresses. The longer garments are kept relatively wrinkle-free by the extension panel and foam roller bar. A restraining strap across the width of the bag keeps all the hanging garments in place.
The exterior front zippered pocket is a good place to store a pair of shoes or you can pack them into the bottom corners on either side of the garments.
This carry on wheeled garment bag measures 22″ x 14″ x 9″ and weighs 9.3 lbs. It will fit into the overhead bin of most US carriers but cannot be wheeled down the aisle of the plane as it is a bit too wide.
Last year the previous iteration from Crew 10 found a place on this list and it's still available so you can take a look at our full review of that one here.
The Crew 11 is good but if you can afford a more expensive bag, the Travelpro Platinum Magna 2 rolling carry on garment bag is even better. It is from the well rated luxury Platinum Magna collection and is more high end than the Crew 11 collection.
Vertical Garment Bag for Carry on
Briggs & Riley Baseline Domestic Carry-On Upright Garment Bag
This one may just be the best carry on garment bag for suits. The Briggs and Riley Baseline Carry On Upright Garment Bag can pack up to 2 suits or even 3 if it's a woman's, but is in the vertical style, so wheeling it down narrow plane aisles or taking it into a tight bathroom stall at the airport is easy. It provides great organization for all your suits, clothes and accessories.
Its construction is the same as the Briggs & Riley horizontal bag shown above, right from the body to the wheels and telescopic handle. Where it differs is in the layout design. There are two compartments in this bag and both open book style.
The front compartment is for your suits and features a tri-fold panel with restraining side panels to keep your suit in place. There is a wally clamp to hold your own wire hangers and two removable triangular zipped mesh pockets that fit into the two corners of the compartment. These are good for underwear, socks and a belt. The main compartment is similar to a regular suitcase's main compartment and is good for your other clothes, accessories and toiletries. It can be opened while in the upright position, as there are side gusset straps to keep the front section from opening all the way. Another restraining feature in this compartment is the pair of adjustable restraining panels with two small mesh pockets built in. These keep all your clothes from falling out if you open this compartment while the case is upright. Half of the lid of this compartment features a zipped mesh pocket for soiled garments and the other half features two elastic top slip pockets for a pair of shoes.
There are two front zipped pockets as well. One is a large U-shaped one and the other is a small single zipped one. It comes with a Smartlink strap to let you wheel this bag along with another if needed.
This garment bag is 22″ tall, 14″ wide and 9″ deep and comes in olive green and black.
Tri Fold Garment Bag Carry On
If you don't want to wheel your bag everywhere, you can choose a tri-fold type of bag instead of the standard two-fold that you get with wheeled garment bags. This compact design makes it easy to carry on board with you.
Victorinox Werks Traveler 5.0 WT Porter
While a tri-fold design makes it possible to carry a garment bag over your shoulder, many options are quite bulky, making it awkward to do so for a prolonged period of time. However, this Victorinox Werks Traveler 5.0 WT Porter is sleek, streamlined and extremely light, weighing just 3.17 lbs and measuring 21.5 x 12 x 4 inches. It unfolds to 39″ in height. You'd think that it couldn't hold more than 2 sets of clothes but it amazingly can hold 3-4 full sets of clothes, plus a coat if you use thin wire hangers, underwear and miscellaneous travel accessories!
There are three different ways to carry this bag. One is using the removable and adjustable padded shoulder strap, the second is via the double haul handles that can be held together via the snap closure, and the third way is to slip the bag over a wheeled bag's telescopic handle using the zippered back pocket that converts to a sleeve for this purpose.
The front features two zippered pockets while the interior features two zipped mesh pockets – one for your ties and the other is for larger accessories, and a small zipped pocket for keys, loose change or any other small items. The main compartment features a hanger clamp to keep your clothes in place and two foam bar compression straps that minimize wrinkling. The polyethylene foam lining throughout the bag also helps minimize wrinkles.
A removable J-hook allows you to hang the entire set of clothes up in the hotel room closet without having to unpack each piece separately or just hang the entire bag up in the open position via the inside snap hook.
Pros: Very compact and light. Well made.
Very good value for money.
Easy to transport and fits into overhead compartments.
Cons: The space left above the shoulders of a suit is not utilized for packing small items so you'll need to use your own small pouches for those.
No special place to pack shoes.
Briggs & Riley Compact Tri-Fold Garment Bag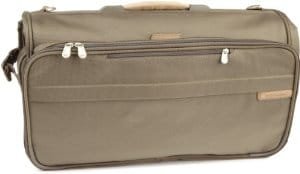 If you're willing to pay for a durable and long lasting tri-fold option, then look no farther than this Briggs & Riley Tri-fold garment bag.
The dimensions of this bag are 22″ x 13″ x 8.5″ and weighs 6 lbs 9 ozs. The features on this bag are very similar to the Briggs and Riley wheeled garment bag, but this one is guaranteed to be allowed as carry on any aircraft because of its compact tri-fold design.
The main compartment has a Wally hook to use for hanging 2-3 garments, two corner mesh pockets will hold accessories, a large zippered waterproof pocket for a toiletry bag, shoes or dirty laundry, a large mesh packing pocket, two smaller mesh pockets and another small mesh pocket set over a deep pocket.
There are two sets of garment panels with centered foam to protect and smooth out your clothes.
There is an outer divided gusset pocket on the front with one section for keys, the shoulder strap if it is not used, and a D ring to store the bag's hooks. The other section holds a removable waterproof pocket and space to store casual clothes or shoes.
The back pocket slip through sleeve can be used to slip this bag over the handle of a rolling bag. A removable, adjustable and padded shoulder strap and a retractable carry handle make carrying easy. Two hanging hooks that attach to the top let you hang the bag up in a closet.
Pros: Covers even airline damage through its lifetime warranty.
Lots of storage compartments and pockets for organization.
Will fit in even the smallest overhead bin.
Cons: No adequate storage for large shoes, like sneakers.
Mercury Luggage Executive Series Tri-Fold Garment Bag
If you're looking for a simple less structured bag that is lighter than most structured ones, then this Mercury Luggage Executive Series Tri-Fold Garment Bag is the one for you.
The dimensions of this bag are 21″ x 15″ x 3″ (folded) and weighs 3.2 lbs. It is guaranteed to be allowed as carry on as long as you don't stuff it to the gills. To that end, you can easily pack clothes for 5 nights along with a pair of shoes or 3 nights if you're also packing a suit.
The main compartment has a strong Velcro fastener to use with your own hangers for multiple garments and at the bottom are two zipped pockets that can hold one shoe each. An exterior front zippered gusseted pocket can hold a toiletry bag or dirty laundry. Another horizontal zipped pocket is on top of that can hold small accessories or chargers and cords. One zipped pocket on the side is good for an umbrella or water bottle.
A removable and adjustable shoulder strap and a top carry handle make transporting easy. 
Pros: Great value and light. Clothes remain relatively wrinkle-free.
Cons: It won't balance on top of another piece of luggage.
WallyBags 52 Inch Garmentote Tri-Fold with Pockets
If all you need is a simple garment bag for up to 6 garments, including long dresses, this budget durable and water repellent polyesterWallyBags 52 Inch Garment tote Tri-Fold will do the job.
This bag measures 22″ X 17″ X 9″ when closed and 52" long when open. It weighs just 2 lbs. You'll be able to store it in an overhead bin on all aircraft, even the small ones.
This unstructured bag folds over and is secured by a Wally Lock that also secures your own hangers to the top. This way, you can hang up the whole bag itself in the closet. No need to unpack the garments, just open the bag to its full length. Three pockets are provided for your shoes and other accessories. A center main zip runs through the length of the bag for easy access. The two handles fasten up with velcro so you can easily carry it by hand and it comes with a velcro strap to attach to a rolling bag.
Pros: Inexpensive.
Perfect for various lengths of garments.
Light and easy to carry.
Cons: Not durable enough to handle being checked.
Does not have shoulder straps.
Carry On Wedding Dress Garment Bag for Travel
If you're having or attending a destination wedding and don't want to risk losing or damaging your wedding dress or evening gown by checking its bag, the only option is carrying it with you on board the plane. While it may seem impossible to get a wedding dress to fit into a bag that conforms to carry on size restrictions, there is one that manages to be the perfect solution.
WallyBags 66 Inch Tri-Fold Destination Bag
This polyester water repellent WallyBags 66 Inch Tri-Fold bag is durable and lightweight and can hold up to 6 gowns or a wedding gown and tuxedo. Even voluminous gowns can be packed into this because of its broad bottom.

Side release buckles secure this bag after it is tri-folded down. An adjustable padded shoulder strap and handles allow for easy carrying.

There are enough pockets to store shoes and accessories, and you can use your own hangers to hang your garments from the provided Wally hook for packing. There's a front zippered pocket to store last minute items while traveling.

A zipper down the full length of the bag lets you access the contents easily. Your garments are well protected in the fully lined bag, and the padded roll bars help you pack the items without adding creases.

This bag weighs just 4 lbs and measures 22″ H x 24″ W x 9″ D when closed and 66″ H x 24″ W x 3″ D when open.

Pros: Large capacity

Garments remain wrinkle free

Cons: None

Can you carry on a garment bag? If you're looking for the best carry on garment bag for suits, dresses and other formal wear, forget about those tall and wide bags that used to be allowed as carry on luggage many years ago. In those times, planes had a small storage area that you could use to hang up your garment bag during the flight.