If you plan to buy luggage for an upcoming trip, you have two options to choose from – hard luggage and soft luggage. While soft luggage is a classic, hard luggage has dominated the market for some time. But do airlines prefer hard or soft luggage?
Generally, airlines don't have a preference when it comes to the type of luggage they handle. But when buying luggage, you should consider how roughly airlines handle checked luggage. You should also factor in the size of any carry-on luggage, since you have to fit it into the overhead bin or under the seat of the plane. So when making your purchase decision, make sure to consider these points and your preference.
Let's dig a little deeper and compare the two types of luggage in terms of durability, convenience, and functionality so you can make a valid decision about choosing hard vs soft luggage for flying.
Which is More Durable: Hard or Soft Luggage?
There is no straight answer for which type of luggage is more durable. Many people assume that hard luggage is more durable, considering it is sturdy and "hard." But that's not the case. It all depends on the material it is made from.
During their early years, hard suitcases used to be manufactured from ABS or Polypropylene materials. These materials were not that sturdy and used to crack easily. But ever since they started making hard suitcases from 100% polycarbonate or aluminum, their durability has improved, and they practically never crack. It is useful to know about the differences in materials used to make hard shell luggage.
On the other hand, soft side luggage is made from flexible materials that bend instead of breaking. They also do not get scratched easily compared to hard cases that are prone to scratches. However, they can tear.
That being said, you should always look at the material of the luggage. Check online reviews of different brands for both soft and hard luggage to find out the experience of people who have used the same luggage. And before you purchase any luggage, test the zippers, interior pockets, and wheels to take your pick.
Is Hard or Soft Luggage Better for Carry On?
When it comes to carry-on luggage, you want a reliable bag that complies with the airline's restrictions for carry-on luggage. Thus, the considerations for buying carry-on luggage differ from those for checked luggage.
If you are a traveler who packs light or traveling is part of your job, you will need a carry-on bag that you can rely on. While hard suitcases are a good option for checked luggage, they do not prove to be a good choice for carry-ons. That's why you always see pilots and cabin crew carrying soft luggage.
Soft luggage is usually made from woven nylon fabric, which is durable and very flexible (quite literally). It can easily fit in tight cabin compartments. Moreover, it is also easy to open in tight spaces, as most of your belongings are packed in the main lower part of the bag, while the top part is a lid with just a shallow compartment for a few small or flat items. The lid only needs to be propped up against a wall or bed in order for you to unpack. At the same time, hard luggage requires a lot of space to open because most are designed with equal top and bottom lid packing spaces. A few brands have started making 70/30 or 80/20 split hard suitcases.
Soft luggage is also easier to lift into overhead bins, as they are usually lighter than polycarbonate or aluminum hard luggage and many pieces come with an extra side handle to grip. So we recommend that you get soft luggage for carry-on.
Hard or Soft Checked Luggage?
When buying checked luggage, you have to consider how roughly your baggage is handled on the tarmac. A baggage handler would tell you to buy durable and high-quality suitcases for checked luggage as it gets thrown around.
While soft luggage is easy to carry and very flexible, it is not a good choice for checked luggage as you will often be carrying fragile items like wine bottles in your suitcase, which can easily break. If these items are not properly packed, and you just tuck them in between other stuff in your luggage, they won't stand a chance if your luggage is handled roughly or another heavy piece is thrown over it.
Most hard luggage is less prone to damage and comes with more convenient spinner wheels, allowing baggage handlers to roll your luggage instead of throwing it because they're not going to go through the trouble of extending the collapsible handle to pull it behind them. So they will take any beatings better than soft luggage and offer more protection for your items. If they happen to sit on a tarmac in the rain for a long time, hard shell suitcases are less likely to allow water to soak through your belongings. Therefore, you should preferably get hard suitcases with four spinner wheels for checked luggage.
Hard or Soft Luggage for International Travel
You need to be extra careful when buying luggage for international travel because traveling internationally tests your luggage to the limits. It puts a lot of stress on it, especially if you have multiple layovers and your luggage has to go through loading and unloading on several tarmacs.
You will need the most high-quality and sturdy luggage for international travel. In this case, hard luggage proves to be the ideal option as it likely endures more damage than soft luggage. Since most hard suitcases come with four wheels, baggage handlers prefer rolling them instead of throwing them around. This way, all the items in your suitcase remain safe and unbroken, and your luggage may not get any dents.
Moreover, some hard luggage collections may come with latch locking instead of zipper locking, which is more secure in terms of baggage rifling. On the whole, hard luggage offers more security, convenience, and ease of handling.
Hard Case Luggage Vs Soft Case Luggage
When deciding on soft or hard cases, there is no black or white answer. Both have their own benefits and drawbacks. You have to make the decision based on how often you travel, whether you want a suitcase for carry-on or checked luggage, and your own personal preferences. The best type of luggage for flying is the kind that suits your way of travel.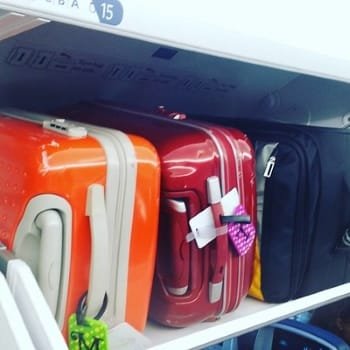 Soft suitcases are ideal for carry-on luggage. They are easily expandable, lightweight, fit better into tight overhead bins, and can resist visible scratches. However, they do not offer great security for fragile items. On the other hand, hard case luggage is sturdier and offers maximum protection for fragile items as well as protecting your belongings from rain. The ones with latch locks are hard to break into. So they are better suited for checked luggage.
Ultimately, the decision depends on how you travel and what you pack. No matter which one you choose, always test the luggage and check out its customer reviews online before you make your purchase. You should get the luggage that best fits your needs and meets your budget.
If you are still confused, read on to find the benefits and drawbacks of the two types of suitcases so you can make a better purchase decision.
Benefits of Hard Shell Luggage
Hard shell luggage is ideal for packing fragile items.
Most come with integrated locks for better security and the shell can't be ripped.
They are easy to carry around, especially those with four wheels.
They also come in zipperless options.
They are very easy to clean.
They are waterproof.
They come in a large variety of colors and prints.
Disadvantages of Hardside Luggage
They can get scuffed and scratched very easily.
Quality hard shell luggage is heavier than soft luggage.
Most don't come with exterior pockets and have limited storage options.
Because the shell is not flexible, they cannot fit into tight spaces like an overhead compartment if the dimensions are slightly over.
Because most open like clam shells with equal packing in each half, it's difficult to unpack if there's limited space in the hotel room.
Advantages of Soft Luggage
Most are relatively lightweight and easy to carry.
They are expandable and thus easy to pack souvenirs after a trip.
They come with at least one exterior storage compartment.
The shell has more give and can easily fit in tight spaces.
They don't get scratched easily.
Cons of Soft Shell Luggage
They are less secure, as anyone can cut through them or tamper with their zippers.
They are harder to clean.
They are easy to squash and damage your items.
They are not waterproof and can allow water to penetrate into your belongings.
Some collections don't come with integrated TSA locks, so you will have to buy a luggage lock separately.
They don't come in a large range of colors or prints.
FAQs
Is it better to get hard or soft luggage?
You should get soft suitcases for carry-on luggage. For checked luggage, hard suitcases are a better choice, as they come with rigid exteriors and offer greater protection to your items. However, if you plan to stay in tight hotel rooms and can pack breakable items more thoroughly, then soft sided luggage is a better bet for international travel.
What type of luggage is best for air travel?
The best type of luggage is the one that meets your needs when traveling and does not create any problems for you. If you are someone who packs light and mostly keeps carry-on luggage when traveling, you should get soft luggage, as it can squeeze into tight spaces even if it's a bit overpacked. If you are looking for a sturdier suitcase that keeps your fragile items safe, you should get hard luggage.
Do I need a hard suitcase to fly?
If you have to pack breakable items in your luggage, it's better to get a hard suitcase, as it offers added protection to your items. This type of luggage does not let your items get damaged easily and doesn't let water in if it rains.
Which suitcase material is best?
For soft suitcases, ballistic nylon is the best material, as it is highly durable. It is a thick nylon fabric that can resist scratches and tearing and is also very easy to clean. For hard suitcases, aluminum is the best material. Although expensive, it is a highly durable material that practically unbreakable.