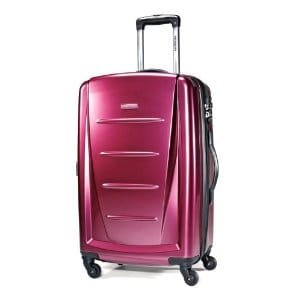 Sales of hardside luggage have been rising steadily in the last 2 years because the newest technologies in luggage manufacturing are making these types of travel bags the most durable, lightweight and stylish kinds around. The Samsonite Winfield 2 28" spinner upright is currently the best selling hardside bag for checked in luggage on Amazon.
When it comes to checked luggage, weight limits on each piece are strictly followed by airlines all over the world, so most companies have been focusing on lightweight technology. Even if you're not flying, why use a heavy suitcase that's difficult to lift in and out of a car trunk or hard to roll along for a long distance?
You'll also need to make sure that your checked bag is durable because baggage handlers are not the most gentle people around! They'll throw your suitcase about during transit and you could end up with a heavily dinged bag after just a few trips.
While ballistic nylon is really tough and is still a leading choice in material for most bags, they can get very heavy if packed full. Polyester bags are lighter, but they don't hold up well to too much abuse. Instead, choosing a good hard case like this Samsonite luggage Winfield 2 spinner bag is a better choice because it is made of 100% polycarbonate, which is extremely durable and lightweight at the same time.
There are two other bags in this Samsonite hardside luggage collection. One is a carry on and the other is a 24" to use as a smaller checked bag. Each smaller piece can nest within the next larger one.
Click here to get all the latest customer reviews and current price from Amazon on this 28" bag.
Features
The body of the Samsonite Winfield 2 28 hardside spinner luggage is made entirely of 100% molded polycarbonate. It is built to withstand heavy blows by flexing under impact and then popping back up to its original shape, so dents and dings are kept to a minimum.

 
This bag measures 28″ x 19″ x 12″ and weighs a very light 11 lbs, 8 oz. Its all around size is 59 linear inches.

 
There are four spinner wheels that turn 360 degrees smoothly to allow you to maneouver through crowds and tight spaces easily. There is also no arm fatigue, as you don't have to pull a heavy load behind you at all. This bag can just roll alongside you with minimal effort.

 
A telescopic push-button handle extends up to 41".

 
There is a mounted TSA-approved combination security lock for added safety.

 
The interior is fully lined and the bag closes with the help of large self-repairing coil zippers.

 
The suitcase is designed to expand to provide you with extra packing space if needed. The extra space is 2 additional inches that comes from folding fabric within its own zippered compartment around the perimeter of the case.

 
The main compartment features cross straps restraints on one side to prevent the contents from shifting too much.

 
The interior of the lid features a zippered flap to provide some organization for things like travel accessories, and the outside of the flap features clear zippered pockets for smaller items.

 
Two low mounted carry handles on the top and side makes lifting the bag easier.

 
As with all Samsonite luggage, it carries a 10 year warranty.

 
The colors available are black, silver, slate blue and solar rose and there are stylish details on the glossy molded case, making it especially suited to women.

 
Pros
Easy to roll and ultra-light.

 
Can withstand rough and frequent use with no denting and scuff marks will wipe off easily.

 
Spacious enough to hold clothes for an extended trip.

 
Cons
Will show deep scratches.

 
Only available in a high gloss finish.
Here is a useful demo of the full Samsonite luggage Winfield 2 Spinner bag collection.
https://www.youtube.com/watch?v=sxKq_AEbcxU
Click here for more details and the current price on Amazon for this Samsonite Winfield 2 28" spinner bag.