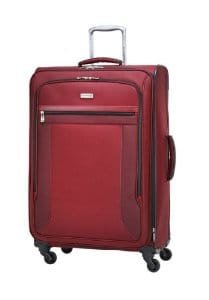 One of the biggest trends in luggage is the weight of the products getting lighter and lighter. This Ricardo Beverly Hills Montecito Micro Light 28 inch 4 wheel expandable upright is a great example of that. The brand has quite a few older luggage lines of great quality that have won rave reviews from its customers, so this line shouldn't be any different.
This is the company's newest super-light line of travel bags, with the 28" upright being its largest candidate for checked luggage. The line currently also includes a 24" wheeled upright, a 20" wheelaboard, a 16" wheelaboard, and a 16" boarding bag.
This bag is of fly-weight construction and boasts a super-light frame. The innovative design features add to what looks like a very good product.
Click here to read customer reviews and for the latest price on Amazon. This product is currently being sold at a discount for a limited time.
Features
This polyester bag has polypropylene bottom trays that's injection molded to provide a stable and durable base to the suitcase while being rolled.
The Glide Rite Spinner Wheel System gives you 360 degree mobility for a smooth role while pushing or pulling
The 100% polyester bag is durable and tear-resistant.
It can be expanded via a zipper if you need additional packing space.
The locking adjustable height telescopic handle is made of light aluminium and is ergonomically designed to reduce the strain on your arm while rolling it.
The cushioned top and side handles should give you a comfortable grip for lifting.
There is a main zippered compartment that has one zippered pocket along one long side of the suitcase, while the inside of the front panel has its own full zippered compartment to maximize storage space.
The top half of the front panel compartment lid is made of mesh so you can view its contents without unzipping it. The bottom half of the lid has two pockets attached to conveniently store a pair of shoes.
The main compartment has two compression straps that cinch parallel to the width of the suitcase to keep clothes in place during transit.
 The outside of the front panel features a large zippered travel organizer compartment and a zippered pouch attached to the front of that to store last minute things like newspapers or magazines. The organizer compartment includes small pockets and loops to store gadgets, pens, keys, etc.
The back features a luggage tag pocket.
Its measurements are 28″ x 19″ x 10″ for a total of 57 linear inches. It weighs just 8 pounds 11 ounces.
It carries a 10 year limited warranty.
Currently available in wine red and coffee brown.
Pros
Very lightweight for this size.
Lots of storage pockets and compartments without reducing total packing space.
Ideal size for most women to handle as checked luggage.
Easy to maneouever.
Stylish looking.
Cons
Luggage tag pocket is not hidden.
There is no add-a-bag strap included.
Here's a video demonstrating the features of the Montecito Micro Light line.
Click here for additional details and current price on Amazon for this Ricardo Beverly Hills 047-28-944-4VP Montecito Micro Light 28 Inch suitcase.