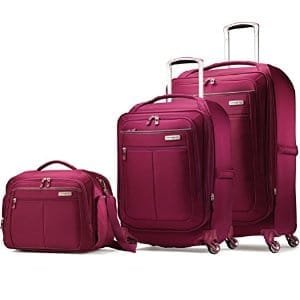 The MIGHTLight Collection from Samsonite is its lightest luggage line yet. There are two large spinners for check in, 2 smaller ones that are carry on size, and two tote bags – one horizontal boarding bag and one vertical shopper's tote bag. They range in weight from 2 pounds to 9.25 pounds but are still designed with a sturdy frame and all the convenience factors that travelers come to expect from good luggage brands.
At first glance, the Samsonite MIGHTLight Collection looks similar to the popular Hyperspace line with the sleek looks and spherical spinner wheels but this new collection hides a special frame construction that keeps each piece much lighter.
You can buy each piece in the MightLight separately or as a very useful 3 piece set like the one shown above or even a 2 piece set.
But first, let's take a look at the features of each piece.
Samsonite MIGHTLight Collection Pieces and Features
Common features
The colors available are black, charcoal grey and berry.
The material used for the body is a lightweight but durable nylon with Samguard protection for water and stain resistance.
The carry handles, of which there are three (top, side and bottom) on the spinners and one on the boarding bag, are integrated into the body for maximum comfort and durability even when the bags are fully packed. The shopping tote has soft dual grab handles.
All the bags include an injection molded bottom pan for structure and sturdiness.
All the zippers are large and self mending coil type.
Spinner Upright features
There are four upright spinners – two are carry on size and two are larger.
The 19″ spinner measures 19 by 15 by 8.25 inches and weighs 5.75 lbs.
The 21″ spinner measures 21 by 15 by 8.25 inches and weighs 6 lbs.
The 25″ spinner measures 25.5 by 18 by 10 inches and weighs 8 lbs.
The 30″ spinner measures 30 by 20 by 11 inches and weighs 9.25 lbs.
Keep in mind that these measurements are only for the body. When you include the wheels, the height increases a bit and the larger carry on may not be allowed in smaller aircraft. If you don't want to take the risk, choose the 19″ bag.

The injection frame at the bottom provides structure as well as support to the side mounted rods that support the walls. The entire frame is extremely lightweight.

The spherical wheels are multi-directional and smooth spinning and are provide a wide base for added stability so as not to allow the bags to tip over.

The extension handle is made of a very lightweight beveled alloy and locks in place in both the retracted and fully extended positions.

All the uprights expand for added packing capacity with a simple all around unzipping.




Inside the main compartment you'll find crosswise compression straps to keep your clothes neat and tidy.

There are two elastic top mesh pockets along the inner longer sides that can hold a pair of shoes.

The inside of the main compartment lids feature two zippered pockets – a Wetpak for damp or dirty clothes and a mesh pocket for accessories.

There are two external pockets on the front of the suitcases. They are single zipped and of two sizes. These can hold anything from a raincoat to travel documents and a good for easy access.
Boarding and Shopping Tote features
The boarding bag's dimensions are 12.75 by 16.5 by 8.75 inches and weighs just 2.25 lbs, while the vertical shopper measures 17.5 by 14 by 8 inches and weighs just 2 lbs. Both these are designed to fit under the airline seat in front of you.




The shopper tote can be used around town or as a travel tote. It would work very well for those extra souvenirs that you need to bring back home. It has an adjustable and detachable shoulder strap, soft dual grab handles and a piggyback sleeve at the back for slipping it over the extending handle of a wheeled bag.

The boarding bag is more of a unisex style and instead of the dual grab handles you have the integrated fabric handle on the top. The other two carrying options are the same as that of the shopper tote.




The shopper tote has three compartments. The large main compartment can hold a laptop in the vertical position. There is a zippered pocket inside for storing small accessories safely. There is a medium sized zippered pocket on the front that's perfect for a tablet and a smaller zippered pocket in front of that for your phone or last minute items. The boarding bag

The boarding bag is perfect for a 2 day trip. The main compartment opens like a suitcase and has compression straps to hold your clothes in place. The inside of the lid has one large mesh zippered pocket. There is a front external zippered organizational pocket for a tablet, phone, pens, tickets and keys. Two side pockets round it off – one is zippered and one is a gusseted open top that snaps shut when empty. These are good for a water bottle and small umbrella.
Verdict
For anyone worried about how much their luggage will weigh once packed, this is a collection worth considering. Women will especially love the light weight bags.
The fact that you can get a great deal by buying a 2 or 3 piece set is also nice. Some of the tried and tested features from Samsonite's earlier lines are present here, like the Samguard protection, spherical spinner wheels and integrated handles, so you know there is a good level of durability present.

If you're interested in any of the pieces in this Samsonite MIGHTLight collection, Amazon has each piece individually for sale as well as two sets – a 3 piece set of the 25″, 21″ and boarding bag, and a 2 piece set of the 25″ and 21″.