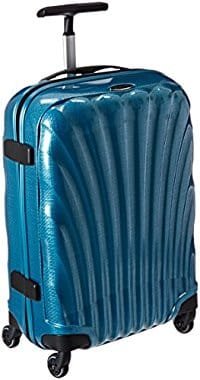 Samsonite has not always been known for making very light luggage but they have been focusing on it in recent years. They have even partnered with Propex FabricsGmBH to get exclusive use of a very lightweight but strong thermoplastics material called Curv to make one of their newer line – the Samsonite Black Label Cosmolite Spinner collection.
Of course, the technology doesn't come cheap, with the smallest spinner retailing at $400, but if luggage weight and long term durability is of utmost importance to you, then they're betting that you'll be willing to pay. We think that this line is best suited for business and particularly airline travelers, as the features make them more suited for that kind of travel. This means flights and car transport and not rolling on cobblestone streets.
There is a carry on spinner and two checked size spinners to choose from, or you can buy the entire set. Get them from Amazon, or if you live in the UK, you can get a slightly different but less expensive version of the Cosmolite from Selfridges where the wheels are different and you don't get the attached bungee cord.
But first, let's take a closer look at the high end line to see if the pieces are what you're looking for.
Features of the Samsonite Black Label Cosmolite Spinner Luggage
Samsonite is the only luggage brand to have exclusive use of the thermoplastics material called Curv. This material is formed by layering woven polypropylene to form composite sheets that are self-reinforced to provide extreme durability to the shells of all the pieces in the Cosmolite line. No matter what the impact, the shell will bend but never crack and the dents can be pushed back and you're good to go. This material is also incredibly lightweight, as you'll see from the specifications that follow.

There are three sizes to choose from – a 20″ carry on spinner, a 28″ and a 32″ checked size spinner. The carry on measures 21.6″ x 15.7″ x 7.97″ and weighs 4.08 lbs, the 28″ bag measures 29.5″ x 20.0″ x 12.2″ and weighs 6.14 lbs, and the 32″ bag measures 33.8″ x 22.8″ x 14.0″ and weighs 7.72 lbs. The dimensions include the wheels.

You can get the spinners in any of 4 modern colors – emerald green, red, silver and black. The design is unique too, so you'll have no trouble spotting them on a luggage belt.

The telescopic handle is a monopole and provides great maneuverability. It locks into place both in the extended and retracted state. When fully retracted, the handle is lies completely recessed, so it doesn't protrude and take up valuable inches from allowable airline luggage dimensions.

Low profile top and side carry handles make it easy to lift a bag when it's not possible to wheel it. This along with the light weight of each bag makes them good for anyone that normally has trouble lifting luggage.

The four multidirectional wheels roll smoothly in all directions and the bags can be rolled upright to radically reduce any weight on your arm.

The suitcases close via durable zippers that can be inserted and locked into the TSA-approved integrated fixed combination lock that can also be secured with the included key.




The bags open clam-style and the interior packing space is divided into two by a full U-shaped zipper mesh divider on the top lid side. This divider opens upwards when unzipped. The bottom lid space features one long zipped pocket for accessories and criss-cross compression straps to keep your clothes in place.

If you want to piggyback a smaller bag on top of any of the Cosmolite spinners, there's an attached bungee cord that you can use. It tightens around the handle of the smaller bag so that it doesn't slip from the top of the spinner.

Watch the official demo video of the Black Label Cosmolite collection.

Pros
All the spinners are easy to carry and easy to lock/umlock.
Very durable.
Large capacity because of the simple interior organization. You can also pack more without going over weight limits.
Easy to identify.
Made in Europe.
Cons
Not easy to piggyback another bag on top unless you use the included bungee cord or make your existing one work for the monopole handle.
Lining is a bit thin.
Wheels are less durable than the case itself, so best to use only in airports and on smooth pavements.
Very limited organization so if you like having the contents neat and tidy throughout a trip, use packing cubes and other travel organizers.

If you think that this is not the hardside luggage for you, take a look at our recommendations for best lightweight hard shelled spinners.