Luggage wheel design hasn't changed in quite a few years and most luggage companies have only focussed on making wheels as strong as possible. However, the caster wheel design of a 4-wheeled spinner bag makes them inherently weak when it comes to dragging a bag over any terrain that is not smooth. The old two-wheeled design does us no favors when it comes to lugging our bags behind us over long distances either.
That makes the new Kickstarter crowdfunded G-RO Smart Carry On Rollaboard an exciting new entrant into the world of luggage. The product was funded in a record breaking amount of time but you can still back it now for a lower price than the predicted final list price of between $499 for just the carry on and $599 with the battery and tracker included, and it will be ready to ship by February 2017.
If you can't wait that long or are too late to get it at a discounted price, there's always Bluesmart – the world's first commercially available smart carry on bag that's already available on Amazon and the Trunkster that features zipperless opening.
So what makes the G-RO so tempting? There are several reasons. For example, instead of ignoring the wheel issue, the people behind it decided to completely change the design so that the G-RO can be used in airport terminals, on concrete pavements, cobblestone streets, staircases, curbs, snow and ice without the traveler feeling the strain, yet keeping the wheels and bag intact and undamaged. The wheel design also allows for more interior packing space and provides extra durability.
In addition to the different wheels, there are several other cool features. Some aid in making transporting easier, like an extra long telescopic handle, while others make packing easier, like the extra interior space and the functional organizational features for all kinds of travelers. For those who always travel with their gadgets, not only are there special compartments for them, but there is an optional electronics module from where you can charge them. This module also includes other smart features, like location tracking of the bag for when you check it in and a proximity detector for when you're waiting for it to appear on the luggage carousel or if someone else picks it up.
The G-RO comes with a lifetime warranty so that's an attractive offer. There's a ton of features to scrutinize on the G-RO Smart Carry On Rollaboard, so let's break them down by category to see what the fuss is all about.
Product Specifications
The bag measures 22″ by 14″ by 9″ and almost all of its size is available as packing space at 40 litres capacity. It weighs 7.9 pounds or 3.6 kgs.
You can choose between the all black or the red-blue combo.
The material used for the outer shell is Cordura ballistic nylon with polymer protection points and a waterproof base. YKK plastic zippers with a patented design are also used.
You can opt in for an electronics module if you want all the "smart" connected features, like a 23,000 mAh battery, two USB ports and a universal power outlet for charging your gadgets. The module will also include bluetooth and GSM/GPRS capabilities for luggage tracking.
Ease of Handling
Caster wheels don't make an appearance here. Instead you have a patented design of two very large axle-less wheels mounted to the bottom sides of the bag. The large radius of the wheels allows them to move over steps, stones and snow with ease and moves the centre of gravity lower, making the bag stable and easy to balance and makes it feel light while pulling it along. The absence of fragile mounts, screws and axles means that there's less chance of them breaking off or being damaged.
The strong externally mounted aluminum telescopic handle extends to various levels and much higher than the industry average – about 6 inches higher. Not only will this be a blessing for tall people, but it also makes manoeuvring easier.
Tough and Protective Build
With the Cordura nylon, there is very little wear and tear through the years. The high impact areas, like corners and edges are protected by a tough polymer blend.
The base is waterproof for when you accidentally set it in a pool of water or roll it over snow and it features a concave arching upwards so that there is enough clearance from the ground to avoid scraping.
The YKK zippers feature a patented design where there is less stress on them during zipping and unzipping.
The wheels themselves provide protection to the side walls, as they're made from tough polymers and sit flush to each side of the case.
Roomy and Well Organized Packing Spaces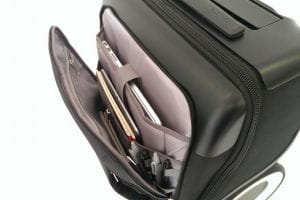 Compared to traditional 4-wheeled and 2-wheeled luggage where the case sits on top of the wheel system, the G-RO's wheels are placed on the side so that the case has an extra few inches at the bottom. The telescopic handle is placed outside. Both these allow for a lot of packing space in the main compartment.
The main compartment is meant for packing clothes, with a detachable garment bag for a suit or formal dress and a divider with two zipping mesh compartments on either side to allow you to pack different articles of clothing separately. There is an elasticated mesh pocket running all along one long side of this space that's ideal for essentials.
An easy access gadget compartment on the front has a secure padded pocket for a 15″ laptop and another smaller one for a tablet. There is space for a phone, chargers, pens and other accessories too.
In front of the gadget compartment is an easy access zipped pocket that's meant for your toiletries bag that you can pull out at security check if needed. Your laptop can be charged while it's in this pocket if you have your own portable charger or the optional electronics module, as the universal charger is connected to this compartment via charging ports that run along the back of the bag starting at the module located in the bottom.
At the back and in between the handle bars is a small zipped pocket that is perfect for travel documents.
Right at the top of the bag is a built in charging station with two USB ports. It is waterproof, has space for small cables, and converts to a laptop stand if you want to use your laptop while waiting around in the airport.
Gadget Warrior Friendly
In addition to the built in tablet stand and charging station with USB ports at the top, you can opt for the electronics module as well. This is completely detachable and works even as a standalone module, so if you ever want to upgrade it you can do so without upgrading the entire carry on bag.
This electronics module houses a 23,000 mAh battery that can charge a smartphone up to 10 times before it needs to be juiced up again. It can also be used to charge a smartphone, tablet and laptop all at once. There are 2 USB ports and all the charging cables run through the bag and to the gadget compartment, so gadgets can be charged while on the move.
There is also a universal power outlet for a three-prong plug for charging your laptop.
Never Lose Your Luggage
If you check in your luggage, you can track it globally using the electronics module's GSM/GPRS location tracker to let you know if your bag arrives with you at your destination, or if it was routed to the wrong airport, or if it never made it on to the plane with you.
Using Bluetooth energy efficient technology, the module also includes a proximity detector, so you'll know if your bag is close on the luggage carousel or if someone has mistakenly picked it up or even stolen it and is carrying it away.

Does this G-RO Smart Carry On Rollaboard look exciting enough for you? If so, then go to its Kickstarter page for additional details and the going price.