While most people focus on size and quality when purchasing a piece of luggage, not as much importance is given to the color. The color of a suitcase doesn't necessarily need to be chosen solely based on your favorite color, but keeping a purpose in mind could help you decide what color luggage is best for you.
Carrying luggage when you travel is almost unavoidable, and there are bound to be numerous other people with luggage as well. This is just one situation in which the color of your suitcase could really help you by making it easy to spot on a crowded conveyor belt.
While you don't need to focus on luggage color meaning, your travel bag's hue does say a lot about your taste and personality. Black, brown, and navy are three timeless hues that may project an air of refinement and professionalism, while pink, purple, and yellow can highlight your sense of fun and adventure. It's up to you to decide what message you want to send with your suitcase's shade.
From standing out from a crowd of suitcases to determining the best color, this article is sure to clear your doubts on the good and bad color choices for your luggage.
Most Common Suitcase Colors
People often go for dark-colored suitcases when they travel. We've all seen the usual classic black (the most popular suitcase color) or in some cases dark gray, navy blue, and dark green suitcases. No matter the colors, the shades always seem to be on the darker side. This is mostly due to the eye-pleasing, less-sharp look, and the fact that any stains or scratches wouldn't be very noticeable on a dark-colored suitcase. Less bright colors also seem to be the norm for businessmen and women, who make up a large part of luggage consumers and users.
Advantages and Disadvantages of Dark colored Luggage
The biggest advantage of using dark-colored luggage is its durability when it comes to the look of it. Stains and scuff marks aren't very visible on darker material. This, along with the fact that it also takes a while to show fading, keeps it usable for a long time. This is a major reason for the immense demand and popularity of darker-colored luggage. Another advantage is, initials written in white on a black or dark blue suitcase is much easier to spot than on a lighter colored one, since white stands out so well on any dark-colored object.
However, darker-colored luggage also has a major disadvantage. Dark shades of suitcases are so commonly seen being carried around by travelers everywhere, so it's very easy for someone to mistake your suitcase for theirs on a carousel full of them. A plain black suitcase would also be very hard to spot and identify if it's been stolen unless it has a striking mark, sticker, or initials on it, which still may not be enough.
Advantages and Disadvantages of Light Colored Luggage
A light-colored piece of luggage comes with many advantages that make it much safer to travel with than its darker-colored counterpart. Light and bright colored luggage is easier to spot in airports since the majority of travelers carry dark-colored luggage. However, this does depend on what color you choose. It's more common to see lighter colored suitcases with specific patterns than a black or dark blue suitcase, which would make your suitcase much easier to locate on a carousel if it has a signature pattern with a relatively unused color on it.
Though many think of darker colored suitcases as the more professional kind, you could actually go for a light gray or blue, both of which aren't too eye-catching or forgettable. There are some which also come with simple checked patterns all around them to make them even more identifiable.
One drawback with carrying a light-colored suitcase, however, is that stains, scuff marks, and any wear and tear whatsoever, will be clearly visible.
What Color Luggage is Most Likely to be Stolen?
Classic black, navy blue, and dark grey or brown are definitely not the best colors for luggage when considering safety. These are some of the most commonly found colors for suitcases that could easily be stolen. If someone does happen to get caught walking away with your black colored luggage, whether it was a mistake or not, they can simply say they mistook it to be their own. This is especially common with black suitcases due to the sheer number of them in circulation. This is why having a striking, unique-looking suitcase is very important to stand out so that there is no confusion.
What Color Luggage Should I Get?
The best color for luggage will vary from person to person, and with purpose. If you are traveling for work and need to look the part, then a less bright-looking, single-colored suitcase would do fine. Black is usually the preferred color in this case. Whereas, if it's just a casual trip that you're on, you should go with a bright, but not necessarily light shade of color. Bright green and bright red are very striking and identifiable colors for luggage. Having a multi-color pattern would also keep your luggage looking unique and separate from the rest to prevent any confusion.
Other Ways to Make Your Luggage Stand Out
You should know that hardshell luggage comes in a wider range of colors than softshell. So if you prefer soft shells but want your bag to stand out more, you should add something to it for this reason. Aside from choosing a particular bright-colored suitcase, or a patterned suitcase, here are 6 other ways to make your luggage stand out from a crowd full of them. But we also have a more detailed and extensive guide on easy ways to identify your luggage.
1. Add Stickers to Your Bag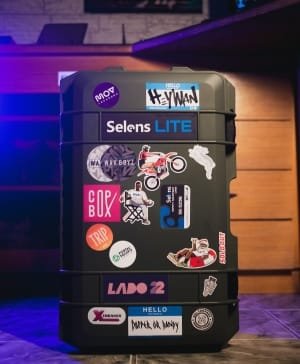 One of the most affordable ways to separate your suitcase from the rest, adding a few stickers of your choice around the suitcase not only makes it stand out but also adds a little more festivity to your luggage. If you don't want the stickers to seem out of place, choose colors that go well with the color of your luggage. For example, a blue sticker for a yellow suitcase. A collection of travel stickers from different parts of the world is a popular choice if you mostly travel for leisure.
A light and bright tag is an easy way to spruce up your luggage. It could be anything, from floral patterns to a particular character you're fond of. It's also a quick fix for somebody to identify it as your luggage, in case it gets lost, by adding your name and phone number at the back of it.
3. Put a Belt Around Your Suitcase
A rarely talked about luggage accessory, a luggage belt fulfills 2 purposes. It adds a bit of color and an identifiable mark to your suitcase but also helps in holding an overstuffed suitcase together. It's budget-friendly, easily removable, and allows you the freedom to change the belt out for another one with ease, whenever you want.
4. Tie Brightly Colored Ribbons to Your Luggage
Another very affordable luggage accessory, tying a couple of ribbons around the handles and zippers of your suitcase is the best and easiest DIY method to make your bag stand out. Ribbons are also available in numerous colors so you'll be able to choose the right one for your suitcase, no matter what color it may be. A bright hot pink or light green would be great options if you want something instantly recognizable.
5. Paint a Unique Design Onto Your Suitcase
Though this method may seem taxing at first, it doesn't have to be. Choose a design or emblem that you can identify with ease and paint it onto your suitcase. And no, this isn't just for kids. Using specific colors, as well, can also transform your suitcase from dull and one-note to bright and playful. If you're not particularly confident in painting freehand, then you can use stencils to make the process simpler and neater.
6. Attach a Tracker to Your Bag
The most expensive way to identify your luggage, a tracker is solely meant for the purpose of finding your bag if it gets lost. Though this method can be expensive especially if you have multiple bags, it is a highly efficient and accurate way to track down your luggage. An app like Tile, for example, along with its corresponding Tile tracker, or the Apple AirTag, will allow you to track your luggage on a live map, ensuring you never have to worry about your bag being misplaced again.
Conclusion
Finally, your trip will be much affected by the color of your bags. Determining what is the best color luggage to buy depends on a number of things, including how easily it can be identified, how many different ways it may be used, and how it will complement your own style. If you want your trips to be more joyful, choose a hue that speaks to who you are and makes you happy.