Best Value Carry On Luggage for Holiday Travel
Now, when I say cheap carry on luggage I don't mean poor quality, falling apart at the seams kind of luggage. I mean luggage that will give you the best value for money.
If you're looking for travel bags that can withstand frequent business trips, then this page is not for you. In that case, you'll be better off spending a bit more to get the long term durability that you'll definitely need.
However, if you're looking for luggage to use only for holiday travel once or twice a year, there are several cheaper options that that will last long term simply because they won't be put through their paces too many times a year. Instead of the more expensive ballistic nylon, fabric bags are usually made of strong polyester.
There are some brands that are known for making good quality luggage for the budget-minded buyer, so you won't regret not spending hundreds of dollars for your infrequent trips.
The following best value carry on luggage includes 2 and 4 wheeled upright suitcases that cost under $200.
CABIN 1 Adaptable Carry On Travel Bags
If you want to buy just one bag that will conform to any airline's carry on baggage restrictions on size but also want to maximize your allowable limit on every trip you take, the Cabin 1 Collection from USB International has three such bags. Each of them has several cleverly places sections that can be expanded by a simple pull of a zipper. Expand any or all of them to meet the size restrictions on any given day. Here is our dedicated review of this very innovative collection of travel bags.
American Tourister Luggage Splash 21″ Upright Suitcase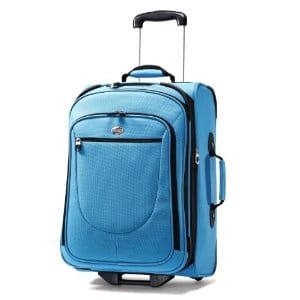 American Tourister has always been good at making affordable luggage that is durable and good looking. Their larger check-in suitcases may not be able to stand up to the rigors of frequent business travel, but this 21" carry on upright certainly can. Since it comes in turquoise and solar rose in addition to black, it makes for a good looking piece for holiday travel!
This bag is 100% polyester and can be spot cleaned. It moves smoothly on 2 in-line skate wheels and can be lifted easily using top, bottom and side handles.The upright telescopic handle self locks into position.
There are two large pockets on the inside for functional packing and a large zippered front pocket on the outside for lat minute items. If that's not enough, you there is provision for it to expand for added capacity.
It weighs a light 8.2 lbs and measures 21 x 14.5 x 8 inches.
Pros: Well made and durable.
Can handle frequent trips.
Easy to clean.
Cons: For air travel, you may not be able to utilize the outer front pocket if the bag is full, as that will make it too big to fit into an overhead bin.
One review says that if the front pocket of the bag is overstuffed, it tends to topple over.
Rockland Luggage Melbourne 20 Inch Expandable Carry On
Some of the best value luggage for women comes from Rockland and some of their prints and colors just scream "FUN"! This expandable 20 inch carry on upright is inexpensive but is made from the best material for hard sides – ABS. There are 11 different colors available.
This is quite a light upright carry-on, weighing just 7.3 lbs and measuring 9 x 20 x 13 inches.
The inside features two organizational pockets – one mesh and zippered, and another open elastic one, and compression straps to keep your things in place.
You can push and pull this bag on 4 sturdy spinner wheels using the ergonomically-designed chrome and aluminium push-button telescopic handle. You also have a top and side grab handle to lift it easily into a overhead bin.
Pros: Expandable.
Compact and very light but sturdy enough as a carry on.
Cons: One reviewer said that the handle may not hold up if roughly handled.
Won't hold up well if checked in.
Can only fit in sideways on small commuter flight overhead bins.
Kenneth Cole Reaction Carry on Luggage – Check It Out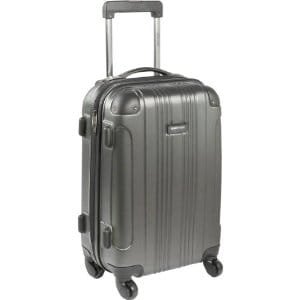 Constructed with lightweight but durable ABS, this good looking hard side 20" carry-on by Kenneth Cole Reaction Luggage is a great option for budget-minded shoppers on domestic or international trips.
It weighs 8.4 lbs and measures 20″ x 12.58″ x 8.5″ and will fit into all overhead bins. This bag is available in charcoal grey and cobalt blue.
The corners are molded and reinforced for added impact protection. There are flexible carry handles on the top and side for easy lifting, and if you want to stand the bag on its side instead, there are side bezels that will allow you to do that. The retractable handle pulls out and self locks at two levels.
The interior is fully lined, and in addition to garment restraints it features a zippered pocket. The inside of the lid also features a large U-shaped zippered pocket.
The four spinner wheels allow you to roll the bag in any direction.
Pros: Even though it's a hard case, the all around zipper band stretches a little to give you a little extra room.
The zippered lid compartment and garment restraints keep things in place without everything getting messy.
Compact but can hold lots.
Suitable as a domestic or international carry on.
Durable and does not scratch.
Cons: No outside pocket.
Olympia Luxe 21 Expandable Carry-On Upright Bag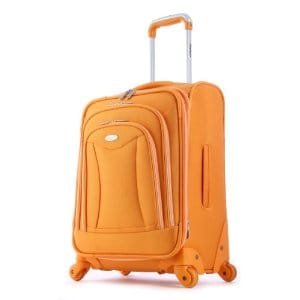 You'll find this Olympia Luxe 21 Inch carry on in five cool colors. Even the hardware matches the fabric, which is 100% polyester and easy to spot clean.
There are two stacked zippered and eva foam pockets on the front, two zippered pockets on the inside of the lid, and a hanging zippered pocket in the main compartment. Two dual buckle garment restraints also serve to keep things organized inside a beautifully lined interior.
The main compartment is expandable, giving you almost 20% extra packing space if you need it. There is also a TSA-compliant 3-1-1 pouch included for your toiletry liquids.
The dimensions are 21.6" high x 14.5" wide x 10.6" deep and weighs 9 pounds. Please note that these specifications listed on the Amazon webpage are incorrect.  The correct ones mentioned here are from the manufacturer's listing.
The four spinner wheels provides easy mobility and the telescopic handle can be extracted and retracted by the push of a button.
Pros: Plenty of pockets and compartments for organization.
Packs a lot.
Can roll it along even on carpet.
Cons: The telescopic handle does not always work well, as it may collapse while in the extended state.
If you drag it on just the two back wheels, they don't work too well.
Ricardo Beverly Hills Luggage 21-Inch Expandable Wheelaboard
This Ricardo Beverly Hills Venice 21" carry on is a low priced entry from the mid-priced brand, but is still high quality. Made of micro-ballistic terylene with a light flexible honeycomb frame that withstands high impacts.
It weighs 8 lbs and measures 21″ x 14″ x 8.5″. It has two compartments on the inside – the main one and a second removable expandable one on the inside of the lid for extra packing space. This compartment includes a suiter, so you can keep a formal wear piece wrinkle free. There is also a TSA-compliant 3-1-1 kit that comes with this bag. In addition to inner mesh pockets, the front includes a small pocket and a large pocket – one on top of the other and both zippered.
The ergonomic handle retracts into its own zippered pocket and there are two inline skate wheels that ensure smooth rolling. There is also a top handle and a side handle for easy lifting. An add-a-bag strap lets you strap another smaller piece to the handle.
Pros: Roomy and well organized interiors.
High quality for the price.
Cons: Inner straps are not sufficient to keep everything in place when the bag is opened.
Two customers reported that the handle stopped working and got stuck in the midway position after a few trips.
Looking for a wider range of cheap carry on luggage? You can find many more best value for money carry on bags on Amazon!