If you're planning a trip to a destination where you intend to carry your luggage a lot but prefer to roll it along when you can, you may want to check out one of these best wheeled backpacks for travel. These are not your everyday school or work backpacks, as those are not built for rough use.
Not all destinations have smooth pavements to roll your luggage along, nor do they always have plenty of elevators and escalators about. If you're city backpacking, that's a good time to carry your travel bag on your back to make things faster, not to mention ease damage on your bag if it is wheeled.
However, if you're not a light packer, it can be impossible to carry a heavy load on your back throughout. If the pavements are smooth enough, you should shift to rolling the bag with you.
Click here if you want to go straight to the highest rated travel backpacks on Amazon!
While looking for the best rolling backpack for travel, you should ensure that the pack has features that make carrying it comfortable even though it has wheeling apparatus. Look for hip or waist straps that take off most of the weight from your shoulders and ventilated panels for a comfortable haul. If you're going to wheel it over cobblestones or curbs, look for some sort of bumper or guard at the bottom and make sure the telescopic handle is strong.
So let's look at the features, pros and cons of a five of the highest rated travel backpacks on wheels. Note that while some of these fall within the maximum carry on size, the others will need to be checked in most cases. If you're specifically looking for carry on sized backpacks, take a look here. If you're a bit of a tech warrior and are always traveling with a laptop and other gadgets, take a look at some great laptop travel backpacks.
High Sierra Powerglide Rolling Laptop Backpack
The High Sierra Powerglide Rolling Laptop Backpack can be used for just about any need – travel, work or college, making it one of the most versatile packs you can buy. Best of all, it's inexpensive. It's the highest rated of all the wheeled High Sierra backpacks too.
The padded computer compartment is meant to hold a laptop of up to 16″. It is double zippered and it is easy to quickly load and unload the laptop from here during X-ray screening. The main compartment is behind that and is also double zippered. This is where you can pack your clothes for a 2 day trip or your college books or work files.
Right in front is a well designed organizer compartment featuring a removable key fob, pen loops and several open and zipped pockets to keep your phones, media cables, cards and a notepad. The exterior of this compartment features a metal triangular loop to which you can clip any accessory. On top of this compartment is a zippered accessory compartment sized perfectly for a pair of headphones. A headphone port lets you keep the set stored while listening to music. Two side zippered pockets are meant for a skinny water bottle and travel sized umbrella.
You can transport this pack in three ways. The first is by the double-tube telescoping handle that recedes back into its own zipped pocket when not in use. The second is by adjustable mesh and padded shoulder straps that are hidden behind a zippered pane at the back. When you need to carry the pack by these straps, the panel folds back under the pack and secures by Velcro, covering the wheels so as they don't dirty your clothes while you carry the bag on your back. You don't have to completely unzip the panel if you only want to use one strap to quickly sling the bag over your shoulder for a short time. The third way is by the fabric top carry handle but this should only be used sparingly when you have to lift the bag into an overhead bin or out of a car boot.
The corner-mounted inline skate wheels are connected by a bridge to keep them balanced while rolling straight. Corner guards and a bottom kick plate protect the bottom of the bag if rolling it over rough terrain or over curbs.
This wheeled backpack measures 9 x 21 x 14 inches and weighs 6.8 pounds.
Pros: This is a very versatile bag for travel, work or college.
Plenty of storage space and can fit a 15″ laptop in the laptop compartment or even a 17″ one in the main compartment.
Cons: The fabric top carry handle is a bit weak.
The media pocket on top slopes and opens downwards so whatever is in there will fall out if you're not careful.
There is no sternum strap to secure the shoulder straps and stabilize the pack when carrying it as a backpack.
UK customers can access the High Sierra Powerglide on Amazon UK.
Eagle Creek Luggage Flip Switch Wheeled Backpack 22
If you're looking for a travel backpack with wheels that is built for rough rolling use as well as for maximum carrying comfort, the new EC Luggage Flip Switch Wheeled Backpack 22″ is a good choice.
The dimensions of this bag are 22″ x 14″ x 9″, and the weight is 6 lbs 7 oz, making it carry on friendly. The material is durable ripstop nylon fabric with full lining and is available in slate blue, black and ochre yellow.
If you want to carry it as a backpack, there are several features that make it quite comfortable to do so. The suspension system is located in the front panel instead of the back, so the stiff back with the in-built telescopic handle does not lie against your back. The contoured padded 3D air mesh shoulder straps and adjustable sternum straps and hip belt can be completely removed if you want to reduce your load further or the 3D air mesh panel gives you the option to just stow them away. Top, side and bottom padded handles make it very easy to lift the pack even when it is heavy.
The retractable handle is sturdy and the wheels are durable and have sturdy housing with reinforced bartacks.  Bumper protection between the wheels allows for pulling the pack over curbs and rough terrain.
The zippers are two way and lockable and the large door panel to the roomy main compartment is top loading with a zippered mesh compartment on the inside. Exterior pockets include one on the side and one large one just behind the suspension panel – all are zippered. There are interior compression straps to keep the contents of the bag secure.
An ID Tag pocket and reflective accents complete the design.
Pros: Lifetime warranty for any damage.
Wheels are designed for rough terrain.
Very comfortable to carry on the back.
Can fit into most overhead bins.
Cons:
Does not come with a day pack.
Osprey Meridian Wheeled Convertible Luggage – 22 Inch/60 Liter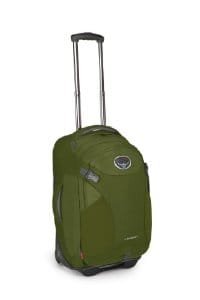 The Osprey Meridian 22 inch rolling backpack comes with a detachable day pack for day use. The bag is made of ballistic polyester and nylon.
The dimensions are: 22″ x 14″ x 9″. Weight: 5 lbs, 12 oz.
The removable day pack clips on and off and features a padded laptop sleeve for laptops up to 15.4 inches, organizational pockets and pen holders.
The high clearance chassis is lightweight and designed to allow you to roll the pack almost everywhere. There's a zip away suspension that's ventilated for carrying comfort. When not in use, it can be removed completely, which also increases packing capacity.
A hip belt and fully padded spacer mesh for the lumbar region transfers load evenly and away from the shoulders.
There is a second slot in the ventilated mesh back panel which extends and adjusts the torso length range from 16 to 22 in.
The retractable handle locks in two positions and there are padded top and side carry handles for more carrying flexibility.
The main backpack features a lockable zippered main compartment with several zippered pouches, a zippered lid compartment and fabric wing restraining straps. The interior is fully lined. There is an external top zippered pocket that's good for toiletries, etc., and a rear panel pocket for a magazine or two.
If you need to access the main compartment while the day pack is attached, you can do so without removing the day pack, as there are lockable sliders to prevent all the contents from falling out.
A tow strap is provided if you want to attach another bag to this unit.
Pros: Very durable, functional and lightweight.
The day pack is easy and fast to clip on or off the main bag.
The harness system is close to a serious backpack system as you can ever get for rolling luggage.
Will fit a wide range of torso lengths.
Nice and sleek looking.
Cons: May not fit into smaller overhead compartments if it is fully stuffed, but you can stow the day pack under your seat and the main pack overhead.
The wheels may dig into the hips for wider set people.
The backpack straps take up some of the packing space.
The Osprey Meridian 22″ is also available to UK customers.
Osprey Packs Sojourn 25 Wheeled Convertible Backpack (60 litres)
If you're looking for a more gear intensive backpack, the Osprey Sojourn 25 wheeled backpack is a good bet. There is no removable backpack, so the entire packing capacity is in one large bag.
It measures 14 by 25 by 13 inches with a 60-liter capacity, and weighs 7 lbs 13 oz. It is made of moisture, tear and abrasion resistant ballistic nylon.
The updated adjustable suspension can fit a torso range of 16 to 22 inches. The high clearance Highroad chassis lets you roll the bag over any terrain.
A separately available day pack can be attached if needed, as can an extra bag using the provided daisy chain.
Smaller items can be organized in zippered pockets inside the main compartment, while large items are well protected in the padded foam walls. A Straightjacket compression system also keeps your bag secure.
The main compartment can be accessed through a zippered front panel with lockable sliders, so you don't have to open the bag fully and spill all its contents. There are fabric winged restraining straps to keep things in place. There's a top panel zippered pocket for toiletries and a rear panel pocket for a magazines.
The trampoline mesh back panel, spacer mesh hip belt, and padded shoulder straps help support and cushion the load. Added ventilation also helps for carrying comfort.
In addition to the retracting handle, there is a top and side grab handle.
The mesh back panel features a second slot to enable adjustment to varying torso lengths.
You can remove the suspension system completely to increase packing space.
Pros: Limited lifetime warranty against defects and workmanship.
Large and durable wheels.
Can fit even short torsos.
Very large main compartment is ideal for carrying large and bulky items.
Cons: The telescopic handle is a little hard to extend.
Not carry on size.
UK customers can buy the Osprey Sojourn 60L bag here.
Victorinox Luggage Ch 97 2.0 Tourist
If you are looking for a travel pack that will suit any location, be it Penn Station or Pikes Peak, look no further than the Victorinox Ch 97 2.0 20 Tourist, which is the smaller 20″ size that measures 22″ x 14″ x 9″ and weighs 7 lbs and 2 ozs. It also comes in a larger 22″ size that measures 22″ x 14″ x 9″ and weighs 7 lbs and 9 ozs. The bag is made of 1500D Tedeolon, which is a ballistic nylon fabric and carries a lifetime warranty against defects in materials and workmanship.
When in the city this backpack performs smoothly as a roller, with its recessed skateboard wheels and telescopic drag handle. When out of the city, this backpack performs equally well with its professional grade adjustable padded shoulder straps, sternum strap and a removable hip belt that distribute the weight evenly so that it is comfortable to carry even when fully loaded. The entire suspension system hides away behind a zippered panel at the back when not in use. When used as a backpack, this panel fold down and under to cover the inline skate wheels so as to not let them dirty your clothes.
The monopole telescopic handle is curved so as to give you maximum comfort while it is recessed for carrying on your back. The handle rotates a complete 360 degrees and locks in place in the position most natural for your arm. It keeps the bag balanced no matter how you roll it and well away from your heels. You also have a top and side carry handle for lifting.
The pack has external compression straps that can be expanded or tightened so that the bag is as compact as possible. It also has a couple of external zippered pockets for stowing your phone or other items – one on the top and one vertical one on the front.
The interior features webbed compression straps, a zippered hanging pocket, a large u-shaped zippered door panel to create a separate packing space and a mesh zippered pocket on the outside of this panel. The entire compartment expands by 2″ via a zipper. A removable Add-a-Bag strap lets you attach an additional bag to the front of the backpack and this can weigh up to 30 lbs.

Pros: Extremely durable and rugged.
Lifetime warranty against material defects and workmanship.
Very easy to manuoever and to carry on your back.
The 20″ works well for international air travel.
Cons: The zippers opening the main compartment don't go all the way down, so the front flap doesn't lie open and flat when you're packing and unpacking.
The back is not protected by any hard material so the fabric is not protected if you scrape it against a curb or steps.
In addition to these best wheeled backpacks for travel, Amazon has quite a few more models available. You can find the best rated ones here.