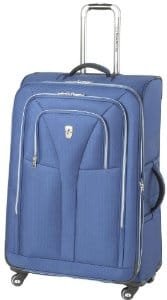 According to me, there are two complaints that most families have when it comes to luggage – most are brands are too expensive and it's super hard to handle so many pieces, especially with young children. Even a family of three end up spending a lot on luggage, never mind four or five, and young children can be classified as extra baggage for the most part! So what's a family to do? The Atlantic Luggage Compass Unite collection answers this question well. Atlantic is the great value, lightweight arm of the Travelpro brand and the Compass Unite line is especially targeted towards families.
The Link2Go system allows you to attach two spinners back to back so that you only need one hand to wheel both around. In fact, one person can actually maneuver four of these at a time! Every piece in this line is lightweight but well made with protection features at the high risk damage points. Even the organizational features are great, so this is a value for money choice.
The collection features three upright spinners, a 2 wheeled carry on tote and a shoulder tote bag. Here is a quick link to the details of all 5 of the pieces in the Compass Unite collection on Amazon.
But let's take a closer look at the features of the spinner upright bags in this line, as these are the ones that use the Link2Go system.
Features of the Atlantic Luggage Compass Unite Collection
There are two colors to choose from – black and ocean blue indigo blue.

The bags are made of 100% polyester in a high sheen for less wear and tear. The construction includes a honeycomb frame with EVA foam backing to reduce their weights and increase durability.

The 21″ bag measures 21″ x 14″ x 9.5″ and weighs 7 lbs 1 oz.
The 25″ bag measures 25″ x 18″ x 11.5″ and weighs 8 lbs 8 oz.
The 29″ bag measures 29″ x 20″ x 12.5″ and weighs 9 lbs 11 oz.

The Link2Go feature lets you connect two bags back to back using the built in velcro straps. Both bags have to be Compass unite spinners but this allows one person to handle up to four bags at a time.

The telescopic handle extends to two positions – 38″ and 41″ so that users of any height will find it comfortable to wheel the bags. In the fully retracted position, the handle is protected by a bezel.

The spinner wheels are smooth rolling in 360 degrees, ensuring an easy glide.

There is a cushioned top and side carry handle for easy lifting.

An accessories clip is integrated with the top handle.

Each bag can be expanded by an additional 2″ in the main compartment by the pull of a zipper.

The wheels are housed in crash guard housings, there are skid bars on the back of the bags and corner guards protect the corners.

There are two front zippered U-shaped exterior pockets, with the smaller quick access one lying on top of the larger one.

The interior is fully lined and features a zippered wet bag that can be used for toiletries and a removable laundry or show bag. There are adjustable restraining straps for the main section and the inside of the lid features a full-sized zippered mesh pocket.

The zipper pulls are large and easy to grab.
Pros
The interiors of these bags are large, allowing you to pack quite a bit in as small a number of bags as possible.
Very easy to maneuver alone or in multiples.
Lightweight but durable.
Has just enough organizational features on the inside and outside.
Cons
The spacious interiors make it easy to over pack. If you use these bags for air travel, make sure you stay under the weight restrictions
You can't mix uprights from other brands or collections with these bags if you want to use the Link2Go system.
The wheels on the bigger uprights add an extra 2.5 to 3 inches to the stated height.
In addition to the upright spinners, the Atlantic Luggage Compass Unite Collection features a shoulder tote and a wheeled carry on tote. You can check out all of them on Amazon!