An inflatable air mattress can prove to be the perfect companion if your traveling adventures include camping or sharing a hotel room with a group of friends or family members. However, if you're contemplating taking an air mattress as part of your luggage on a plane for the first time, you might be searching for answers to the question, "Can you bring an air mattress on a plane?"
According to the official TSA website, air mattresses with built-in pumps as well as those without one are allowed in both carry-on and checked luggage. However, you must ensure that the weight and size of your air mattress do not exceed the maximum weight and size limit as communicated by the airline you're traveling with.
To learn more about specific regulations, packing an air mattress, and the best air mattress options to consider, keep reading!
Can You Take an Air Mattress on a Plane?
As explained on the TSA website, air mattresses, even those with a built-in pump, are allowed if you're traveling with them in a checked bag, given you're following the standard airline regulations. Moreover, if you're considering taking them in your carry-on bag, there are specific instructions that you may need to follow.
If you want to know the standard regulations, limits, and instructions for both of these luggage types, read the following:
Air Mattress in Carry On Luggage
If you're carrying your air mattress in a carry-on bag, you need to ensure that you're not exceeding the size limit highlighted by the airline you're using. The standard dimensions allowed for this luggage type on domestic flights are 22″ x 14″ x 9″, and some airlines, particularly those flying to international destinations, might have a smaller maximum limit. It's always best to check and verify the carry-on bag limits before your flight.
In addition to this, the standard weight allowed for carry-on bags is less than 35 pounds and it is often much less. Suffice to say, carrying a relatively larger air mattress, for example, a king, queen, or full-size air mattress, might not be a good idea.
It's best to select a smaller air mattress, such as a twin-sized air mattress, if you plan to travel with it in your carry-on luggage. You can also consider getting one that comes with its own carry bag as recommended below, as a typical carry-on might not be big enough or have a big enough opening to fit an air mattress.
Air Mattress in Checked Baggage
A standard air mattress weighs approximately 10 pounds. This is marginally lower than the allowed weight limit for checked bags, which is typically between 50 and 70 pounds, depending on your specific flight type and airline regulations. Thus, carrying an air mattress in checked luggage shouldn't be a problem for you.
However, when you add your clothes and toiletries items in checked bags, then meeting, or dare we say, exceeding this limit, becomes easy and sometimes unavoidable. The mattress is probably going to take up a lot of space too. A quick fix for this is to pack your air mattress in a compression bag before packing it in the suitcase. If it comes with its own carry bag, then see if you can check it in along with your regular suitcase. You may have to pay for this second bag, so be sure to check what the extra baggage fee is well before your trip. To keep the overall weight more manageable, check out the best lightweight softside spinner luggage.
Can You Bring an Air Mattress Pump on a Plane?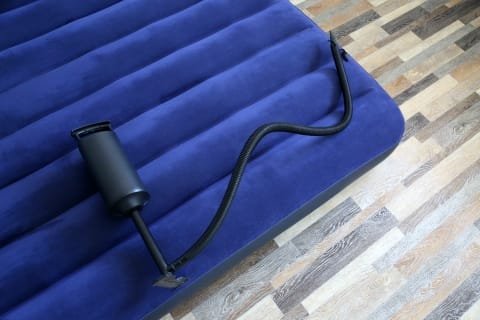 Most airlines allow 62 linear inches as the total dimensions of checked luggage. So, if your air mattress pump can fit in your luggage and not exceed the allowed weight limit of the checked luggage, traveling with it shouldn't raise any concerns or hassles. If it's crossing the weight limit, you might be asked to pay an additional cost. If you're okay with that, adding in a few pounds won't be a problem.
They're safe to travel with and don't raise any alarms at airport security. However, if you're looking for portable options that will fit into your checked or carry-on luggage and are relatively lighter, check the following electric pump we picked out for you:
The AGPTEK Rechargeable Electric Air Pump is a rechargeable electric air pump made of plastic. This air pump only weighs approximately 1 pound, making it suitable for both checked and carry-on luggage. The 4000mah rechargeable battery provides up to 25 minutes of continuous use, which is sufficient for a completely deflated air mattress – not once but multiple times.
The set also features three different nozzles that can be used for different inflatable items, but you'll likely need the larger one for an air mattress. The overall dimensions of this pump are 4.48 x 3.89 x 4.48 inches, which is small enough to fit your carry-on or checked bag. However, it's essential to note that you'll need to charge it for about 4 hours to recharge its battery fully.
How to Pack an Air Mattress for Plane Travel
To travel with an air mattress without any trouble, you need to ensure that it's 100% deflated and folded compactly so it doesn't take up most of your luggage space. If your carry-on is a duffle bag, a small air mattress might fit right in. However, if you're taking a relatively larger air mattress, it's best to pack it in your checked luggage.
For a larger-sized air mattress, you can do the following:
Use the Air Mattress Carrying Case
Some air mattresses are designed for air travel and typically come in a carrying case. These cases will come in handy if you want to ensure that you're adhering to the airline's luggage requirements. We've discussed such air mattresses below.
Can an Air Mattress Fit in a Suitcase?
As mentioned, most small-sized air mattresses can fit into checked or carry-on suitcases. However, the larger ones will not only take up the space you'll need for your essentials but will also add approximately 10 pounds of weight to the total luggage weight. So, it'll be best to keep this in mind when selecting and packing an air mattress for your upcoming travel.
Best Air Mattress to Take on a Plane
An air mattress suitable for air travel should not only have a built-in pump, which would eliminate the need to purchase and carry a separate electric or manual air pump, but it should also come in a carrying case that could rid you of the hassle of packing it in your carry-on or checked luggage.
The following air mattresses feature both a built-in pump and a carrying case, which make them perfect for lightweight air traveling.
Intex Dura-Beam Series Pillow Rest Raised Air Mattress with Internal Pump
This Air Mattress by Intex entails not only a built-in pump and a carrying case, but also features a raised pillow rest to prevent a pillow from slipping off the end. It's available in two different sizes, queen and twin, both of which are lightweight and easy to carry. Additionally, you can also choose from two design options, namely Deluxe and Standard.
The plastic air mattress can withstand approximately 300 pounds of weight, and its overall dimensions are about 39″ X 75″ X 16.5″. You can also carry your own bed covers for this air mattress as it features indented sides to fit a bed sheet and keep it in place.
The total weight of this product, including its carrying bag, is a little over 12 pounds, and it takes about two and a quarter minutes to inflate completely. The package also includes a repair patch in case the air mattress is damaged during your trip. This packable air mattress is a great option to use in a hotel room as an extra bed if you want to save money for a group of people without paying for an extra room.
EnerPlex Air Mattress for Camping
Unlike the Intex Dura-Beam mattress, which has two sizes available, the EnerPlex Air Mattress for Camping comes in four different sizes, including two queen sizes and two twin sizes. The dimensions may vary depending on the size you choose. However, the maximum product dimensions for the 15″ queen air mattress are 78″L x 60″W x 15″T. Moreover, unlike the previous product, this one has water-resistant properties, which is excellent for campers.
The air mattress comes with a built-in dual pump. The total time required to inflate this air mattress entirely is 2 minutes, and it weighs about 19.16 pounds. This product also comes in a carrying bag and is relatively more budget-friendly than most similar products in the market.
However, it is pertinent to note that this air mattress requires an electric plug to power the built-in dual pump. So, you might need to make an additional purchase if you want to use it while camping in a place where there's no electricity nearby.