A common misconception is that you aren't allowed to bring tools on a plane. In reality, most tools can be brought on a plane, especially in your checked bags, but small ones can even be brought in your carry on. There are, however, strict rules regarding how such tools may be carried. So, can you bring tools on a plane? We'll go into this in detail and tell you what the rules are for some specific common tools that you as a tradesman or woman might need to travel with by air.
Are Tools Allowed in Carry On Luggage?
To quote the TSA website, the answer is yes, but there are special instructions. Hand tools like wrenches and screwdrivers are permitted in your carry-on as long as they are seven inches or shorter in length when fully assembled. The same rules apply to tools such as scissors, however, you must ensure that your pair of scissors have blades less than four inches from the pivot point.
TSA rules are strict, but they are in place for the safety of airplane passengers, so any tool that could be used as a potentially dangerous weapon may not be allowed in your carry-on. This may result in TSA agents confiscating your tools even though they may be below seven inches. Yes, you have to be prepared for some uncertainty in this regard.
One such example of the rules not being final is a small hammer that isn't permitted on carry-on baggage. It is also why tape measures are allowed in carry-on and checked bags even though they are more than the permitted seven inches. Other tools such as Allen key sets and ratchet straps are not explicitly prohibited. Still, since the final discretion regarding what can and cannot be brought rests with the TSA agent, it is a much safer option to pack it into your checked luggage. Another option to avoid losing your precious tools is buying ones you don't mind leaving behind too much.
Can I Carry Tools in Checked Baggage?
Carrying permitted tools in your checked baggage is much simpler compared to what you may bring in your carry-on. If you are confused about whether your tool must be packed in your hand or checked luggage, your safest bet is the latter. Most tools are allowed in your checked baggage. This includes corded and cordless tools that can, somewhat surprisingly, be carried in your checked luggage. As long as your tools are properly covered, you are good to go. Just make sure to get yourself a good travel tool bag for air travel.


Tools that have any knife involved must be carried in your checked baggage regardless of its size. The seven-inch rule for tools can prove to be confusing at times, which is why it is best to get your doubts regarding any specific tool cleared by the TSA account on Twitter.
Can You Take Power Tools on a Plane?
Plug in power tools can exclusively be carried in checked baggage, regardless of their size. This includes items such as electric screwdrivers, impact wrenches, and rotary tools. Hairstyling tools can also be carried on the plane. However, if your tools are powered by lithium batteries, you must ensure that any spares must be only carried in your carry-on bags. This is because they are a fire hazard and in case of leak or damage, they can be better dealt with when taken on the plane with you. A rule you may not be aware of is that you are allowed to carry engine-powered tools such as chainsaws and other heavy-duty tools as long as you ensure they are free of any fuel residue.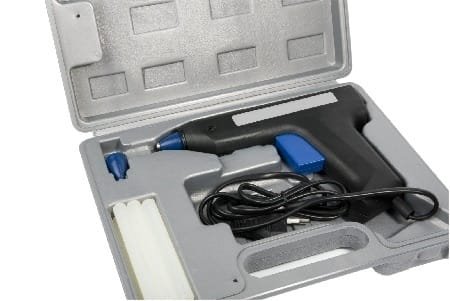 Can I Take a Drill in Checked Luggage?
Yes, you can take your corded or cordless drill in your checked luggage. This permission extends to the drill bits you may want to carry. However, you must ensure that your drill, especially if it is electric, is securely covered and packed to prevent accidental activation in the duration of your travel. As mentioned before, any spare batteries must be carried in your carry-on bags.
Flying With Battery Powered Tools
Flying with battery-powered tools such as various drills, rotary tools, and saws is simple, as all you have got to do is cover them securely and pack them in your checked luggage and pack any spare batteries in your carry-on bags only.

Can I Take Power Tool Batteries on a Plane?
Yes, you may carry power tool batteries on a plane. If you want to take dry batteries (like AA and AAA), they are permitted in both carry-on or checked luggage. However, any spare lithium batteries that you decide to bring along for your travel must only be packed in your carry-on bags, and even then, it is subjected to certain prescribed limits.
Traveling With Rechargeable Batteries
You may travel with rechargeable batteries on the plane. According to TSA's rules, rechargeable or lithium batteries, other than the one already installed in your tools, must be carried only in hand luggage. This rule is in place as these batteries could result in a short circuit and if such an event arises, it can be better dealt with if it is present in the cabin. You must also ensure that each battery is 100-watt hours or less. As long as it is lower than this limit, there is no particular restriction regarding the number of batteries permitted. It is beneficial if your batteries have the mAh (unit to measure its energy capacity) listed on its label as it is less likely to get confiscated.
How to Pack Tools for Air Travel
Small hand tools such as Allen keys do not need careful packaging, but your expensive, more dangerous tools do. If you are carrying saws, drills, and the like in your luggage, you need to pack them in a secure cover, and if you don't have one, a generous amount of bubble wrap and tape is a good alternative. If the tools come in their own box or kit, you may pack it as is, as long as you ensure that the kit itself is properly packed and secured. Electric tools especially need to be wrapped carefully to prevent accidental activation during transit. Additionally, tools with blades should be wrapped so that they do not damage the rest of your packed items.
There are several strict rules regarding what tools can be brought on a plane and how they can be brought, so if you want to carry expensive, heavy-duty equipment, a much better option would be sending it by cargo, as you can then get your tools insured.