LiteGear may sound like a new entrant in the travel bag space, but it is actually the same company that used to make Rick Steve's bags before it the line was shut down. Under their new name, you may find a lot of similarities between many of their bags with the old ones but they also have a few entirely new designs as well. They had good success with a combination backpack/shoulder bag, so they tweaked it a bit and came up with another hybrid called the LiteGear Rolling Mobile Pro Backpack, which is a combination backpack and rolling bag.
This bag is designed to multitask while being lightweight and easy to take with you, as in you can use it either has a personal item carry on when you travel or as an everyday work bag. In addition to having separate pockets to carry each of your gadgets and other work items, you can also add on separate "apps" to carry your lunch, flashlight, travel accessories, etc.
It is sized to fit under airline seats, but as always, with the ever changing airline guidelines for carry on luggage, you should check with each airline to make sure that this bag will be allowed as a personal item. Even if it doesn't fit under a seat, it will definitely fit in the overhead bin and you can always use it as your work bag when you're not traveling.
You can get this bag straight from the LiteGear website, or you can continue reading for an in depth look into its features.
Features of the LiteGear Rolling Mobile Pro Backpack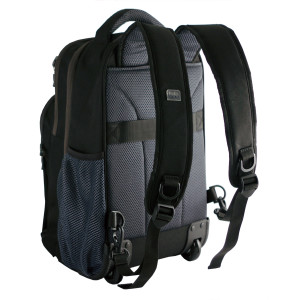 There are two main ways to transport this bag – as a backpack or as a rolling pack. As a backpack, you can use the airmesh padded straps that are adjustable for length. The back panel is also covered in airmesh to prevent sweating while carrying it. The straps can be detached when not in use and hidden away in their own back panel so there's no danger of them getting ripped when in transit. The bottom of the straps attach via D-rings near the back bottom of the pack.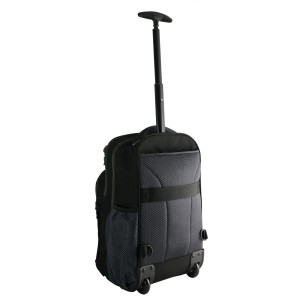 When you want to roll the bag instead of carrying it on your back, pack up the straps and pull out the telescopic handle which also has its own compartment opening from the top to stow away. You can raise the handle to one of two heights and lock it in. The pack can be rolled on two inline skate wheels that are housed in sealed ball bearings.

There is an extra way to carry this bag and that's by its top padded carry handle.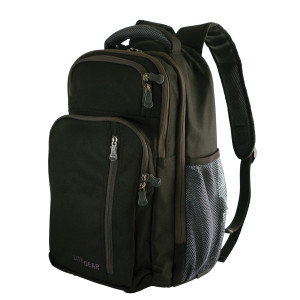 The interior of the bag is fully compartmentalized with padded pockets for a laptop, tablet and smartphone. There are also two file pockets in here. These main file and gadget compartments feature double zipper openings, so you can use your own travel lock to secure your most valuable gadgets.
There is also a front organizer and accessories pocket for storing cards, pens, cords, etc., and this pocket is also double zippered and can be locked.


A small vertical single zipped pocket lies directly in front of that for keeping small last minute items that you need quick access to.

There is an elastic top mesh pocket on one side of the bag for a water bottle.


A small RFID blocking pocket provides security for credit cards and your passport, so identity thefts won't happen.
This bag also comes with additional "apps" that you can remove if you don't need. A thermal food container allows you to take your lunch to work or even food to eat on the plane if you hate airline meals, a document organizer to keep your work tidy, a flashlight to make it easy for you to see inside the bag even in the dark, a mesh accessories pocket for your toiletries, and a neoprene cord manager to allow you to keep your gadgets plugged in without tangling up all the cords.
This bag measures 17″ x 10″ x 8.5″ with a capacity of just under 24 litres and weighs 3 lbs and 4 oz.
It is made of recycled polyester and comes in just one color – black.
It comes under a Lifetime Warranty that covers workmanship and material defects but not normal wear and tear.
Pros
It is a well made bag and environmentally friendly.
A great catch for organization fanatics.
Even with so many compartments, this bag expands to hold a lot.
Cons
It can get a bit heavy if you use all the included apps along with all your gadgets.
This bag is not the TSA-friendly type where you only unzip the gadget compartment and lay it flat on the security screener belt. If that's a priority, we have TSA-friendly recommendations for you.
If you want more choice, we have reviewed some more good gadget backpacks, although those don't come with wheels. If you're looking for wheeled underseater options with less emphasis on gadget space and more suited for clothes and accessories, we review some of those too.
A Demo of the LiteGear Rolling Mobile Pro