Are you looking for the best gadget backpack for travel? I personally like to pare down the number of gadgets I take with me on a trip so that I don't get bogged down with luggage. On vacation, the whole point is to try to switch off from our regular lives. However, it is sometimes necessary to take more than just one or two gadgets and I know there are some travelers that just feel better if they have them all with them at all times.
If you're in that category, a simple laptop backpack or tote for travel isn't going to be enough because most only have a protective compartment for a laptop.
Fortunately, some backpack brands are recognizing that people today commute and travel with more than just a phone or laptop, so we have a few options that will hold and protect everything from a smartphone, e-reader and tablet to a notebook or a large laptop. The best gadget backpacks can do this without being extra heavy themselves.
Among the best rated gadget backpacks available, we also recommend the LiteGear Rolling Mobile Pro, and other checkpoint-friendly laptop bags. Otherwise, read on to see which are our best picks.
Gadget Backpacks for Large Laptops
Briggs & Riley Accelerate Backpack
This dirt, water and abrasion resistant nylon bag from Briggs and Riley measures 19″ by 14″ by 7″, weighs 2 lbs 11 oz and has a laptop compartment that can hold almost any 17″ laptop. It may look a bit boxy and not feminine, but like all B&R bags, there is no question about quality on the Verb Accelerate and it is fully covered by a lifetime warranty.
You can carry this bag on one of three ways – by the padded shoulder straps, by the soft neoprene grab handle on top, or use the slip-through sleeve to piggyback it over a wheeled bag. The zippers are all self-repairing YKK.
There are plenty of pockets and compartments for organizing your gadgets – there's a large padded sleeve for a laptop in the main compartment which has a cord-pass opening so you can charge your laptop without removing it from the bag. There are padded dividers that are great for paperwork or even a full-sized tablet. An L-shaped zippered pocket on the front is lined for protection of your smartphone or mini tablet. The front organizer pocket has a place for everything from ear buds, charging cables, business cards, USB stick, iPod, pens, etc and there's even an RFID-blocking pocket for credit cards or a passport.
A horizontal gusseted pocket below that is great for a pair of shoes or a toiletry bag. In front of the grab handle at the top is an orange-lined zippered SpeedThru pocket to quickly stash your keys, coins and other small things while going through security. On one side is a vertical gusseted and zippered pocket for a water bottle.
Thule Crossover Backpack
Thule of Sweden is known for their sports and tech gear bags and cases and their Crossover 25L backpack is one of their more popular products. This bag is water-resistant and durable, weighs 2.38 lbs, measures 19 in x 12 in x 4.9 in and it's laptop compartment can hold a 17″ Macbook.
The back panel is padded and ventilated and the shoulder straps are foam and mesh covered with a sternum strap for ultimate comfort while carrying. External compression straps keeps your bag as compact as possible. There are two grab handles – one at the top and one on the bottom.
The main compartment is lockable and has padded protective sleeves for a laptop, a tablet and other items. A front double zipper gadget travel organizer panel can easily hold all your business paraphernalia. In front of this is a vertical zippered pocket that's perfect for travel documents. A horizontal zippered compartment right on top with a safety latch features a molded crush proof holder that can hold a pair of sunglasses. This is removable if you want more space for something unbreakable but larger. This pocket also has a protective smartphone pocket. Two mesh drop pockets on the sides are ideal for a water bottle and travel-sized umbrella.
Gadget Backpacks for Small Laptops
Booq Boa Squeeze
This laptop bag is made of tough water repellent ballistic nylon but you could never tell just by looking at it or carrying it. Its slim and sleek design is lightweight at 2.2 lbs but it is surprisingly roomy with plenty of organizational compartments. It measures 11.8 × 17 × 6.3 in and can hold a 15-17″ Macbook or PC laptop. The back panel is arched towards your back and is padded and mesh lined for good air circulation, while the shoulder straps are ergonomically designed to keep the load feeling light.
In the Booq Boa Squeeze's main compartment you'll find a total of 4 lined and padded slip pockets – one for your laptop, one for a tablet, and the others for a book and smartphone. The inside of the compartment flap has place for accessories – one stretch mesh pocket and one zipped pocket. A soft lined zipped pocket on the top gives you quick access to your smartphone. Two vertical gusseted side pockets can hold more accessories like a mouse, MP3 player and an attached key fob in one, and a water bottle in the other. The front carries a vertical zippered pocket that can hold your travel documents.
Lastly, Booq's own lost and found luggage service can be utilized if needed using the backpack's attached serial number that you can register with them.
Osprey Cyber Port
If you're looking for an even lighter backpack with a different yet clever design, the Osprey Cyber Port weighs just 1 lb 10 oz and measures 18″ by 12″ by 8″. Its capacity is 18L. You can grab this pack in black, grey, brown or red.
This pack stands out because of its clear port window in the front pocket whose flap flips open downwards via a U-shaped zipper. This window is the front face of a slip pocket that holds a tablet, so if you want to use it while waiting around, just unzip this flap, fold it backwards and use the tablet without ever removing it from the sleeve. The entire pocket is fleece lined for maximum protection.
The main zippered compartment is also fully lined and has a padded slip pocket with velcro closure for your 15″ laptop. In front of this is an organizer panel to hold all your accessories, like a power block, mouse, smartphone, etc. There is a small zippered pocket on top where you can store last minute things like a pair of sunglasses or a phone or keys.
S-shaped padded and adjustable shoulder straps with a sternum strap, and a mesh covered back panel makes carrying the pack comfortable. A top padded grab handle is also provided.
Gadget Charging Backpack
If you're tired of running out of battery charge on any or all of your gadgets while traveling, you could use a backpack with an in-built charger that can charge them while on the go. If this seems like overkill to you and you already have a good travel backpack, you could consider getting a mobile charging station for travel use.
Tylt Energi Backpack
An electronic gadget organizer backpack with a built in battery like the Tylt Energi keeps all of the gadgets in any of the 13 pockets charged while on the go. The inbuilt battery is a removable 10,400mAh rechargeable Lithium Ion that can charge your smartphone up to 4 times via two 1Amp USB ports or your tablet 1 time via the single 2.1Amp USB port. Cords run from the battery to all parts of the bag.
The main padded compartment accommodates a 15.6″ laptop, while there are pockets for a tablet, smartphone, MP3 player and accessories. A gadget accessories bag is also included.
However, this is a true gadget travel bag, as it is security checkpoint friendly and you don't have to remove your laptop from the bag. You can slip the pack over a wheeled bag's telescopic handle using the trolley slot at the back and there's a water bottle mesh stretch pocket on the side. A long zippered pocket down the front of the bag is ideal for keeping travel documents. An NFC tag in the shoulder strap is very useful if you lose your bag when flying.
HP Powerup Backpack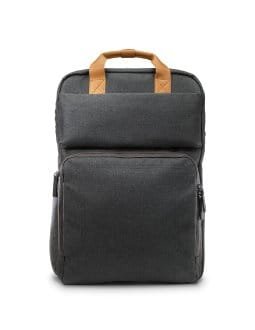 This rather surprising offering from Hewlett Packard comes with the most powerful battery pack that the FAA has approved so far. It is not really meant to carry any clothes except for maybe one light change of clothes, but if you tend to travel with many devices that constantly run out of juice, this is one backpack that you must definitely consider.
In fact, we have a separate post dedicated to just the HP Powerup Backpack here.

These are some of the best gadget backpack options available today. Do you have a favorite that isn't listed here?