Do you love the spacious interior of a duffle bag but hate the non-existent organizational features? Do you love how neat and tidy the inside of a suitcase remains but hate having to open it up completely to access anything inside? Well, the Wool and Oak Premium Bag Duffle and Suitcase Hybrid takes the good aspects of a duffle and combines them with the good aspects of a suitcase to give you what seems to be the ideal carry on bag.
A duffel is great when you don't want to deal with the unnecessary bulk and weight of a wheeled upright and need to maximize packing space in your carry on. Airlines are quite strict about carry on bag dimensions these days, so a duffle is much easier to get through when boarding. However, the interior of the main compartment doesn't usually have any pockets to keep items organized and clothes can get pretty wrinkled because of the softsided structure that doesn't help to keep folded clothes flat.
That's where a suitcase excels. Even the most basic of them will have restraining straps, a dividing panel and one or two pockets for small items, so clothes don't wrinkle to much and you can find personal items easily. However, the wheels on the case take up extra weight and can push it over allowed carry on dimensions. You also usually have to open up the entire case and lay it flat somewhere in order to remove anything that you've packed inside the main compartment.
To eliminate all of the above problems, the Premium Bag is designed to be a duffle bag that packs like a suitcase. It features removable walls that partition the main packing space and lots of pockets to keep everything separate and organized. All your clothes, accessories and gadgets are secure and in their own compartment. It is now available to order on the Wool and Oak website.
Let's take a closer look at this bag to see if it's something you'd find useful.
Features of Wool & Oak's duffle suitcase
If you like leather, you have 4 color options – black, olive, navy and oak.
If you prefer a sportier look, choose the black canvas twill with leather trim and straps.
The bag is perfect as a carry on for all flights. It measures 20 inches in length, 10 inches in width and 10.5 inches in height. It weighs 5 pounds when empty.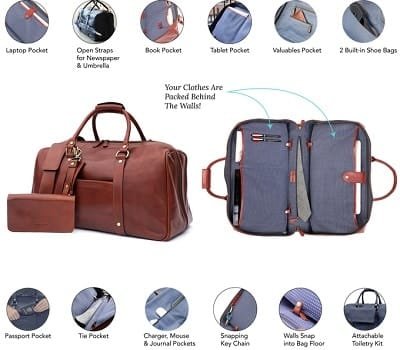 The main compartment can be completely opened with the walls lying flat, as the dual zippers open all the way round. This allows you to pack the bag like you would a suitcase.

You can separate the inside into two sections using the two included removable snap on and zip up partition walls. Your clothes will stay neat and tidy this way throughout a trip. First snap on the walls to the grooves at the bottom of the bag, pack your clothes and then zip up each wall.

If you'd rather pack the bag more like a duffle, like for a trip to the gym, leave out the walls. However, these walls have some very useful inbuilt pockets for gadgets, cords, etc., so they are best left in for traveling.
One of the walls has a pocket with a securing strap and snap button to nicely fit a 15″ laptop. The other wall has a divided pocket where one section is good for a tablet and the other for a book. There are two pen loops on the outside wall of one of these pockets. Both these are on the wall sides facing each other.

On the sides of the walls facing your packed clothes, one wall has 3 divided sections for things like a phone charger, mouse and small journal. The other wall has a two section pocket for a larger charger and maybe a belt.

In the lining of the inside of the duffle bag walls are two zippered pockets sized perfectly for one show each, so they'll remain separate from your clothes. On one side wall is a small zippered pocket meant for your valuables, like cash or jewelry. This pocket is hidden from plain view by your clothes. At the side is a leather key strap with brass clasp for you to attach a set of keys.

Between the removable walls at the bottom of the bag is a zipped pocket running the length of the bag. This is meant for a tie or anything else thin and long that you don't want to roll up!
There is one external zipped pocket on the front of the bag. It's sized just right for a wallet or passport and the zipper is hidden to deter pickpockets.

The leather straps that run around the outside of the bag serve an extra purpose – they can be used to hold an umbrella or rolled up newspaper. Quite useful if your umbrella is wet or if you pick up the paper for your journey at the last minute.
This bag comes with its own optional toiletry kit in matching leather. It closes via two snap buttons to the front where there are two positions to fasten them, depending on how full the kit is. The cool feature of this kit is that you don't have to stuff it into the duffel if the bag is already too full. It features snap button straps at the back that can be fastened to the leather straps of the duffel bag on the outside! These fasteners are designed to be strong so that the toiletry kit won't be easily pulled off if it gets caught somewhere.
There are 5 metal "feet" on the bottom of the bag to prevent it from getting wet or dirty when you set it down.
The dual carry straps are made of leather and can be secured together with an attached snap button leather wrap for easy carrying. There is also a leather shoulder strap that is length adjustable and has a sliding pad to ensure carrying comfort.
To sum up, this bag is quite a draw for travellers who like easy access to their things and like their bag to be neatly organized. It doesn't come cheap. Since it's Italian leather it costs over $400. The suggested retail price for a leather Wool and Oak Premium Bag Duffle and Suitcase Hybrid with the toiletry kit is a whopping $495, so if it's something that excites you, get it now!