Are you worried about your gear getting wet during your next adventure? If your go-to travel bags are not equipped to handle wet weather or an accidental dunk in the water from a boat then you shouldn't even think about using them on a trip where you'll encounter these conditions. This is where a good waterproof or maybe even a water resistant duffel will serve you well.
The best waterproof duffel bags have roll-top openings, welded seams, and fabric waterproofing. These are best for long periods in heavy rain and even boating trips where the bag may end up in the water for at least a bit. However, if you don't anticipate such wet conditions and only want to protect your belongings from light to medium rain for short periods, you can get away with just a water resistant duffel. Read on to find out the exact differences between the two types and the best-rated ones in each category. Many of these come in several sizes with at least one or two options that work well for carry on duffel luggage if you're flying to your adventure destination.
You can also get a ski boot bag that you carry as a backpack or shoulder bag if you only want a bag for your winter sports gear and the duffel option doesn't appeal to you.
Product
Features

Best water-resistant duffle bag with backpack straps

The North Face Base Camp Duffels

31L, 50L, 71L, 95L, 132L, 150L bags


Inside organizing pockets and separate wet pocket


Backpack straps, shoulder strap, dual carry handles, end haul handles, D-rings, daisy chains, compression straps

Best waterproof duffel

Earth Pak Waterproof Duffel Bag

50L, 70L bags


Inside organizing pockets, 1 external pocket, waterproof with roll-top closure with securing side buckles


Shoulder strap, dual carry handles, looping system with anchor points and D-rings

Best value water-resistant duffel


The Friendly Swede Duffel bags with Backpack Straps

30L, 60L, 90L bags


Inside organizing pockets


Backpack straps with chest strap, shoulder and crossbody strap, dual carry handles, end haul handles
Water Resistant Duffel Bag with Backpack Straps
Water resistant bags usually have zippers that are protected by flaps but can still let water in when there's a heavy downpour or when submerged. The seams are sewn together like in traditional bags. You probably don't want to use these on a kayaking trip but they'll be fine if they're in light to moderate rain for a little while. Detachable backpack straps are a bonus if you intend to also use this for some short hikes or just getting to your campsite from your car and you don't really need an actual hiking backpack. We have some serious contenders for best water resistant duffle bags:
The North Face Base Camp Duffel

If you're looking for a big, burly all-round type of water resistant duffle that has stood the test of time, the North Face Base Camp Duffel is it. It's not the lightest one on this list and it is not waterproof but water resistant, but it's well known amongst expedition enthusiasts because it can endure travel almost anywhere, is easy to load, and is easy to carry. It is also one of the duffels with the best versatility for transport.
In addition to dual duffel straps, the newest version also has padded haul handles on each end and the front and back, so you can tow it on a carrier or use them to secure the bag when using a sled or a luggage rack. It also has comfortable removable alpine cut backpack straps to free your hands when needed. To help keep the bag secure and stable, there are 4 external compression straps and dual daisy chains on the side that allow you to secure a jacket or other gear to the bag. These also give you an additional way to secure the bag to a rack.
You get easy access to the interior of the main compartment via a D zip opening. Inside are mesh organizational pockets. The newest model features an exterior zippered pocket on one end so that you can separate wet clothes from the rest of your belongings. The zippers are protected under a flap and can be locked with a small travel lock, and an ID pocket on the top means that you can confidently check this bag on flights.
The fabric used on this waterproof duffel backpack is TPE laminate on ballistics nylon and the stitching is doubled down and features extra bartacks. When empty, this duffel bag can be completely folded down and packed in its own circular zippered case for easy storage.
This bag comes in extra small, small, medium, large, extra large, and extra extra large, ranging from 31 liters to 150 liters, and is available in several colors. The small 50 liter version is also one of the best carry on travel duffels, but if you want a really large waterproof duffel bag, this line also has it. Find them all on Amazon or The North Face website.
Pros:
Very practical for carrying or hauling in multiple ways.
Deceptively large capacity.
It comes folded in its own storage case.
Constructed with heavy duty materials and the fabric is waterproof.

Cons:
The zippers may feel awkward to open and close.
Patagonia Black Hole Duffel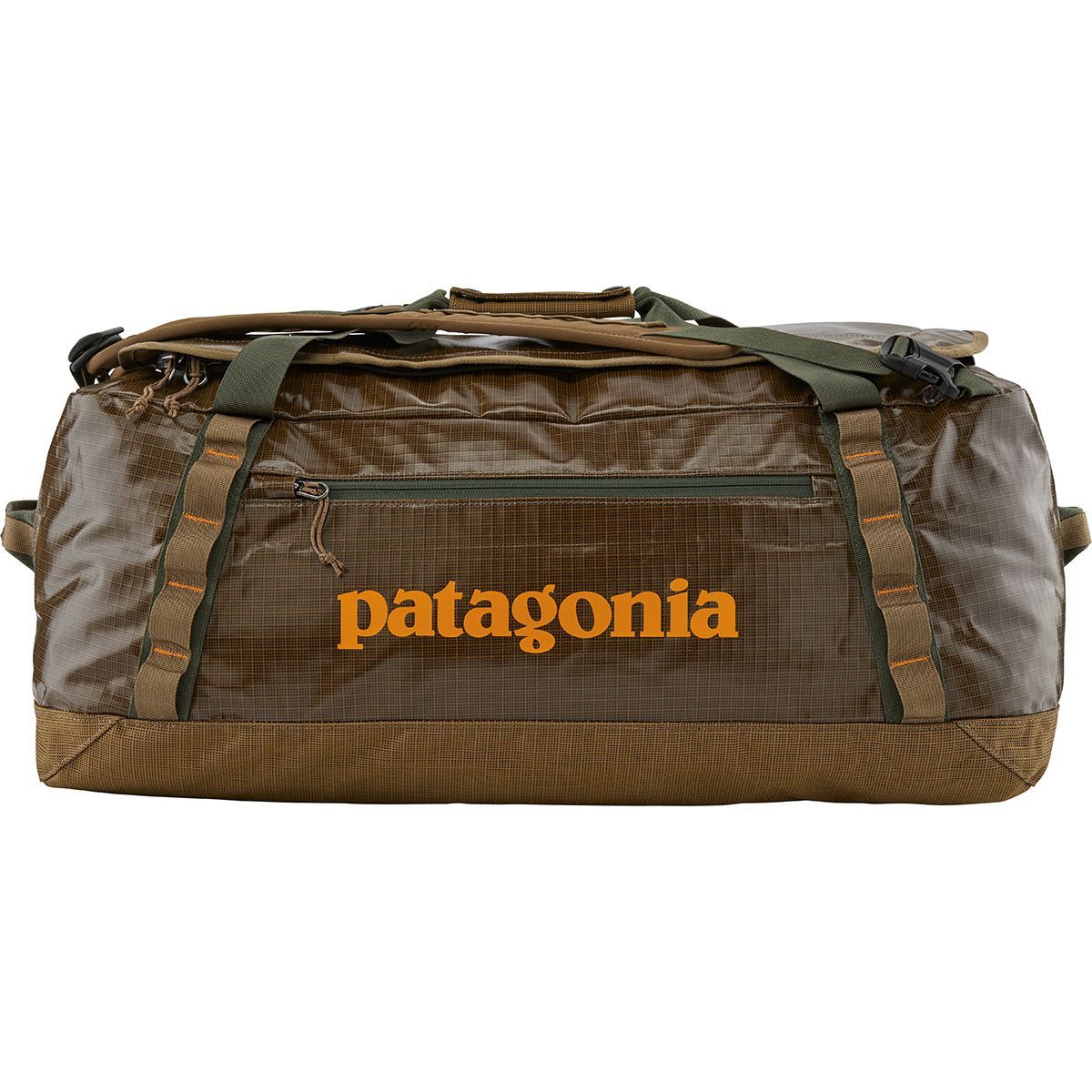 If you think the North Face may be too heavy for you, consider the Patagonia Black Hole Duffel. It is one of the lightest but still has backpack straps, duffel straps and end haul handles. In fact, the backpack straps are padded and removable or you can just unclip one end of each to give you easier access to the inside. It also has corner mounted daisy chains and points to add lashings to secure the bag but not as many as the North Face.
There are more organizational pockets on this bag. There is an external zippered pocket and several zippered mesh ones on the inside of the main compartment that has a U-shaped top opening. There's even a key fob and dual compression straps to keep your clothes in place and compact. The underneath of the bag is padded to protect its contents from damage.
The locking zippers under a flap and TPU film laminate and water repellent finish on polyester make this bag the most water-resistant in its category.
This duffle comes in several colors and in 4 sizes – 40L, 55L, 70L and 100L. There are also two bags that come on wheels – a 70L and 100L.
Pros:
Material used is waterproof and durable.
Can fit a lot.
Easy to clean.
Will look good even after several trips.

Cons:
Only one small interior pocket.
The two larger duffels are difficult to load balance if carrying on your back.
The Friendly Swede Duffel bag with Backpack Straps
When you need backpack straps on a duffel bag, the one by The Friendly Swede offers a very practical option. It's safe enough for everyday use or for sporting and travel. Featuring high-quality Swedish craftsmanship, this duffel has a small pocket on the outside as well as mesh pockets inside. They're discreet, roomy and provide enough organization and space for personal belongings.
The colors offered are bright yellow, white and back and the material used is heavy duty PVC tarp that's waterproof. The engineering of this duffel bag and its design keep the constant traveler in mind. The zipper and seams are not waterproof, however.
The straps are removable, adjustable and comfortable. Carry it over your shoulder, by the handles, or as a backpack. In fact, the detachable shoulder straps are designed to be able to be attached across the diagonal so that you can even wear the bag as a crossbody bag. If you choose to wear it as a traditional backpack, there's an adjustable chest strap to help you with stabilizing it as you move. There are haul handles on either end too. So, you'll be able to carry it with ease no matter which of the methods you use.
It's available in 3 different sizes – 30L, 60L, 90L, and comes with a 3-year warranty and 100% money-back guarantee.
Pros:
The backpack straps come with a chest strap to make it easier to carry.
Versatile and adjustable with multiple ways to carry the bag.
Works beautifully and for almost any situation; for the great outdoors or for going to the gym.
PVC material is fully waterproof and cleans easily.
Great value.

Cons:
Seams aren't as durable as the material of the bag.
Some pieces may have glue stains and globules around the seams.
Thule Chasm Sport Duffel Bag
The Chasm duffel by Thule provides rugged, weather-resistant bags in 4 different sizes, including a small carry on size. It's also an excellent waterproof duffel bag for camping, going to the gym, or other adventure pursuits. The bags have a wide-mouthed zipper opening that makes your belongings easy to locate and access. The zippers are lockable, so you can safely check them when flying. The many internal mesh pockets help with organization of personal belongings that's simple and quick.
The duffels convert into a backpack for ease of use and portability. All you have to do is switch from the oversized duffel handles to the adjustable backpack straps. This waterproof duffle bag is made of durable tarpaulin fabric, so it won't damage quickly. The external compression straps keep the bag compact and prevent things from falling to the bottom of the duffel. This is useful when using the bag as a backpack.
There are four basic colors to choose from: black, Poseidon, olivine or autumnal. The bottom of the bag is padded to give extra protection to what's inside the bag. There's a case for it too so you can store it when not in use. This can also double as an accessories pouch.
Pros:
Material comprises 100% waterproof nylon and tarpaulin.
Big and roomy with stabilizing compression straps.
Easy to access your belongings because of the wide opening.
Good for outdoor use or for daily tasks.

Cons:
There is no shoulder strap for carrying; only by the handles or as a backpack.
Colors are misleading and not quite like what you see in person.
Monarc Settra Duffel Backpack
While all the above options are more for adventure travel, if you're looking for a more all round duffel that you can fly with for any kind of travel, the environmentally-friendly Monarc Settra Duffel Backpack is the best water-resistant duffel/backpack for you. We also consider it one of the best carry on duffel bags, so we have reviewed the Monarc in depth as part of that list.


Best Waterproof Duffel Bag with Removable Shoulder Strap
A bag that is waterproof as opposed to water resistant usually has a top opening that you can roll down to close and secure so there is no way for water to get in through the opening. The best bags also have seams that are welded together instead of stitched, so water can't leak through. Great for boating, camping in inclement weather, or taking long bike or car trips in unpredictable weather. The removable shoulder strap is a good idea when you're checking it in for a flight and you don't want the strap to get caught in anything and be ripped off.
Dry Pak Duffel Bag
The Dry Pak bag is a a neat and compact dry bag that features a wide tapered opening at the top so that you can easily access your things. When you're done packing the bag just pull the edges together and roll down a few times. Then use the side snap buckles on each end to secure the ends and ensure that the bag stays closed. For less important or easy to access items, there are two zippered water resistant pockets with storm flaps on either side of the bag. One is clear and one is opaque.
The material used for this waterproof roll top duffel bag is faux leather with a heavy duty vinyl and polyester blend laminate for waterproofing. The electronically welded seams keep water out too, while the plastic hardware means nothing will rust. The bottom is molded to provide a bit of structure and to protect the contents at the bottom.
In addition to the dual grab straps, you have the option of carrying it using the padded adjustable and detachable shoulder strap.
This duffle is available in two sizes – large with a capacity 70L and extra large with a capacity of 110L. The large measures 24″ x 12″ x 12″ when closed and the X-large measures 30″ x 14″ x 15″ when closed.
The colors available are black, white, blue and green.
Pros:
Has a structured bottom that adds rigidity to the bag.
Will last several years of use.
Easy to pack even large items because of the wide opening.
Great for boating or long motorbike, jeep, or car trips.

Cons:
Doesn't have attachment points or rings for strapping onto a motorbike so you have to use some ingenuity.
The way the top rolls down takes up some of the stated capacity.
OverBoard Waterproof Pro-Sports Duffel Bag
This OverBoard Pro-Sports Duffel is 100% waterproof as it features a shell made with a PVC tarpaulin. An added measure of protection are the high frequency welded seams. You can dunk it in water and it will float to the top on its own and it is rain-proof, dust-proof and snow-proof as well.
The main compartment's top opening folds down multiple times and is secured by a Velcro joiner, two top compression strap release buckles and two side release buckles. To open, just pull on the quick release handle after unbuckling.
To maximize organization, you'll have one external waterproof zippered pocket for keys or a wallet, and one Velcro mesh pocket on the front. There's also a vented pocket on one end for maybe a swimsuit. On the inside, you'll find two mesh pockets and one wet/dry zippered one.
In addition to the dual velcro closure duffel straps, there's a top haul handle and adjustable and removable shoulder straps. Four D rings give you ways to secure it to a luggage rack or haulers.
This bag is available in 4 colors and in 3 sizes – 40L, 60L and 90L.
Pros:
Has multiple attachment points to easily secure it to your vehicle.
Has a separate wet pocket inside for damp items.
Multiple pockets for organization.
Several connect clips to let you compress the bag well.

Cons:
If stuffed to the gills, the 40 liter bag may not fit into an overhead bin.
Skog Å Kust DuffelSåk Waterproof Duffle Dry Bags
Made by an American outdoor gear company, the Skog Å Kust DuffelSåk has a Swedish design that offers something a little different. Instead of simply zipping across the top, you roll it down 2-3 times and fasten it via Duraflex end clips. This provides the ultimate in protection from weather and water.
It's made of polyester and 500D PVC, which is one of the most durable materials available on the market today. Its waterproofing is IPX-6, which means it can withstand high pressure and heavy and constant water sprays but should not be submerged. It can withstand hard wear and tear and can hold pretty heavy items without sustaining any damage. Plus, there's plenty of room with two interior and exterior zippered pockets, the latter ones being weatherproof too. This allows for the utmost in organization while keeping all your personal items dry.
There are D-rings to help strap it to recreational vehicles like a boat, jet ski, or motorbike. If you're carrying it, you can do so using the regular dual padded grip handles or by the adjustable and removable shoulder strap.
This bag comes in 3 sizes – 40L, 60L, and 90L. The smallest size works well as a carry-on for flights. It's available in a few different colors too and has reflective piping around its exterior pockets.
Pros:
Made of some of the best quality and strongest materials for luggage available.
Comes in a few different colors and sizes.
D-Rings for strapping it on to vehicles.
Excellent capacity, good design and engineering.

Cons:
The fabric tends to be stiff and inflexible.
Bag may feel a bit bulky and awkward to carry for long distances.
The fasteners used to secure the rolled down top are placed a bit high on the sides.
Earth Pak Waterproof Duffel Bag
For a great waterproof travel companion, the duffels offered by Earth Pak are lightweight and heavy duty. You can choose from several colors and two sizes – 50L and 70L. You can use them for any weekend getaway or outdoor adventure, like sailing, fishing, camping, or boating.
The Pak keeps your belongings safe and has plenty of storage space with two interior mesh pockets and one external large mesh pocket with a zipper. This is good for items you need to grab on the go or have easy access to, although it will not keep those items dry.
This has a roll-top closure with a reinforcement strip that buckles on the sides. You also have two straps with buckles to secure the bag front to back. The PVC material is soft, the haul handles are comfortable and cushiony, and the shoulder strap is adjustable and removable. A looping system on the front and back along with 4 D-ring attachment points make it easy to quickly fasten the bag to any latch points on a vehicle.
The bag comprises commercial-grade fabrics for optimal performance to last a lifetime and designed to be watertight. There are reflective side panels to increase visibility at night. It's collapsible, which makes storing it away a cinch when you're not using it.
Pros:
Roll-top with buckle for secure fastening.
Four D-rings and anchor loops for easy securing on a bike or boat.
Inside and outside pockets for simple storage and easy access.
Large size will pack hefty items like mats and sleeping bags.

Cons:
The outer pocket is not waterproof.
The buckles to cinch down the bags rolled top opening are made of cheap plastic.
The design of the top opening doesn't provide complete protection against the elements.
Best Waterproof Duffel Bag for Motorcycle Use
If you're a motorcycle enthusiast and like to take long road trips, you'll need a bag that can hold lots but is compact enough to be well secured to your bike. Same goes if you need one for a boat trip. This kind of bag doesn't need extra straps if you're not planning on carrying it yourself for long distances.
Wild Heart Waterproof Duffel Bag
Wild Heart has a duffel for bikers with state-of-the-art technology. Tested to withstand rain, wind and many other weather conditions, WILD HEART guarantees your things will stay dry or you get your money back, so this is some of the best waterproof luggage around. The bag is yellow and comes in 3 different sizes – 40L, 66L, and 100L. The two larger sizes also come with an option to have an extra thick bottom with anti-skid waterproof material. In addition to the bright color, there are reflectors on the bag so you will feel better if riding around in the pitch black.
The bag is made with high-density polyester with PVC coating that won't peel off on the outside and mesh yarn on the inside and can endure hot or cold temperatures as well as punctures or tears. You close the bag by velcroing the top and then rolling it down with what they call "magic stickers" that make it easy to fold. This keeps water out of the inside. If you want the bag to really compress after closing, there's an air release valve and a pair of compression straps to buckle up.
When it's time to travel there are two mounting straps to keep the bag secure while you ride your motorbike. There are two long duffel handles with adjustable pads that can also be used as backpack straps. The final method of transport is by the removable and adjustable shoulder strap.
Pros:
The bag can handle rough handling and terrain and snagging.
Comes with binding ropes.
It has good reflectors for other drivers to see you on your motorcycle at nighttime.
Has an air-release valve to get rid of air inside the bag and make it compact.
Large, roomy and secure.

Cons:
Depending on the bike, the mounting of the bag may not work very well.
Lots of straps and doodads make the bag confusing.
There are no pockets inside or outside.
CHCYCLE Waterproof Motorcycle Tail Bag
Steel horse weekend road warriors need a reliable tail bag and CHCYCLE has a good one for you. It is a 40L duffel and very similar to the 40L Wild Heart bag above, except that this one is black.
PVC tarpaulin makes up the bag's materials and comes with reflectors, compression straps, and an air-release system. The additional card pocket makes it easy to display an ID.
It's durable, waterproof and designed to have a long life span. The bag can mount to your bike quickly with fast-release buckles that disassemble and install simply. There's a secure shoulder strap and a space for four mounting ropes. It rests perfectly against the rear seat and will be secure during the whole ride.
It's just over 19½ inches long by more than 11½ inches wide. The whole bag weighs two pounds. It's so roomy you can fit two full helmets and still have room to spare. The engineering is great and very well-built. This bag makes a great companion for long road trips or quick weekend jaunts through the mountains on a motorcycle.
Pros:
Air-release system and compression straps to compress the bag.
Durable, waterproof and solid.
Convenient card pocket to access important documentation like IDs.
Roomy enough to fit two full-sized helmets and still have room for other items.

Cons:
Bag needs airling out because of chemical smell that emanates from the bag upon first opening.
Best Waterproof Rolling Duffel Bag
Eagle Creek No Matter What Duffel
If you're looking for a waterproof duffel bag with wheels for when you're on suitable terrain, consider the Eagle Creek No Matter What Rolling Duffels. Even though they're not technically waterproof but water-resistant, their loyal customers say they can withstand heavy rain too. Of course, you can get the non-rolling ones in the smaller sizes too but if large duffles without the ability to roll are not appealing, then these are the best option.
Click here for a complete review of this line of duffles.