Since ski equipment isn't like regular luggage, it's important to know what to expect when you travel with it. If you are flying to a destination for a ski trip, one item you may be concerned about is your ski boots. You are allowed to fly with ski boots, but you will need to pack them accordingly.
On this page, we're going to discuss how to pack ski boots for flying. This way, you and your equipment will arrive at the destination without getting any headaches along the way. Keep reading to learn about what you need to do when packing ski boots.
Do I Need a Ski Boot Bag?
A ski boot bag is a customized bag designed to keep your boots safe and secure while traveling. Having a ski boot bag isn't mandatory, but it will make traveling a lot easier for you. This is because ski boots aren't like ordinary boots, and each skier will have a specific type of boot they need for the sport. Some skiers will even have custom-made boots.
For this reason, people choose to use a ski boot bag. If the boots were to get damaged from the trip, it's very unlikely the traveler will be able to easily rent or pick up a pair of ski boots that meet their needs at their destination.
There are a variety of different ski boot bags that travelers can choose from. This way they will be able to get one that's within their budget and the right size. Some of the more expensive ski boot bags will have room for a helmet and pockets for other items.
Can You Pack Ski Boots in a Ski Bag?
If there is enough room in your ski bag, you may pack the boots in there. Certain types of ski bags for air travel are designed to carry the boots safely and securely in a separate compartment. However, if you have a standard ski bag, you may be better off using a boot bag. This will ensure your ski equipment and your boots arrive in the same condition that they were packed in.
Many seasoned skiers prefer to travel with their boots packed in a separate bag. However, if you plan to pack your boots with your skis, it's important that you pack with a plan in mind. Packing skis for flying needs some protective measures.
Layout all the items you will be adding to the ski bag. Start by placing the larger essential items in first, with the skis, and then arrange the boots. Lay your poles in the bag next, and then arrange the smaller items.
Can I Carry My Ski Boots on the Plane?
If you have customized ski boots, you may not want to let them out of your sight while traveling. Whether or not you can carry your ski boots bag on the plane will depend on which airline you travel with. Each airline will have different rules regarding what the size and weight limits are for carry-on items.
This is something you will want to confirm with the airline ahead of your trip. Many airlines will allow you to carry your ski boot bag on the plane. However, if you are traveling in a smaller plane, there may not be room on board.
Can I Take Ski Boots as Hand Luggage?
Wildhorn Brimhall Ski Boot Bag for Carry On
If your ski boots bag is under the weight limit and its measurements are within the airline's restrictions, then you should be able to bring it on board as your hand luggage. Keep in mind that this will typically only be allowed if you don't have another piece of hand luggage.
One tip that many skiers have shared is to request a seat in the front of the plane when requesting your boarding pass. This is because there is more legroom where you can place the ski boot bag. Although you will be allowed to store the ski boot bag in the overhead compartment, there is a possibility that there won't be enough space.
Some airlines have room in the front of the plane to store specialty carry-on bags. If you ask a flight attendant while boarding, they may be able to store your boots bag in a safe location.
Do Skis and Boots Count as One Bag?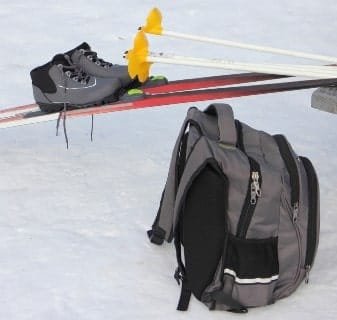 Every airline has different rules regarding bag limits, but one thing that many of the airlines have in common is that they allow travelers to check their ski bag and ski boots bag as one. As long as you keep the bags within the weight limit, you should not have to pay an extra charge. This allows travelers to check their ski equipment as a regular piece of luggage.
One thing that you should pay attention to is which type of ski bags you are allowed to travel with. You will want to make sure you arrive with ski equipment bags that meet the airline's standards. The size of the bag should be adequate and standard.
There are several broad guidelines that apply to all equipment check-ins: Before you attempt to check your ski equipment, confirm the pricing and be certain that your airline will accept the item. It's important to consider what you pack in your bags before assuming that you can count your ski bag and ski boots bag as one.

Most airlines will only allow you to get away with charging both bags as one if the ski bag only contains skis and poles and the skit boots bag only contains boots. This means that you may not be able to use a bigger boot bag that can also contain a helmet and other items. The reason why is that your ski equipment could exceed the weight limit. Be aware that some airlines may not allow both bags to count as one. Any extra non-ski equipment luggage will be subject to standard baggage fees. 
How to Travel With Ski Boots

How you plan to travel with ski boots will depend on if you are going to check your boots bag or carry it on the plane.
If you are going to check the bag, it's important to take measures to ensure your equipment doesn't get lost. Some travelers will attach the ski bag and the boot bag so they don't get separated. They will also label the bags so they are easy to spot. Make sure you choose a bold luggage tag to put your information on because it will be easier to spot. Take a picture of the equipment and bag in case you need to file a claim for damage and make sure that everyone in the family has a claim check for each bag.
If you are traveling with your boot bag as part of the ski bag, then the only item you should pack in the bag is your boots. Some passengers have tried to sneak a few more items into the bag only to have it backfire on them.
How to Pack Ski Boots and Helmet
If you have a well designed ski boot bag, you may be able to pack your boots and helmet together. This bag will be too big to count as part of your ski bag, but you can check it as its own bag. The best way to pack ski boots and a helmet is by using your ski clothes as safety wrap.
You can give your boots and helmet extra protection and get more items packed for your trip if you lay clothes or soft material around the gear. This will prevent friction in the bag and keep the items from bumping into each other.
You may want to travel with a ski bag and a separate all-purpose bag that can carry your ski boots, helmet, and a few non-equipment belongings. To do this, a drop bottom wheeled duffel bag is the best bet, as you can separate your equipment from your clothes easily.
Conclusion
If you plan on traveling with ski equipment, you need to plan how you will pack your ski boots as well. A ski boot bag will make things easier for you at the airport and keep your ski boots safe while traveling. As long as all of your ski equipment is in the proper baggage, you should not have any problems at the airport.