If you want to look elegant and sophisticated while traveling without giving up the perks you get with modern luggage, why not select one of the many vintage inspired luggage sets that are popping up these days?
You don't have to give up any of the features that modern luggage sports but you can aim for the air of romance that these sets bring. It's really modern luggage that looks like a trunk with faux wrap around straps and bumper patches in a color that contrasts with the shell of the bag. And while suitcases from years ago didn't have wheels to make it easy for you, we're going to highlight vintage style luggage with wheels. They might just help you forget what an absolute nightmare travel can be these days, what with crowded airports and train stations, overpriced and mediocre food and long lines through security.
There are a surprisingly good number of options for retro luggage available now. We reviewed 8 beautiful vintage luggage sets that we're absolutely sure you will fall head over heels for, so why not take a look! If modern steamer trunk luggage is not the look you're after, we have a few other stylish luggage options that are quite unique in their look.


Best Vintage Style Retro Luggage
Product
Features

Our top pick

Bellagio 2.0 Ultra Light Spinner Trunks

Two carry on spinners and three check in size spinners


Water resistant sealed zipper


Italian leather trim


TSA approved combination lock


5 year limited warranty

Runner up

Delsey Luggage Chatelet collection

Several wheeled and non-wheeled pieces. Wheeled are hardsided and non-wheeled are softsided


Removable hanger and laundry and shoe bags in all hardsided pieces


Built in tracking device on all hardsided pieces


Add-a-bag feature on the back of all softsided pieces


10 year limited warranty

Best sustainable luggage

Paravel Aviator Grand spinners

Made from all recycled materials. Offsets more than the carbon emissions from sourcing, making and shipping


Great interior space and organization


5 year limited warranty

Budget pick

SwissGear 7739 Hardside Luggage Trunk

Two pieces - one 26" spinner and one 19" carry on


Classic dual zipper closure with lockable zipper heads


Lots of interior pockets


8 spinner wheels
Delsey Luggage Chatelet
For a variety of pieces of luggage from a well known luggage brand and an elegant look to boot, consider the Delsey Luggage Chatelet collection. The suitcases are all hardsided spinners, but you can also get non-wheeled soft-shelled pieces. The former are made of 100% Virgin Polycarbonate, while the latter are made of polyester with teflon coating. The interior is completely lined with a luxurious red lining. The retro styling comes from the faux leather accents and top and side carry handles.
The spinners feature a TSA key with combination lock dual zippered opening to the main compartment – clam shell for the hardsided and book style top lid for the soft. They have a built in tracking device to help you easily find it if it gets lost. They also feature two zippered dividers to separate the packing space – one for each side. One divider holds two zippered pockets, while the other divider holds one large mesh zippered pocket. There are two removal bags for shoes and laundry, a hanger with clip for a suit and tie down straps. This amount of organization, especially in hardsided suitcases is quite rare and something that existing customers love. They also love that the hardsided pieces don't get scuffed easily.
The softsided Chatelet Soft Air collection pieces all feature padded straps for the shoulders, a padded laptop sleeve, and an Add-a-bag strap at the back for easy carrying over a wheeled suitcase's telescopic handle. All the wheeled pieces feature dual spinners and two-stage telescopic handles. To prevent the bags from rolling away on sloping ground, there's a brake mechanism for the front wheels that you engage or release via two buttons built into the cases just under the telescopic handle. There is also a soft 2-wheeled underseat tote bag with restraining straps and shoe pockets.
The CO-Z Premium Vintage Luggage Sets are priced for the value-minded shopper, so if the line above is beyond your budget and you're looking for a two piece set of 1 wheeled suitcase (24″) and one piece of hand luggage (12″), then consider this one. Though the pieces are in the retro trunk style, there are modern features to ensure practicality and convenience.
• There are 4 colors to choose from: blue, light pink, dark pink, and white. The light pink features white PU accents, while the rest feature brown PU leather accents.
• These hardside spinner and hand case are made of light, flexible and durable ABS with the four corners protected by riveted heart-shaped PU leather guards. A pair of faux buckled straps that snap shut by magnetic buckles add a touch of retro charm to each piece.
• The suitcase opens via 2 latch-type TSA key locks, while the hand case has a 3-dial combination lock.
• The telescopic handle on the wheeled suitcase is height adjustable to 3 positions by the push of a button on its grip and it can be wheeled by the smooth swiveling spinner wheels. There is also a top and side metal handle wrapped in PU leather.
• The hand case can be attached to the telescopic handle of the wheeled case by the included strap that can also be adjusted to become a shoulder strap.
• The interior space of the hand case is 5 litres in volume and features a zippered mesh pocket on the inside of the lid. The wheeled suitcase comes with 37L of volume and also has this pocket, but the main compartment also has a removable divider that comes with two zippered mesh pockets. This divider will keep things in place.
• The smaller case nests into the larger for easy storage. It weighs 3 lbs, while the larger case weighs 10.7 lbs.
The drawback of this vintage hard shell luggage set is that the wheeled case is too large as a carry on but is not big enough to tide you over for more than 5 days. The smaller case is not big enough for a laptop.
SwissGear 7739 Hardside Luggage Trunk with Spinner Wheels
If you're looking for a slightly more upscale feel to the retro look then the SwissGear 7739 Hardside Luggage Trunk is a very practical option with the look and feel of quality. Sporting a lovely sleek trunk design with faux tan leather outside straps and tan accents, these ABS vintage looking luggage sets of 2 spinners comes in blush, black or white and are an absolute delight!
• The spinners have ABS hardside shells with faux leather trim and full interior lining. The corners are all reinforced to prevent dents. Double zippers are used for closing them split-book style and their zipper heads are lockable with any luggage lock.
• The aluminum recessed handle of the spinners is telescopic and can be extended to the desired height to enhance maneuvering. The push-button locking mechanism helps lock the handle into place once extended, whilst the ergonomic grip makes wheeling them around more comfortable.
• This retro set employs a dual spinner 8-wheel system that fully rotate to any direction, facilitating easy maneuvering in crowded areas and minimizing strain on your arms.
• Reinfored top and side handles on the spinners allow you to easily lift a fully-loaded suitcase when gliding isn't possible. Only the carry on vintage style suitcase has the top handle. The large spinner also has 4 feet on the side so that you can set the case down firmly on its side anywhere.
• Both bags are expandable by 2 inches by just unzipping the expandable zipper.
• The interior space is divided into two main areas by a zippered fabric divider with plenty of zippered and elastic mesh pockets as well as a wet pocket for damp items. The lower half also has restraining straps.
• Dimensions including wheels:
– Large Hardside Spinner Suitcase: 29.25″ x 19″ x 11″; weight: 10.9 lbs.
– Small Hardside Spinner Suitcase: 22.25″ x 14.5″ x 9.5″; weight: 7.4 lbs.
Unlike some of the more expensive Swissgear collections, don't expect these bags to withstand several years of frequent travel, as they're made of ABS instead of polycarbonate. Otherwise, these spinners are easy to maneuver, are very spacious, and look great.
Unitravel 2 Piece Vintage Luggage Set
Tired of just red, brown or navy blue? Then you may want to check out the inspired shades of the Unitravel 2 Piece Vintage Luggage Sets, which come in the most gorgeous shades like this matcha green with cream trim. With a classic trunk design and contrasting cream straps, this luggage line is durable, fashionable, and each piece is spacious enough to accommodate every woman's needs. The other available colors are light gray, peach, ivory, dark green, navy blue and dark pink. These cases are very similar to the CO-Z wheeled piece in the above set, so if you want a 12-inch hand case and a 20-inch or 26-inch wheeled case in a choice of colors, this is a good alternative.
There's one major difference with the Unitravel set, however. The 3 dial combination locks are not TSA, so make sure you don't check the spinner case when flying if you don't want TSA agents to break the locks.
These are made of waterproof PU leather covering reinforced fiber board. Everything else about these retro spinner suitcases and cosmetic train cases is the same as that of the CO-Z sets.
• Choose from the following sizes:
21 Inch: 21.7″ * 13″ * 7.5″, 8.2 lbs OR 26 Inch: 27.6″ * 15.4″ * 8.9″, 10.5 lb
12-inch train case: 13″ * 8.9″ * 4.9″, 2.9 lb
MOIERG Vintage Trolley Luggage
A classic vintage inspired set, this MOIERG spinner luggage comes in several beautiful colors with contrasting trim. With a superb trunk design that's beyond gorgeous, these pieces are must-haves for every fashionista that wants to always look her best. You can choose from three different sizes or get all the pieces to make up a nice 3 piece vintage luggage set.
• The trolley luggage is made of high-quality PU material that is waterproof and lightweight.
• The spinner wheels allow you to easily glide the unit in any direction.
• A dual TSA key lock secures the suitcase instead of zippers, so no one with a ball point pen can tamper with the pieces. The two belt buckle straps are real, so they deter anyone wanting to quickly open up the suitcases to steal things.
• The expandable handle can be locked to the desired height.
• The two-clip divider panel inside also features a full length mesh zippered compartment mesh zippered pocket, giving you extra space to store your essentials and separating the two halves of the case to allow for better organization.
• The inside of the lid features an open top elasticated pocket.
• Dimensions of the small suitcase: 14 x 8.5 x 20.7 inches; weight: 6.61 lbs.
Dimensions of the medium suitcase: 15.2 x 8.7 x 24.6 inches; weight: 7.5 lbs.
Dimensions of the large suitcase: 15.2 x 8.9 x 27.4 inches; weight: 8.38 lbs.
Watch out for the sizes – a few customers say that they run small so you may want to order a larger size. The dimensions given include the handles and wheels.
If you prefer the same brand and look but with TSA combination-lockable zippers instead of the slider locks, then COLOCOLO by Moierg vintage trunks also comes with a 5 cm expandable feature for extra packing capacity. These only come in the small and medium sizes. Another similar line is from Hojax.
COTRUNKAGE 3 Piece Women Vintage Suitcase Luggage Set Retro Trunk Sets
A fabulous vintage-inspired design – that's what the COTRUNKAGE Women Vintage Suitcase Luggage Sets are all about. Best of all, you get two spinner uprights and a handcase. The spinners come in 2 sizes – 20″ and 26″, and the handcase is 13″ long.
This retro luggage set with its original trunk design has an authentic feel that makes it particularly stylish, featuring a lightweight but solid body that can successfully withstand wear and tear.
• All are faux leather suitcases in a choice of several colors with hand crafted stitching. The contrasting accents include the parallel straps going around each piece and the corner bumper guards. Some of the pieces also feature a few authentic-looking patches. All the hardware is rose gold colored.
• The suitcases are equipped with a 4 multidirectional spinner wheels that are designed to produce very little noise when being rolled.
• The hand case has a 3-dial lock system that allows you to secure the contents of the bag with a passcode of your choice, so nobody but you has access to your stuff. The spinners have two TSA-approved slider key locks that TSA agents can also unlock for security checks. The buckled straps that go around the cases do not buckle close but have a snap button on each to secure after you lock each case. Zippers are eliminated so no one can tamper with the pieces through the use of a pen. This really enhances the authentic vintage look. Here is a list of our other favorite zipperless spinner suitcases.
• The push button aluminum telescopic handle extends and locks into 3 height settings.
• The hand case features a top grab handle wrapped in PU leather and the spinners both come with a top and side grab handle. The other long end features metal knob feet so that you can set them down horizontally without getting them dirty.
• A detachable and adjustable add-a-bag strap on the hand case lets you easily piggy-back that on top of the spinner suitcase. You can lengthen it so that it becomes a shoulder strap for you to tote around as well.
• External Dimensions of the hand case: 13″x 5.5″x 9″.
External Dimensions of the spinners excluding wheels and handles: 20 Inch: 19.1″ * 13″ * 7.5″
26 Inch: 24.8″ * 15″ * 8.5″
Every smaller piece fits nicely into the next larger piece for easy storage.
• The inside of top lid of the cosmetic bag features a large zippered mesh pocket, while the spinners also feature a detachable two-clip divider panel to separate the interior into two compartments. This panel holds two zippered mesh pockets and the entire piece can be removed and hung up in your hotel closet. Store your accessories or toiletries here. When you open the lids of the cases, two side gussets keep them from falling backwards.
One aspect we don't like with this trunk style luggage set is that the pieces aren't very spacious, so you may need extra bags if you're going on a long-term trip.
19V69 Italia Vintage 3 Piece Expandable Hard Spinner Luggage Set
Another slightly more upscale option is the 19V69 Italia Vintage 3 Piece Expandable Hard Spinner Luggage Set by Versace, that's made ABS with a diamond textured surface. The sets are available in two colors – blue and grey. They also boast faux leather strap accents on the outside of the hard shells and gold-toned hardware.
• Double zippers are used for closing them clam style. All the bags are expandable by a single pull zipper that differs from the closing zippers so that you won't mistakenly use the wrong one.
• The telescopic aluminum pull handle can be extended to the desired height and locked into place to enhance maneuvering.
• This retro set also features dual spinner 360 degree 4-wheel system, for easy maneuvering.
• Low profile top and side handles on the two larger spinners and a recessed bottom handle on the largest allows for easy hauling into a car's boot even if fully loaded. The carry on only has the top and bottom handles.
• The spinners have full interior lining with separated compartments, mesh pocket, 2 shoe pockets, another small pocket, and compression straps.
• Dimensions including wheels:
– Large Hardside Spinner Suitcase: 31″ x 12″ x 21″; weight: 10.3 lbs.
– Medium Hardside Spinner Suitcase: 27″ x 11″ x 19″; weight: 8.5 lbs.
– Small Hardside Spinner Suitcase: 22″ x 9″ x 14″ ; weight: 6.8 lbs.
The only negative with this set is that the zippers don't come with a built-in TSA lock. However, you can buy your own small TSA luggage locks to lock the zipper heads with.
Paravel Aviator Grand
Want to travel like a celebrity and use carbon neutral luggage? Then you have to take a look at Paravel. Their completely sustainable products are popular with all stylish travelers and the Aviator Grand carry on hardside spinner is incredibly popular, with some of the designs featuring classy vintage-style elements.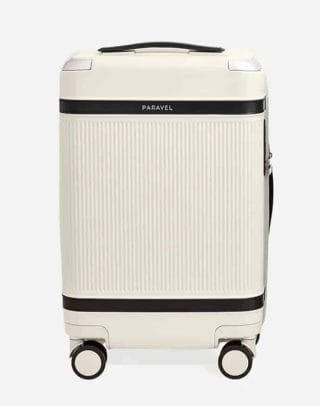 Just in time for the holiday season, you can shop a matching Paravel Aviator Grand checked suitcase. It's already selling out so grab your own quickly!
This checked suitcase measures 28.1" x 19.7" x 11.7" and weighs 11.8 lbs.
The shell is made of durable recycled polycarbonate, the lining is made from upcycled plastic water bottles, you have vegan leather details, recycled YKK zippers, and an aircraft-grade recycled aluminum telescopic handle. The exterior texture hides scuff marks. You can pack a ton inside and this suitcase will still glide smoothly on its 360°-rotating wheels on carbon steel bearings.
The dual zipper combination lock is TSA-approved.
The interior boasts a detachable accessories pouch, a top lid packing space held in place by a full-sized zippered fabric panel with a large in-built zippered pocket, and an interior compression board to keep your belongings tidy on the inside while allowing you to pack as many outfits as needed. Yes, this is a suitcase for the habitual overpacker!
The carbon emissions generated by sourcing, assembly, and shipping the luggage are offset by the company. In fact, your first trip with the luggage is also offset.
Bric's Bellagio 2.0 Ultra Light Spinner Trunk Luggage
For the ultimate in luxury with retro style suitcase combined with modern technology, the Bric's Bellagio 2.0 Ultra Light Spinner Trunk Luggage Collection exudes sophistication and comes in several colors and 5 sizes – the 21 inch classic international carry on, the 21 inch business international carry on with outside front pocket, a 27 inch, a 30 inch, and a 32 inch. The Bellagio 2.0 collection is all about uniting heritage with technology.
• The cases are made of a 100% Makrolon polycarbonate shell with aluminum frame for the ultimate in lightness and durability with impact resistance. The reinforced corners, trim and top and side carry handles are all done in top grain drum-dyed leather and the interior is lined with polyester. The carry on size spinner does not have a side carry handle but the others do, and all the check size pieces have four "feet" on one long side so you can set them down horizontally without getting them dirty.
• The aluminum handles of the suitcases are extendable to three different heights and the dual spinner wheels are extra large Hinomoto for completely safe ground clearance.
• The suitcases from the Bellagio 2.0 Ultra Light collection feature weatherproof zippers with TSA-approved combination locks that can also be use with a key.
• All the bags have two herringbone patterned divider panels on the inside to divide the space and keep everything tidy. One panel is a u-shaped zippered one with a full length zippered pocket on the outside, and the other panel closes via adjustable straps on the two outer corners. It is meant to help compress the clothes on that side of the compartment. This panel has a full zippered pocket on the outside along with an address tag pocket in leather.
• The second carry on includes a front business organizer pocket with pockets for a laptop, iPad and plain notebook. This pocket is hinged at the bottom with double zippers to flip it open from the top.
• Bellagio 2.0 Dimensions:
– International Carry on suitcase: 22″ (H) x 15″ (W) x 8.5″ (D). Weighs 5.7 lbs.
– Business Spinner Carry on suitcase: 21″ (H) x 15.5″ (W) x 9.5″ (D). Weighs 7.7 lbs.
– Small checked suitcase: 27″ (H) x 19″ (W) x 10.5″ (D). Weighs 8.8 lbs.
– Medium checked suitcase: 29.9″ (H) x 20.9″ (W) x 11.4″ (D). Weighs 10.7 lbs.
– Large checked suitcase: 32″ (H) x 22″ (W) x 12″ (D). Weighs 12.4 lbs.
Other than this Bellagio 2.0 business vintage carry on luggage, there are other options for a hard shell carry on with an external pocket.

Special Mention: Take a look at our detailed review of the Delsey Chatelet Collection, which has several pieces that were inspired by vintage designs but has all the conveniences of modern luggage.

The Evolution of Luggage
Early leisure travel in Europe was done by the elite using grand tours and they used leather bound wooden trunks. Commercial leisure travel between the US and Europe first started in the early 1900s with only the wealthy being able to take vacations to far away lands. They would take a cruise across the Atlantic on a steam liner and pack their things in anticipation of being away for at least many months.
Ocean liner travel was served by large and heavy wooden trunks that only servants could load onto and get off the ship. Louis Vuitton made a name for itself in the luggage space by catering to wealthy travelers looking for a good status symbol and the large steamer trunk pictured to the right was one of its earliest.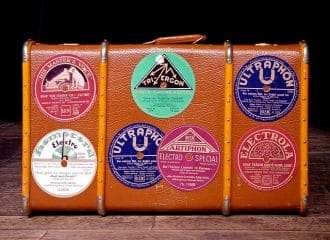 By the 1920s more people could afford to travel, especially by train. But there were fewer who used servants to lug heavy trunks and most of the luggage would have to go under the seat, so cases became lighter and smaller and were often made of cowhide. For those who couldn't afford status symbol luggage with recognizable prints, travel stickers were the obvious way to pretty up the cases.
By the 1940s, traveling for long trips with multiple cases for various accessories became the norm. Men had their grooming kits and women had hatboxes, makeup cases and jewelry cases. The 1950s saw these cases being made by more and more brands.
The 1960s saw Samsonite lead the charge in innovations but other luggage makers also contributed to new features like colorful hard shells and combination locks.
The addition of wheels on luggage was a late innovation. Prior to that, air passengers needed an easy way to transport their luggage as air travel replaced train travel as the mode of choice. They used wheeled luggage carts to wheel their existing trunks. Bernard Sadow applied for the first patent in 1970 on 4 wheeled cases that you roll along flat alongside you with the aid of a strap, and Macy's was the first to sell them. An airline pilot named Robert Plath came up with the Rollaboard that featured two wheels and a long rigid handle to pull the case behind him. He got fellow flight crew members to use it and that was the perfect marketing needed to take it to the masses. He was the guy to start Travelpro.
That was the end of vintage luggage and future innovations were mostly small until the 21st century smart luggage that now comes with things like a built-in charger and battery for your electronic devices, a built-in luggage scale to help you avoid overweight bags, and GPS and Bluetooth enabled luggage trackign system to help with finding lost luggage.
Final Word
Remember that many vintage inspired luggage sets won't have as many handy pockets as standard ones, specifically if they have a trunk design. However, if that's not a concern, we think these designs will never go out of style and they will give you the opportunity to look stylish at all times!

Featured image "coffre-en-bois-colonial_4" by ozalee.fr is licensed with CC BY 2.0. To view a copy of this license, visit https://creativecommons.org/licenses/by/2.0/