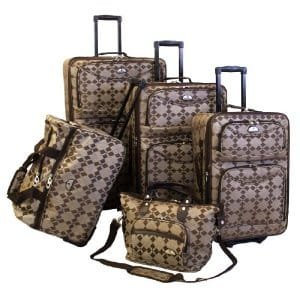 A luggage set of 4 or 5 pieces can be useful for a family or anyone that travels for varying lengths of time. If each piece is of a different size and some are bigger wheeled bags and others are to be carried over a shoulder, there will always be an ideal piece no matter who is traveling and no matter what type of trip. You could choose from 5 piece luggage sets that include at least two uprights that you can check if you're flying, while the rest of the pieces can be a mix of duffels and tote bags.
We have selected a few of these 5 piece luggage sets that are rated at least 4 stars by customers. You'll see that these are softsided luggage sets. That's because you don't get 5 piece hardsided ones. If you're fine with 3 pieces, we have some nice patterned hardsided luggage sets and some vintage styled luggage sets.



5 Piece Spinner Luggage Set
American Flyer Luggage Budapest 5 Piece Spinner Set
This
American Flyer 5-Piece Luggage Set
is one of the few you can get with 3 upright spinners instead of rolling 2-wheeled pieces. In fact, American Flyer is the only brand that currently makes them. They are made of polyester with a textile lining and can be cleaned with mild soap and a damp cloth. In addition to the 3 upright spinners measuring 28″, 24″ and 20″ tall, this Budapest set also comes with a 19″ 2-wheeled rolling duffel bag and a 18″ shoulder carry duffel bag.
You also have a choice of another spinner set called the American Flyer Fleur De Lis 5 Piece Set, which also has 3 spinners measuring the same, one 18″ 2-wheeled duffle and one 18″ shoulder duffel bag.
All 3 uprights from both sets feature a telescopic handle and top, bottom and side grab handles for easy lifting. The wheeled duffels have double grab handles on top so you can grab and go, but they also have one grab handle right next to the telescopic handle. The shoulder duffels have adjustable and removable shoulder straps with a padded section in the middle so it doesn't dig into you if the bag is heavy.
All of the spinners also expand by 2 to 2.5 inches so you can pack a little extra if you come back with souvenirs from your trip and they all feature two front exterior zipped pockets for easy access. The wheeled duffels feature a single front pocket, while the shoulder duffles have two. The main openings on all 5 pieces come with double zipper closures.
Most customers of these American Flyer spinner sets agree that they are good quality and very nice looking for the price but you are cautioned not to be too rough while handling the spinner uprights.
5 Piece Set on 2 Wheels
American Flyer 5-Piece Luggage Set on 2 Wheels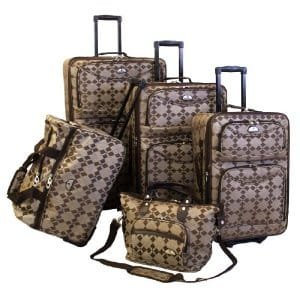 Just like with the stylish prints on the American Flyer spinner sets above, this polyester
American Flyer Argyle Regular 5 Piece Set
is also really chic but the uprights come with two inline skate-type wheels each for rolling the pieces behind you. The 3 uprights are 28″, 25″ and 20″ tall, the wheeled duffel is 18″ and the cosmetic satchel that you tote on your shoulder is 13″ long.
All the uprights can be expanded by 2.5 inches to give you extra packing space. They also feature retracting handles and also come with grab handles on the top, bottom and one side. While the exterior features two u-shaped zipped pockets on the front – one small and one large, you also have a large zipped mesh pocket inside, as well as shoe pockets.
The duffel bag has a standard u-shaped zipped opening on top as well as one long zipped pocket on the front exterior. You also have two duffel handles with a velcroed wrap in case you want to tote the bag in one hand. The satchel features a detachable shoulder strap with a padded center and two short pleather tote handles. There is a full length zippered opening to the main compartment on top and a u-shaped exterior front zippered pocket too.
Nautica Maritime 5 Piece Luggage Set
For a smart looking 5 piece set, consider the
Nautica Maritime Set
that comes in black with blue trim. This is the set to get if you need an oversized upright roller or an extra upright. The largest upright is 32″ tall so you may not be able to check it in with some airlines. You will also be careful to not over pack it, as checked bags also carry a weight limit. However, if you're using any kind of ground transport and need to take a lot with you, this will come in useful and it is extremely sturdy. The other uprights measure 28″, 25″ and 21″, while the tote bag is quite large too but is good as an underseater bag.
The inline skate wheels are set in recessed ball bearings, so if they need to be replaced, they are easily removed. The zippers come with long and strong corded zipper pulls. In addition to the telescopic handles for rolling the uprights, there are also low profile handles all around to make lifting easier.
All the uprights can be expanded for extra capacity and each features two zippered pockets on the front exterior. Inside, you'll find a fully lined with restraining straps, zippered pockets and even a removable toiletry pouch. The uprights also come with an add-a-bag strap so you can hang the tote bag or any other non-wheeled bag from it for easy transport.
Samsonite 5 Piece Nested Luggage Set
This
Samsonite 5 Piece Nested Luggage Set
is one of the most versatile you can get, although the fifth and smallest piece is only a large toiletry bag. You also don't get any large checked in bag, as the two wheeled uprights measure 26″ and 22″ tall.
You also get a standard duffel bag and a travel tote, both featuring a long strap and double short straps with a Velcro wrap. The travel tote is really a smaller version of the duffel, as both open to the main compartment via a U-shaped zippered opening on top, and both feature U-shaped zippered pockets on the two ends and a front U-shaped pocket as well. The two uprights have two front exterior pockets and come with add-a-bag straps. The travel tote and uprights feature a zipped mesh pocket on the inside of the lid.
Every piece nests into the next larger piece, so the set takes up very little storage space.
While this set doesn't necessarily live up to the Samsonite brand, it is ridiculously low priced for what you get. If your budget is low and you can treat the pieces carefully, this is a good value set.
A Mixed Set
Travelers Choice U.S. Traveler Bradford 5-Piece Luggage Set
If you like to have the most versatile 5 piece set possible, there's the
Travelers Choice U.S. Traveler Bradford Set
. The largest upright is 28″ in height and is a spinner with 4 recessed wheels. The other upright is a 21″ carry on with 2 recessed inline skate wheels. Both of these feature two external pockets in front and one interior mesh pocket and both can be expanded by almost 25% for extra capacity.
The rolling duffel bag is 24″ long with 2 recessed inline skate wheels. A front exterior pocket, interior pocket and two exterior side pockets are provided for good organization. It also has two grab handles for another transporting option.
You also get a foldable 28″ duffel bag and a 16″ tote bag. Both come with two grab handles on top and the folding duffel also comes with a detachable shoulder strap. A bonus comes in the form of a carrying case that is 11.5″ wide and can be used for toiletries.
This is another set where you need to be careful while handling the wheeled pieces, but it is the lowest priced set of the bunch, so you can't expect it to be as strong as the more higher priced ones.