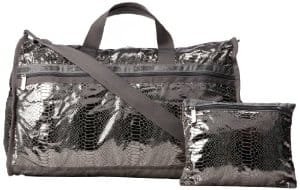 Going somewhere for the weekend and need a casual but chic bag to pack your things in? The LeSportsac Extra Large Weekender is designed for just that.
This bag is not for the minimalist packer! A fashionista has to have extra sets of clothes and plenty of accessories when going on vacation and she has to look good doing it, even if it is just a casual weekend away. This bag, however, can hold up to a week's worth of clothes, accessories and toiletries.
LeSportsac is a brand that focuses on chic but functional bags and accessories and they bring out new prints like this "snake foil" one regularly. Their styling is sporty American, which you can see in this XL weekender.
Buy this LeSportsac extra large duffel from Amazon or take a look at the features, pros and cons:
Features of the LeSportsac extra large weekender bag
The entire bag, including the lining, is made of 100% water-resistant nylon.

 
The top of the main compartment closes via double zipper pulls.

 
There are two small zippered pockets on the side and two full length zippered ones on the front and back.

 
You also get a matching pouch with zipper to carry your shoes or soiled clothes separately from the rest of your things.

 
At 16 x 24 x 12.5 in, this bag is really big, but since it weighs just 2 lbs and 2 oz. when empty, it should be easy enough to carry.

 
When empty, this extra large duffle bag folds up easily for storage.

 
Two top carry handles makes it easy for you to grab and go.

 
An adjustable and detachable shoulder strap measures 44" and provides a shoulder drop of up to 22".

 
The warranty covers manufacturer's defects for up to 60 days.
Pros
It is durable and washable.

 
It does not take up much space when empty since it can be folded up.

 
It has a nice number of outer pockets.

 
Unlike most extra large duffel bags, this one has a larger depth instead of length. This means that it is not too long and unwieldy to carry and you're unlikely to bump it into others that frequently.

 
It is versatile, as it can also be used as a craft bag or gym or dance bag.
Cons
The shoulder strap does not have any padding.

 
Verdict
Overall, the consensus seems to be that the quality of this LeSportsac extra large weekender bag is very good and it is a very good option for heavy packers. At almost $150, this bag should not be used sparingly, but if you get it on sale, it promises to be an excellent buy!
If you'd like to see other good options for weekenders, including cheaper ones, here are some current best seller overnight bags.
Otherwise, click here to get the LeSportsac weekender-extra large size from Amazon.