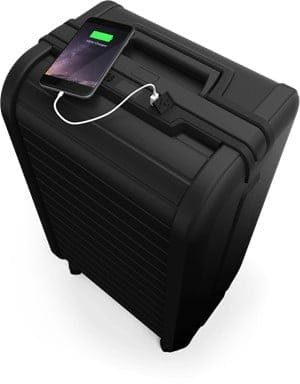 At the Travel Goods Show 2015, brands came out swinging with some innovative, some mundane and some slightly bizarre products.
We're going to take a look at the trends that were seen this year at this annual trade show as well as the more innovative products, so you'll know what may be available to you later this year or next year.
New Luggage
"Smart luggage" was the buzz of 2014, with new companies like Bluesmart turning to crowdfunding to finance their connected luggage offerings, while Kickstarter funded Trunkster which will also debut soon with a bag that has a tracking system, scale and a battery with two USB chargers.
Rimowa partnering with Airbus and Deutche Telecom to create Bag2Go. While we wait for Bluesmart to appear on the market later this year and Bag2Go to come out next year, Andiamo Luggage has introduced one of their own at this year's travel goods showcase. By linking the bag to the user's mobile phone, it can be tracked, weighed, locked and unlocked all through an app. It can also charge your gadget batteries when you're nowhere around an electrical outlet and it provides a Wi-fi hotspot. Hontus Ltd. will introduce its Space Case 1 luggage that has a built in bluetooth speaker and a biometric lock among its capabilities.
Even established luggage companies want to get into the smart luggage game. Samsonite showed a peek of a new line called GeoTrakR suitcases whose baggage-tracking system from LugLoc is cellular enabled and Delsey will come out with a line called Pluggage next year.
Hybrid bags are still going strong but the challenge is for companies to find new ways to create these while not sacrificing packing space and keeping the units light. Benga International's 2S Duo was the star in this category and won the show's Product Innovation award with its single hard side 4-wheeler that transforms into two 2-wheelers that are part soft side part hard side. The packing capacity of each of these is the same as its single parent.
As always, airline baggage fees are on the upward trend so luggage companies have to keep up with the times and offer ever lighter bags for carry on as well as check in. The always highly rated Werks Traveler collection by Victorinox has been updated again with their bags being about half a pound lighter than the previous version. Lucas is well known for lightweight bags so it should come as no surprise that they have the lightest collection of the bunch, with the Lucas Vortex Lite 20 inch roller weighing just 3.8 lbs.
You know those packable shelves that hold and separate your folded clothes inside your luggage and that can be lifted out and hung up in your hotel closet? The ShelfPack goes one step further and has the shelves built into the bag! When you lift the shelves out of the bag, you don't have to remove them completely if you don't want to. They can stand upright just like a makeshift closet with several pockets running down the sides to hold other stuff like toiletries, gadgets, etc. At the end of your trip just collapse the entire unit filled with your things back into the bag.
Don't worry about not finding a seat at the airport waiting lounge – the Sit-On-It Carry All from Dbest is a carry on bag that can also act as your seat. The wheels lock so you won't come crashing down when you sit down!
Traveling with your kids? Keeping them occupied and out of trouble is easier at the airport with the Playluggage carry on. The exterior surfaces are designed to act as a game board for chess, backgammon, poker, Chinese checkers and Parcheesi on one side, and a Lego building surface on the other. Included game pieces have built in magnets so the luggage can move around in the middle of play.
More and more people are moving away from boring black bags and seeing the benefit of owning a colorful one. On the conveyor belt, you'll see it from a long way away and the stand out color and print will deter anyone else from either mixing it up with their own or being tempted from stealing it when you're not looking. The travel bag brands that have some cool and unique looks this year are Jonathan Adler's pieces that will be added to his existing Happy Chic Line of products, IT luggage, Heys USA and Visionaire.
New Travel Accessories
Selfie sticks are not going anywhere but they are getting more and more upscale. The XShot Selfie Kit is already available to order and includes an extender arm in several colors, a phone and compact camera holder that can fit various sizes, and a bluetooth remote to let you take selfies of not just your face but also a good part of the background.
Every international traveler needs a universal power adaptor and USB charging cables. Go Travel has an offering of an adaptor with twin USB chargers that will work with the 2 and 3-prong outlets that you see in most countries.
How many times have you charged your devices up until the last minute, then unplugged and packed them only to find much later on that you left the charger still plugged into your home or hotel outlet? The ChargerLeash is a USB charger cord that has a built in alarm that goes off whenever a device is unplugged from it. This is a good way to remind you to pack it as well.
Privacy and security was another common theme at the Travel Goods Show 2015. In addition to the locking features on smart luggage, we'll see more and more accessories with anti-theft wire mesh and RFID blocking features like those on Eagle Creek, Pacsafe and Travelon products.
Buddy Pouches by Running Buddy is a neat way to safely carry your important possessions like your passport, credit cards, cash, etc. without resorting to a touristy waist pouch. Several small pouches can be attached to a waistband via strong magnets for a hands-free experience. These pouches are much more comfortable that a traditional waist pouch and they are water and sweat-resistant.
To prevent nosey people from glancing at your iPad's screen, you can use the privacy case from Solo. It is an iPad case with a screen that darkens as you move your eyes towards the sides. It also features a kick stand for hands free comfort while reading.